Wireless Camera with 3.5" LCD for reversing
Product description

Wireless Camera with 3.5" LCD for reversing

Parking Set - 3,5 " LCD monitor + wifi reversing camera with 2 high-power LEDs for excellent illumination in the dark as a complete wireless parking set for comfortable parking. This set is one of the hottest tips of this season. Because here is a wifi connection of reverse camera and LCD monitor, there is no need to pull any cables, just quickly and easily connect two products.

Rear reversing camera for day and night vision with a 120 ° angle of view and 2 high-power LEDs. Using this camera, you can park your car easily, quickly and safely. Suitable for beginners or even professional drivers. Because you never know what can happen. A camera can be easily mounted on the back side of the vehicle. It has 2 High Power LED bulbs, which allows you to have a great visibility at night.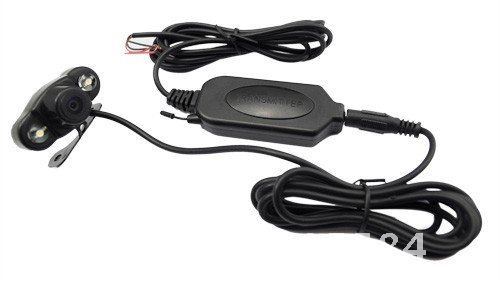 Features of reversing camera:
Weather resistant, waterproof
It has 2 High Power LEDs for visibility in low light conditions
CMOS image sensor
Support NTSC or PAL video system
High-definition and wide viewing angle
Applicable to a variety of vehicles: car, truck, RV, mini-van, etc.
Easy installation
Specifications of reversing camera:
Image sensor: 1/3 "CMOS Color VV
Effective pixels: PAL 512 (H) x582 (V) NTSC 512 (H) X492 (V)
Horizontal resolution: 420 TV lines
Minimum illumination: 0.5Lux / F1.2
Night vision: 2 x High Power LED - excellent illumination in the dark
Lens: 2.8 mm
Diagonal angle of view: 120 degrees
Ratio of signal to noise:> 48 db
Signal system: PAL / NTSC
Electronic shutter: 1/60 ~ 1/15, 000sec
Video output: RCA interface, 1.0Vp-p, 75Ohm
White balance: Auto
Power supply: DC 12V
Power consumption: 90mAh
Operating temperature: -30 ° C ~ +50 ° C, RH95% Max
Storage temperature: -30 ° C ~ +60 ° C, RH95% Max
Video cable length: 6 m
Power cable length: 145 cm
Camera Dimensions: 45 * 20 * 22 mm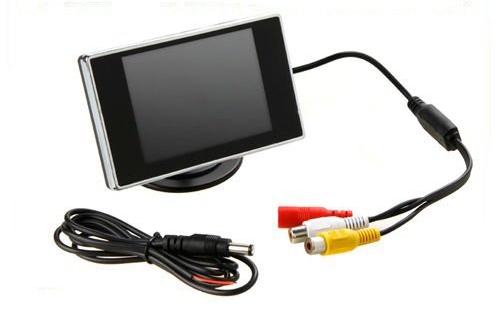 Features LCD Monitor:
3,5 "color TFT-LCD monitor Car
2 - channel video input: V1/V2 (automatic switching)
Video frequency: PAL / NTSC
Low power consumption
Easy installation
It displays a black screen, if there is no signal (saver)
Specifications LCD Monitor:
Resolution: 320 * 240
Aspect ratio: 4:3
Contrast ratio: 350:1
Power supply: DC 12V
Consumption: 5W
Operating temperature: 0-50 degrees
Dimensions: 105 mm (L) x 65 mm (W) x 14 mm (H)
Weight: 140 g
Package includes:
1 * 3,5 "monitor in the car
1 * Reversing camera
1 * Reciever of wifi signal
1 * Transmitter of wifi signal
1 * Power cable
1 * User manual
Comments
Other Products