Bluetooth audio recorder 8GB + sound detection
Product description

Bluetooth audio recorder 8GB + sound detection

Bluetooth audio recorder 8GB + sound detection​ automatically start recording. This recorder is the absolute TOP in its design and recording quality. Stylish Bluetooth audio recorder with 8GB internal memory + phone call recording + sound detection what is suitable for a number of purposes and situations. Its design is perfectly suited for everyday use, as well as formal meetings.

The recorder has a built-in microphone, but for recording in a noisy environment, it is possible to connect an external microphone with protection against noise and ambient noise. Unless you are unable to attend an important meeting, you can just leave the recorder at the place of event, just set the date and start time of recording and the recorder will take care of the rest.

You can also use it to monitor your office thanks to function of automatic recording at detectiion of any sound. So it can be a very useful spy device to record important conversations. Another new feature is the possibility of pairing with a mobile phone via Bluetooth to record all your calls. After connecting microphone and headphones that are included, you can directly call through this recorder.
This recorder is an absolute leader thanks to the quality of the recording and its design.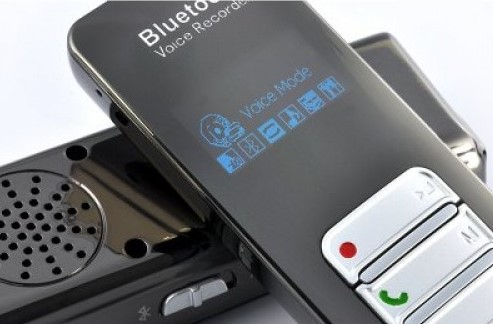 Features:
Bluetooth for mobile phones
8 GB built-in memory
Extension: Micro SD Card
4 different modes of quality recording
Color LED display
Specifications:
Voice Activated Recording (VOR / VAR)
Buttons: Record, Playback, Menu selection
Built-in high performance microphone
Bluetooth
Features: Receive calls, recording of the calls to memory, last number redial, microphone external recording, external USB
Recording modes: low quality, medium quality, high quality, very high quality
Size of the battery: 380mAh
Standby time: 17 hours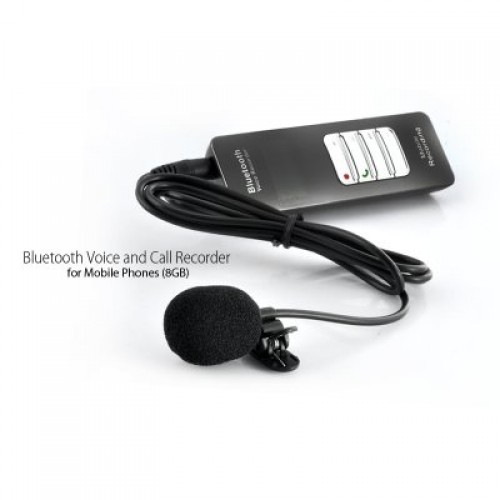 Media format:
Recorded format: MP3
Audio: MP3, WMA
Dimensions:
Contents:
1x Audio recorder
1x Adapter of Telephone Answering
1x Microphone
1x Headphones
1x 3,5mm audio cable
1x RJ11 cable
1x USB cable
1x Power Adapter
1x User Manual
Comments
Other Products