Wireless AHD set - 4x AHD wifi camera + 7" LCD DVR monitor
Accessories
Product description

Wireless AHD set - 4x AHD wifi camera + 7" LCD DVR monitor

Wireless AHD set - 4 AHD wifi camera + 7" LCD Monitor DVR 18 IR LED lights for night vision. LCD DVR monitor (resolution 1280x1024px) with recording on SD card (support 128 GB). Ideal reversing set for van, truck, semi-trailer, working machines, etc. The reversing (wireless) set from the PROFIO ELECTRONICS brand is suitable for installation in vehicles such as vans, trucks, caravans, etc. The set includes a 7" inch monitor and camera (with IP69 resistance) thanks to which you can reverse or park any large vehicle without any problems.

You can easily connect the rear camera via wifi with the monitor up to a distance of 150m. The camera is made of solid aluminum alloy, it is impact resistant and waterproof with protection up to IP69. The camera itself has built-in 18 IR LED lights for night vision, so handling the vehicle (parking, maneuvering) in the dark will not be a problem.

This AHD system is a combination of the best technology that is developed for van, minibus, caravan, bus, truck, semi-trailer, tractor, harvester and other agricultural or construction machinery and vehicles. You will especially appreciate the AHD system when installed on larger motor vehicles, where you need more views from different angles. The monitor also serves as a DVR recorder for recording from cameras (it is stored on a memory card up to 256 GB).
Wireless reversing touch set and comfortable parking with many functions + camera with water resistance IP69.

The reversing set contains 1x 7" WIFI AHD DVR monitor for the cabin and 4x WIFI AHD reversing camera. Camera has a solid and durable construction (aluminum) and meets the ISO standard IP69. Because the set is wireless, you don't have to worry about connecting cabling. However, that is not all what this set can offer. The monitor also works as a DVR recorder, which means that it records the recording from the camera and stores it on an SDXC memory card with support for up to 128 GB (not included).
Reversing set suitable for trucks, lorries, buses, caravans, agricultural machinery, etc.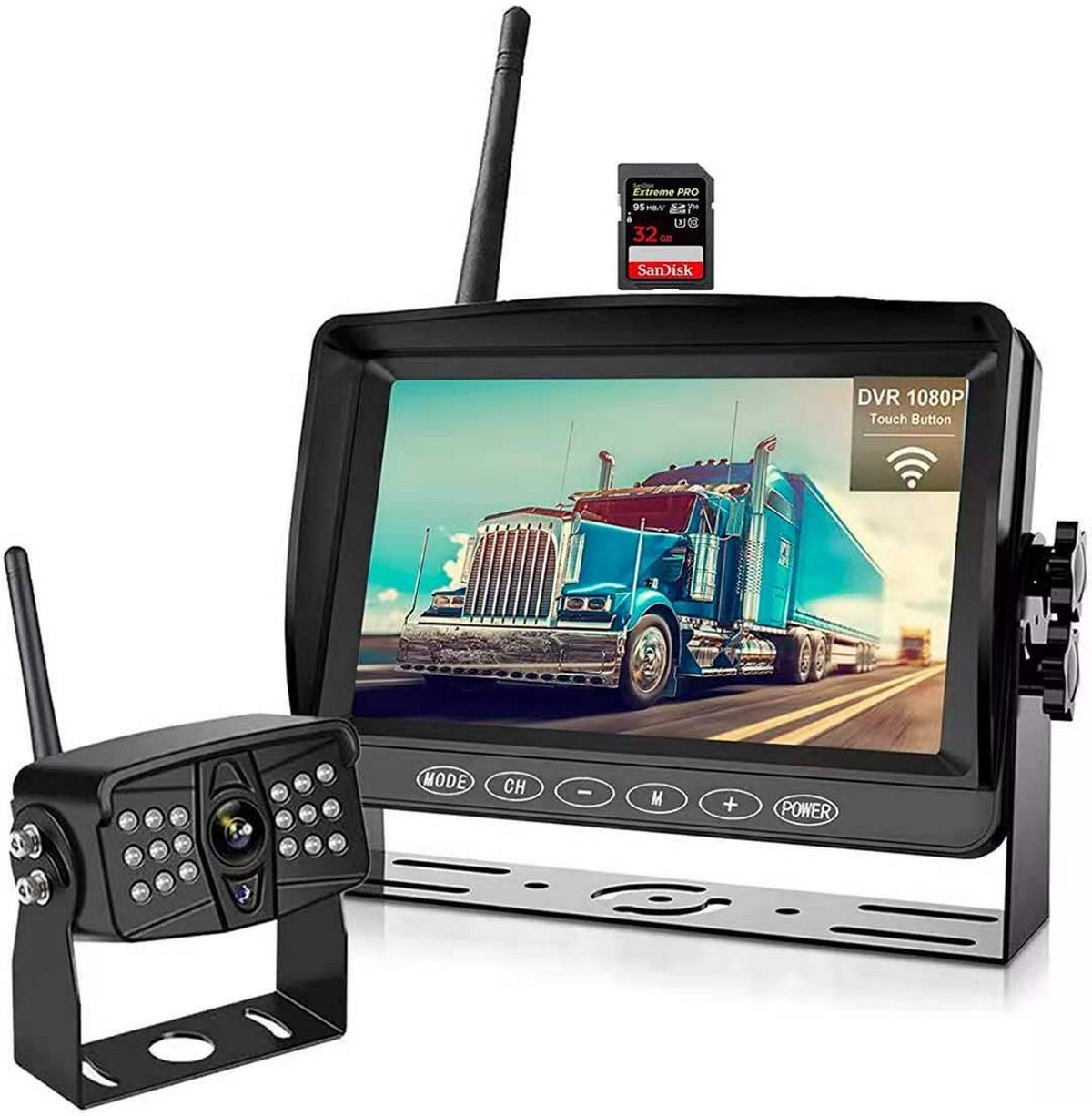 If the memory card becomes full, the device automatically deletes old files and replaces them with new ones - in the event of an accident, you always have the record saved
No connecting cables are required to install it - for connecting the camera and monitor. The monitor has 4 channels for connecting additional cameras. The large 7" display with 720P resolution offers a clear and sharp image where you can see everything you need. Due to its parameters, the camera has a wide range of uses, as it is suitable for a van, minibus, bus, caravan, semi-trailer, trailer, truck or agricultural machinery. Thanks to the adjustable reversing guides, you will park quickly, accurately and safely. You can rotate or mirror the image on the monitor.
The image on the monitor can be splitted according to the need (number of cameras), each camera can be displayed on the monitor separately.
Camera set with 7" monitor and durable camera suitable for freight transport, delivery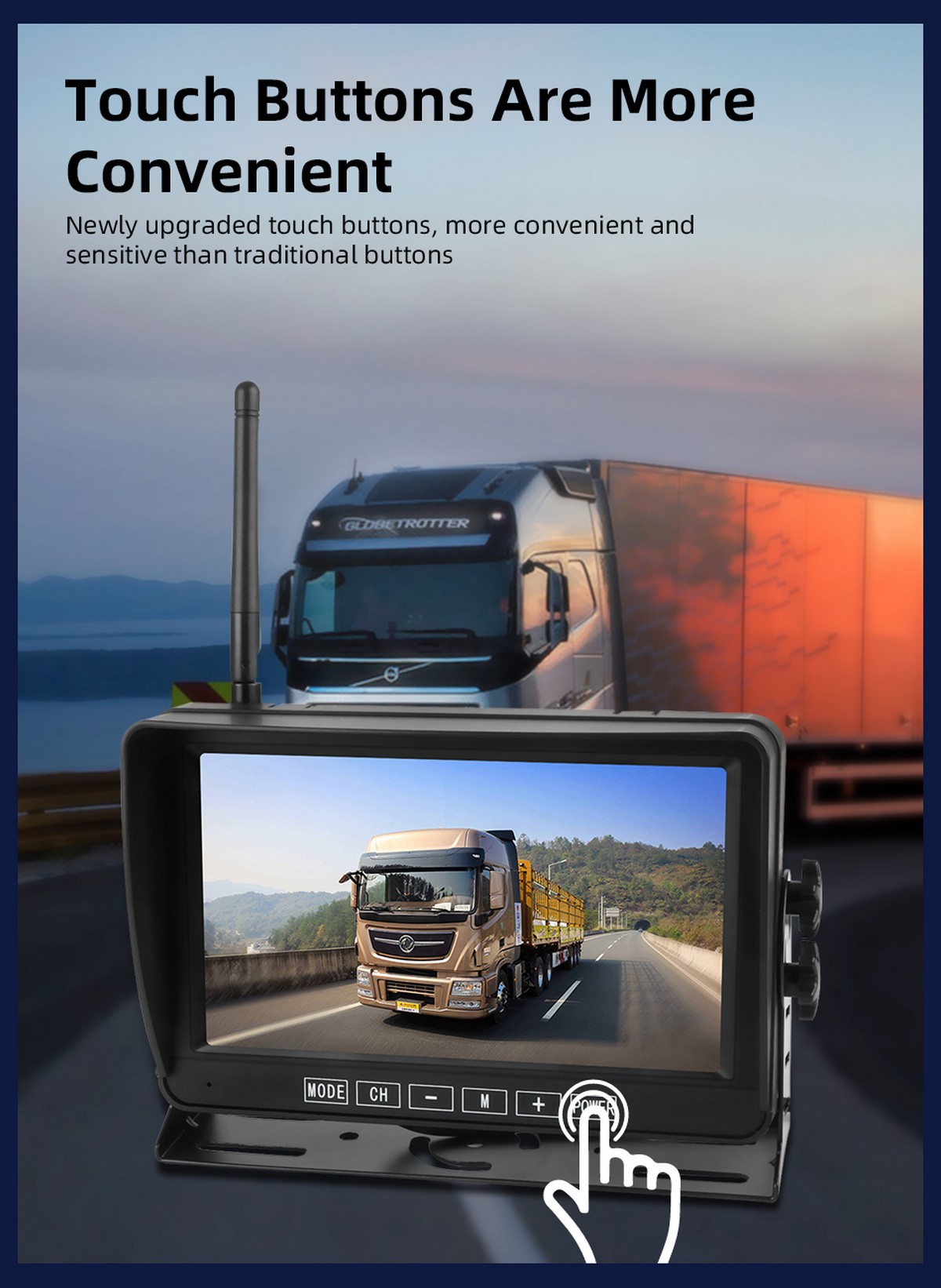 Wireless reversing camera - aluminum camera body, water resistance IP69 and night vision up to 150m.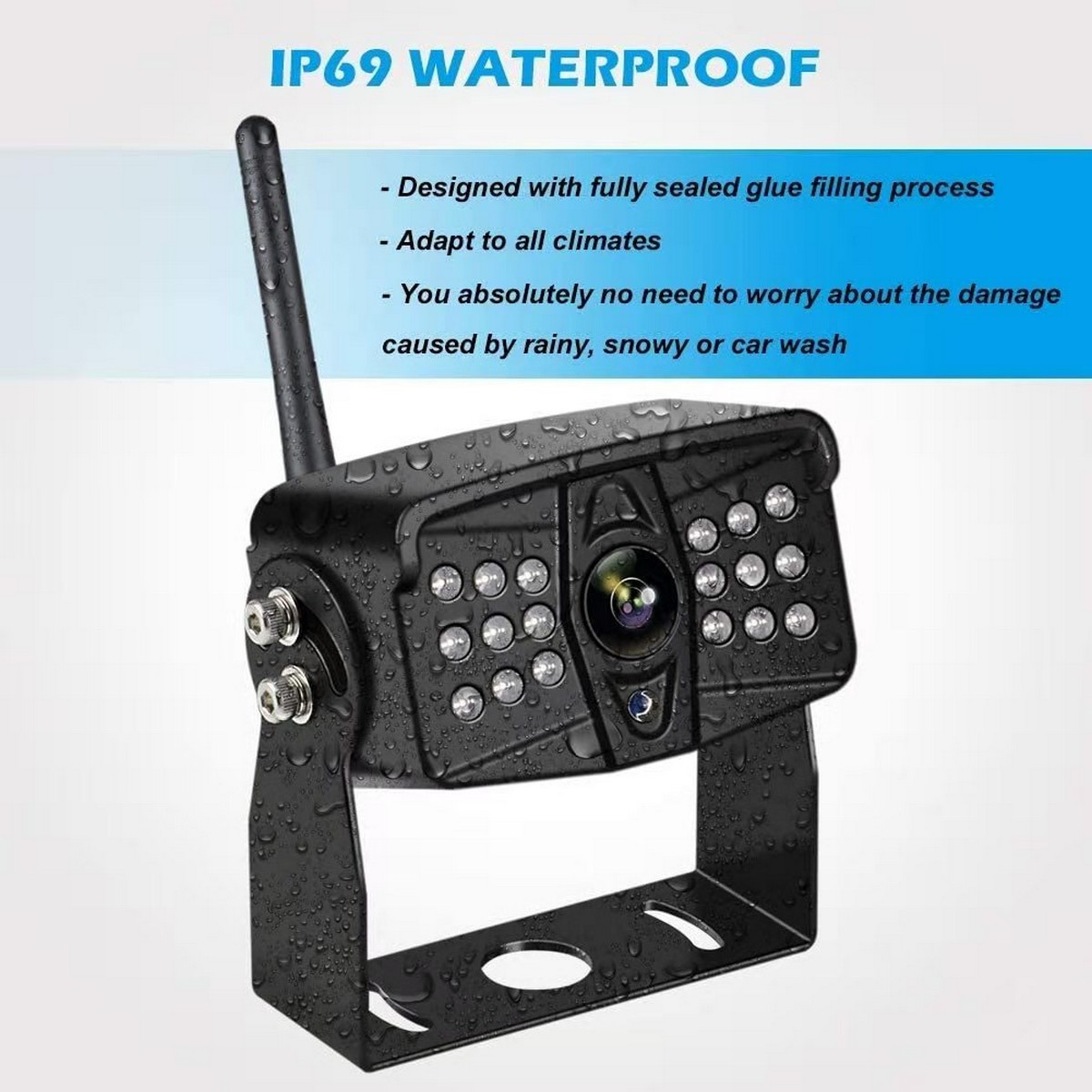 The camera reversing set comes with a wide range of accessories and you will find everything you need in it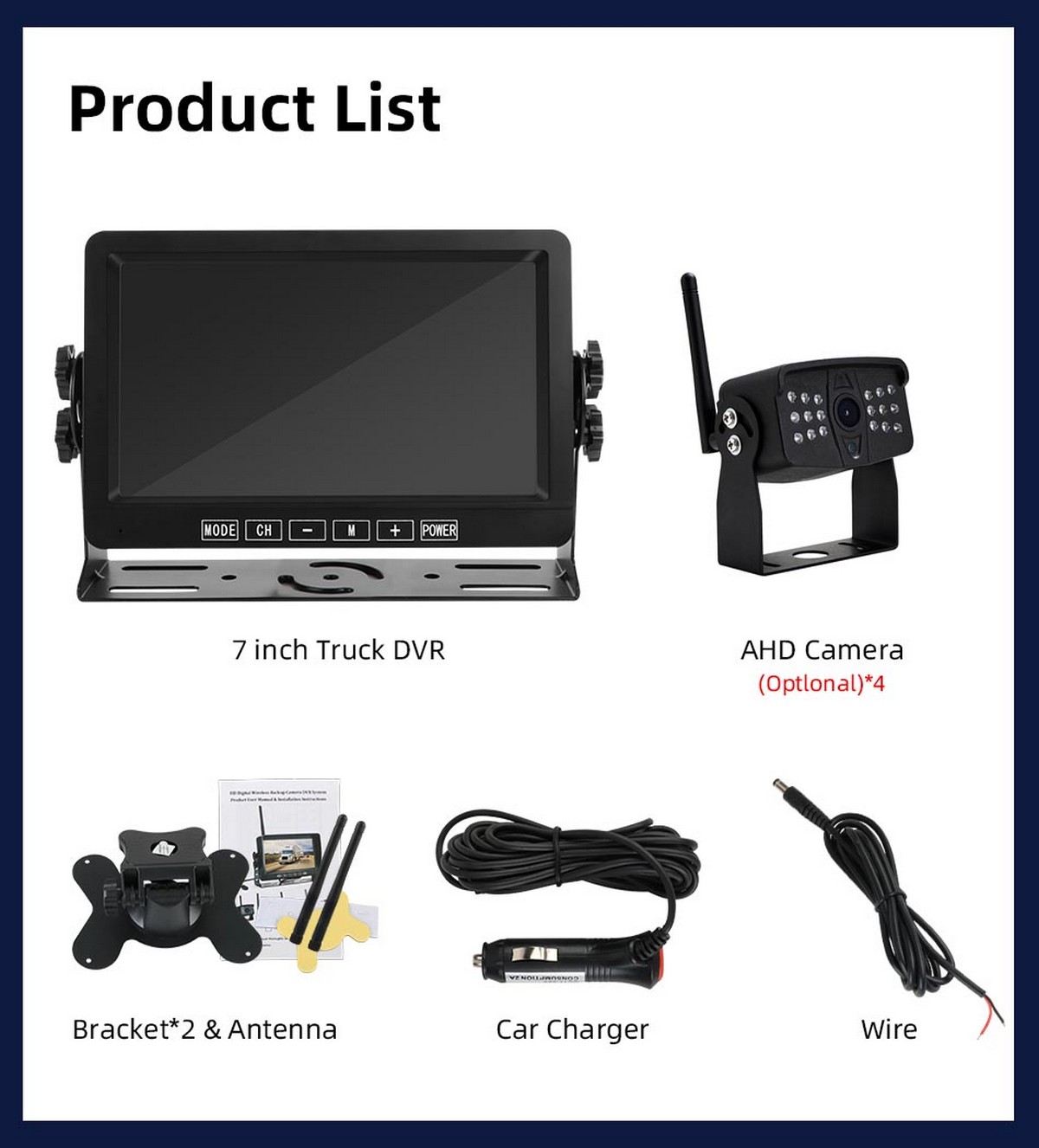 Features:

Night vision - 18 IR LED lights


Aluminum camera body - shockproof, waterproof IP69


Adjustable monitor monitoring options/4 channels: single (1) / split screen (2) / split screen (4)


Adjustable brightness/contrast/color


SD card support in the monitor: max. 128GB


Adjustable image rotation: up/down/right/left/mirror


Wireless range between monitor and camera up to 150 m


Loop recording - recording to SD card


Auxiliary guide lines for reversing: on/off, custom setting w/h/d


The monitor is powered by a cigarette lighter, or ACC/fuses/radios/ etc


The camera is powered by a car battery or by connecting cables to the vehicle's reversing lights
Monitor specifications:
Model: Profio LCD700
NTSC and PAL support - Yes
Camera connection - max 4
Resolution - 1280x1024
Contrast - 500:1
Luminosity - 500cd/m2
Time response - 25 ms
Power supply - DC12-36V
Power consumption - less than 500mA
Working temperature - -20 to 70° C
Camera specifications:

Model: Profio S695
Resolution: HD 1280x720
Image sensor - 1/2,7" Starlight HD
Viewing angle - 110°
TV system - NTSC/PAL
Water resistance - IP69
Minimum lighting - 0.5 lux
Power supply - DC12V-36V
Operating frequency: 2400-2483.5 MHz
Operating temperature -20 to 70° C
Package contents:

1x 7" DVR monitor
4x Camera
5x WiFi antenna
1x Power supply for car lighter
1x Sun visor
1x Universal holder (adhesive pad)
1x Console
4x Power cable to the camera
1x Set of screws for mounting
Comments
Other Products
new discount
new discount