WiFi spy HD camera hidden in glasses with touch control
Product description

WiFi spy HD camera hidden in glasses with touch control

WiFi spy HD camera hidden in glasses with touch control. These spy goggles have the perfect camouflage against any suspicion as they act as a stylish supplement to your outfit. Stylish and spy goggles have practical use for unnoticed recording of surroundings, and for ultra-light construction of only 40g they are comfortable for everyday use. At the same time, you do not have to press any buttons as they only respond to touch. With these spy glasses you are recording exactly what you see while you have your hands free, not raising suspicion. Another advantage is the live transmission via WiFi connection directly to your mobile phone via the "Pro iCam" application, which is freely available for Android and iOS. With the app, you can not only view captured images, but also play back recorded videos. Thanks to P2P support, the glasses can be connected to the internet using a mobile phone to create a WiFi Hotspot and allow to watch live footage on the internet for your friends.

The camera is built into the frame of the spectacles and scans through a one-way transparent plastic, what ensures its secrecy. The camera is not visible to the naked eye or at any angle, or at backlit. Operation is quite simple via the touch pad on the outside of the spectacle frame and is also designed to be inconspicuous. Touch spy glasses with HD camera + P2P live video + WiFi for sale online.
The camera is precisely hidden in the spectacle frame
The glasses with the camera have transparent clear lenses.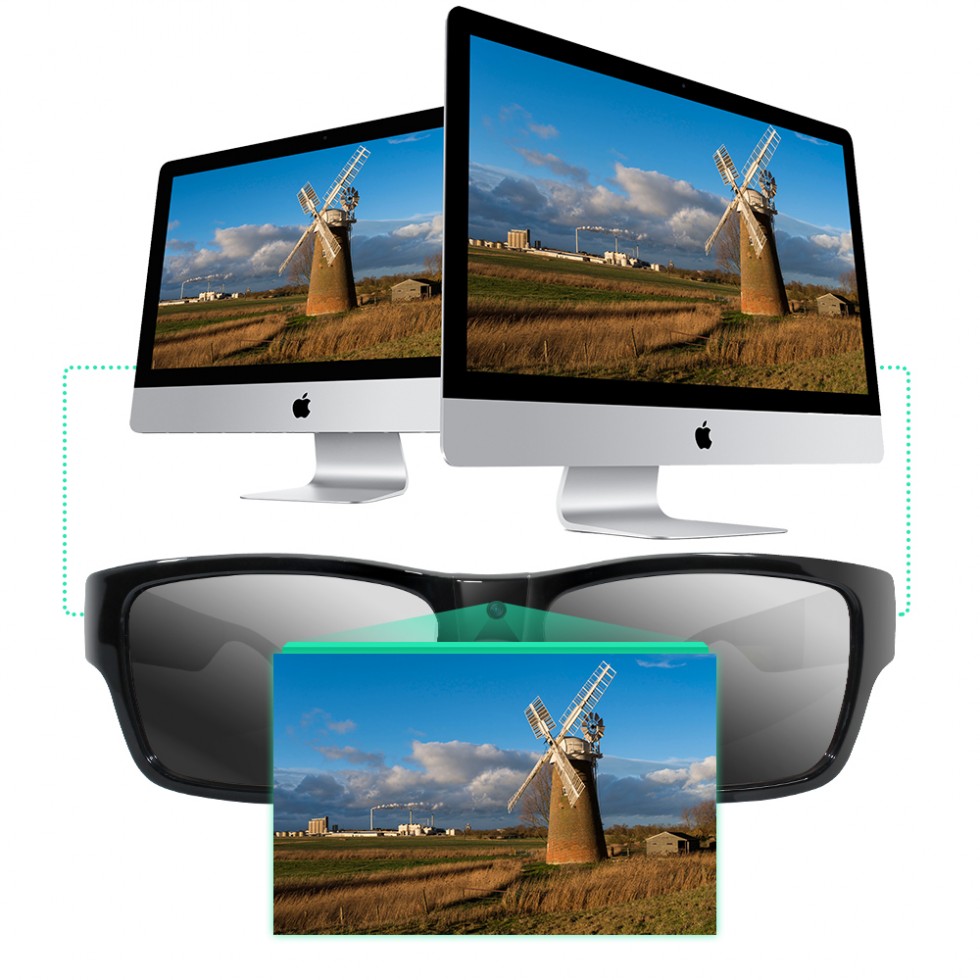 The goggles have a built-in motion sensor that can detect movement and then warn you via notification directly to your mobile via the "Pro iCam" application. A useful feature when you need to leave the office, but at the same time you need to be sure that no one is gonna visit your desk while you are away. Captured images are recorded in Full HD at 1920x1080p at 30fps on a microSD card up to a maximum of 64GB. The glasses are equipped with an integrated rechargeable battery with a capacity of 280 mAh, which is built directly in the removable spectacle arm and ensures the camera operation for about 75 minutes. If you need to recharge the battery, unclip the arm and recharge it via the micro USB cable. The big advantage is that there is one more spare arm with battery in the package, that you attach to the glasses while charging the other battery. This allows you to continuously record video. You will also appreciate the function of charging the battery through the Powerbank, which will ensure that you always have a charged battery at hand.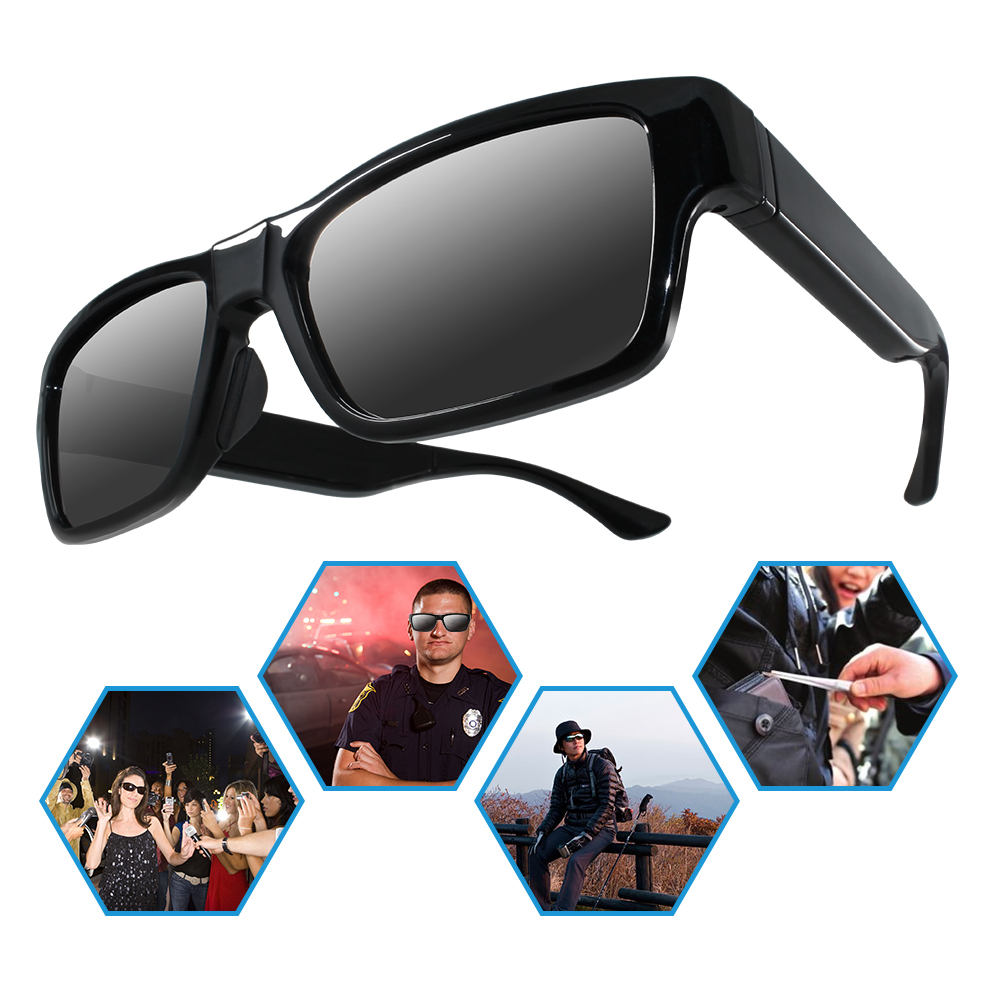 Spy goggles are the perfect choice for you if you need to make an unobtrusive recording of a meeting without any suspicion. The glasses have a wide range of use, because you can use them, for example on a holiday, a concert or when recording various life experiences. By connecting the Full HD glasses to your computer via USB, they act as a memory card reader and you can download recorded videos and photos directly to your PC or laptop.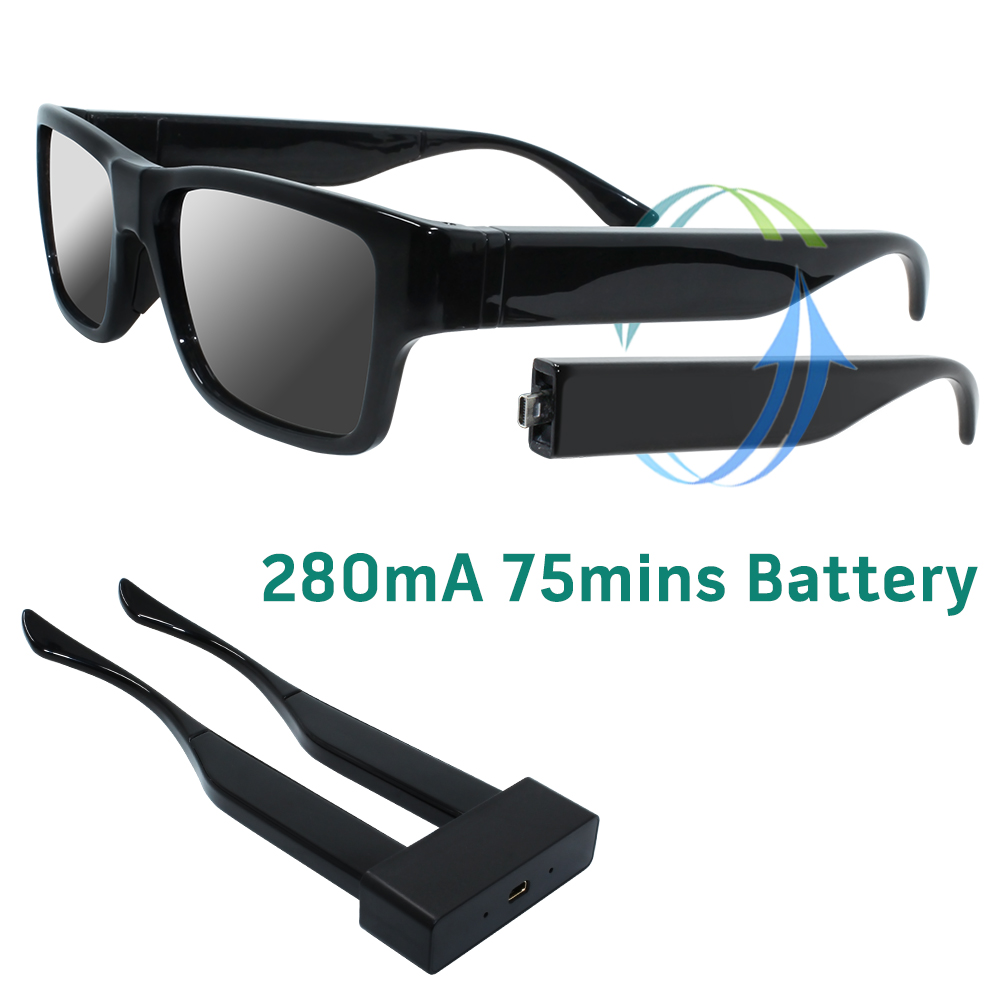 Features:
Elegant glasses with HD camera
Touch control on the spectacle arm
Motion sensor with notification warning
Support for WiFi connection and P2P
Uses microSD card up to 64 GB
Specifications:
Optics: 2.0 MP CMOS
Video resolution: 1920x1080p
Frame ratio: 30fps
Video compression: H.264
Video format: AVI
Scanning angle: 70°
Memory cards: microSD cards 8-64GB
Battery: 280 mAh
Battery life: approx. 75 minutes (working time)
Charging time: 1-2 hours
Network connection: P2P, WiFi
Power supply: DC-5V
Power cable: micro USB
Systems support: iOS, Android
Dimensions: 149mm x 146mm x 41mm
Weight: 40 g
Package contents:
1x WiFi glasses with camera
2x Spectacle arm with battery
1x Charging adapter for arms
1x Micro USB cable
1x Cleaning cloth
1x USB with software
1x Manual
Comments
Other Products