POWERBANK - Portable Charger 10000mAh
Product description

POWERBANK - Portable Charger 10000mAh

POWERBANK - Portable Charger 10000mAh - powerful charger and external battery for charging of your iPod, iPhone, mobile phones, tablets, MP3 players, GPS devices and more. Thanks to its minimal size and weight will fit almost anywhere, what makes it ideal for transferring and handling. The battery is designed to charge your iPod, iPhone, mobile phones, tablets, MP3 players, GPS devices and more. Powerful charger and external battery with a modern and elegant design. It can also charge your cameras and photo cameras, what is suitable for holiday or trips to nature, where you do not have access to an electrical outlet. Thanks to 10000mAh battery capacity, it will charge the battery of the classic smartphone more than 5 times.

Power Bank includes a new type Li-polymer battery, which guarantees a low weight, high capacity, minimal self-discharge and a great performance. The battery has two USB outputs which will let you charge two devices at once. Output performance of USB ports is 1A and 2.1A. Powerbank complete charging time is 7-8 hours. The battery charge level is indicated by four LEDs, so it never happens that your POWERBANK will discharge and you will not know about it.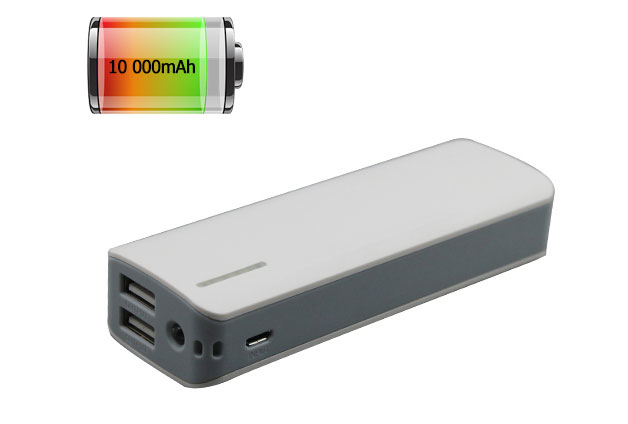 External battery is equipped with smart chips to ensure its protection against overvoltage, overheating, overcharging and total discharging. The use is very simple. Just connect your device via USB cable to the external battery and turn on. After charging, disconnect the device USB cable and external battery after a few seconds will automatically shut down. The device includes an LED diode that can be used as a flashlight when not charging a device. When fully charged battery, this LED can illuminate a few weeks permanently. Powerbank is ideal for festivals, camping, trips, traveling abroad, or as an emergency power source for busy days when conventional batteries in your device simply can not keep up with your demands. The battery will charge almost any portable device with jacks USB mini/micro USB. The device is easily recharged using the USB cable, either through your PC or from the electrical outlet.
Features:
Protection against overvoltage, overheating, overcharging and total discharging
Two USB outputs with performance 1A and 2.1A
LED indicator of discharge of external battery
It charges battery 5 times more than current mobile phone
Battery capacity up to 10000mAh
LED diode for emergency lighting
Specifications:

Battery Type: Li-ion
Output: 5V / 1A, 5V / 2.1A
Input: 5V / 1A
Capacity: 10000mAh
The complete charging time: 7-8 hours
Life min. 500 charging cycles
Operating temperature: -20 ° C to + 50 ° C
Overvoltage protection: yes
Overheat protection: yes
Overcharging protection: yes
Total discharge protection: yes
Dimensions: 120 * 41,5 * 25 mm
Weight: 170 g

Contents:

1x External battery 10000mAh
1x USB cable
Comments
Other Products