Reversing set with HD camera and 7" LCD monitor 11x IR LED night vision + 6x parking sensor
Product description

Reversing set with HD camera and 7" LCD monitor 11x IR LED night vision + 6x parking sensor

Reversing (parking) set with HD camera 145° angle + 7" LCD monitor 11x IR LED night vision + 6x parking sensors - Unique reversing set. The right tool for safe reversing and parking. The monitor allows you to see the image from the rear camera and the STATUS of all 6 parking sensors. The 7-inch monitor has a sun visor and a mounting bracket. This exceptional set includes a 7" LCD monitor with HD camera with IR night vision 11x LED with protection up to IP68, which is mounted with a bracket on the rear of the car. The set also contains 6 parking sensors, which you can mount to the desired location using the L console, either forwards, sideways or backwards.
You can also connect a number of sensors from 2 to 6, depending on your needs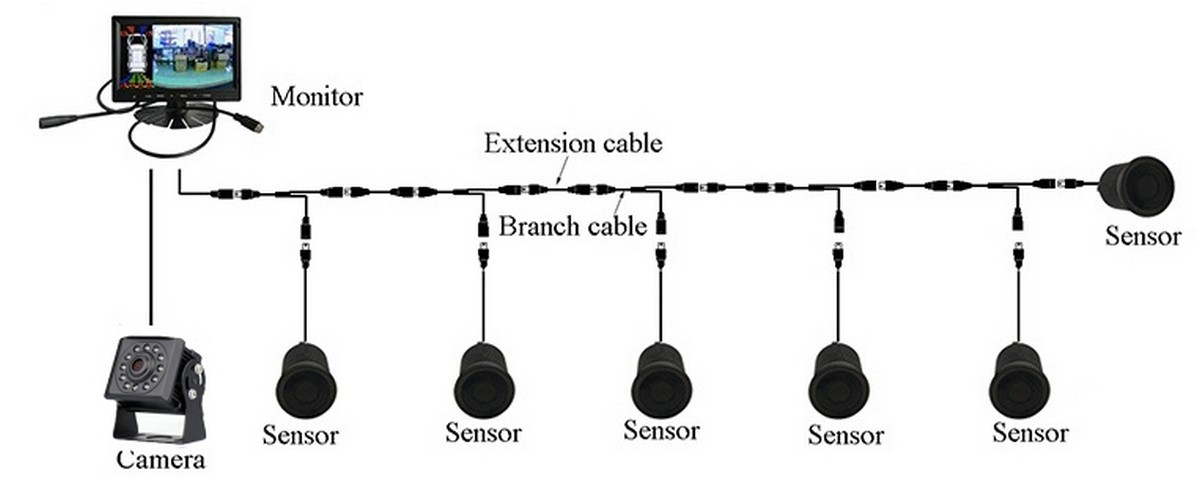 It is therefore an exceptional combination suitable for various types of larger cars, vans, minibuses, buses, semi-trailers, trailers, agricultural machinery, or trucks. Depending on your needs, you can also connect the number of sensors needed for a vehicle or construction vehicle. You can connect a minimum of 2 and a maximum of 6 sensors. If necessary, you can divide the sensors so you have the front and back of the vehicle covered.
The sensors have a 4-pin connector and are connected in series, which allows you to connect the sensors and the camera to the monitor you have in the driver's cab with an extension cable of your choice (5,10,15,20m). The sensor determines the distance to the obstacle on the screen graphically (icons green, yellow, red), but also numerically in meters. You can connect up to 3 cameras with VGA, HD, or FULL HD resolution to the monitor (cameras can also be combined). It is possible to connect cameras with VGA resolution. You can connect a camera with a 4-pin connector to two cables (cameras with a 4-pin connector can be found in our offer), or you can also connect one camera via a standard CINCH connector. If you do not want to use the CINCH connector, but also connect a third camera with a 4-pin connector, you can use our CINCH/4-pin connection cable, which we have in our offer.
Parking set determines the distance from the obstacle graphically (icons green, yellow, red), but also numerically in meters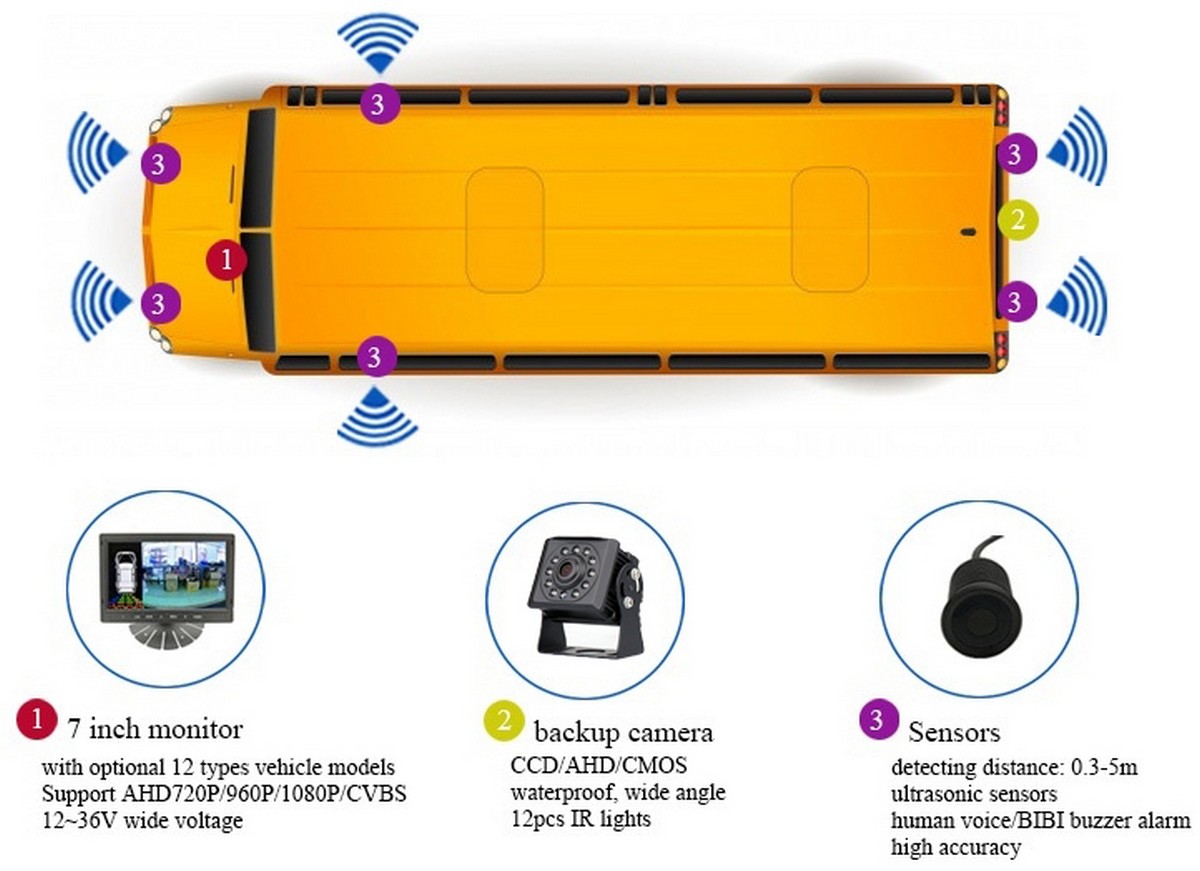 On the 7" monitor, you can switch individual channels with a camera view (it is not possible to display all three cameras side by side). The monitor is equipped with an adjustable bracket that you can attach to the required location. It also includes a sun visor that guarantees a clear image and no glare. Reversing camera meets the degree of protection IP69 which makes it waterproof, dustproof and resistant to mechanical damage. The camera has a body made of durable aluminum alloy and you can install it on various surfaces via the console. The camera is powered and signal transmitted via a high-quality shielded connector with a 4-pin end, which has waterproof treatment, which will facilitate your work during installation. The camera is powered directly from the reversing monitor with a voltage of 12V.
Parking sensors with monitor and camera - Unique reversing set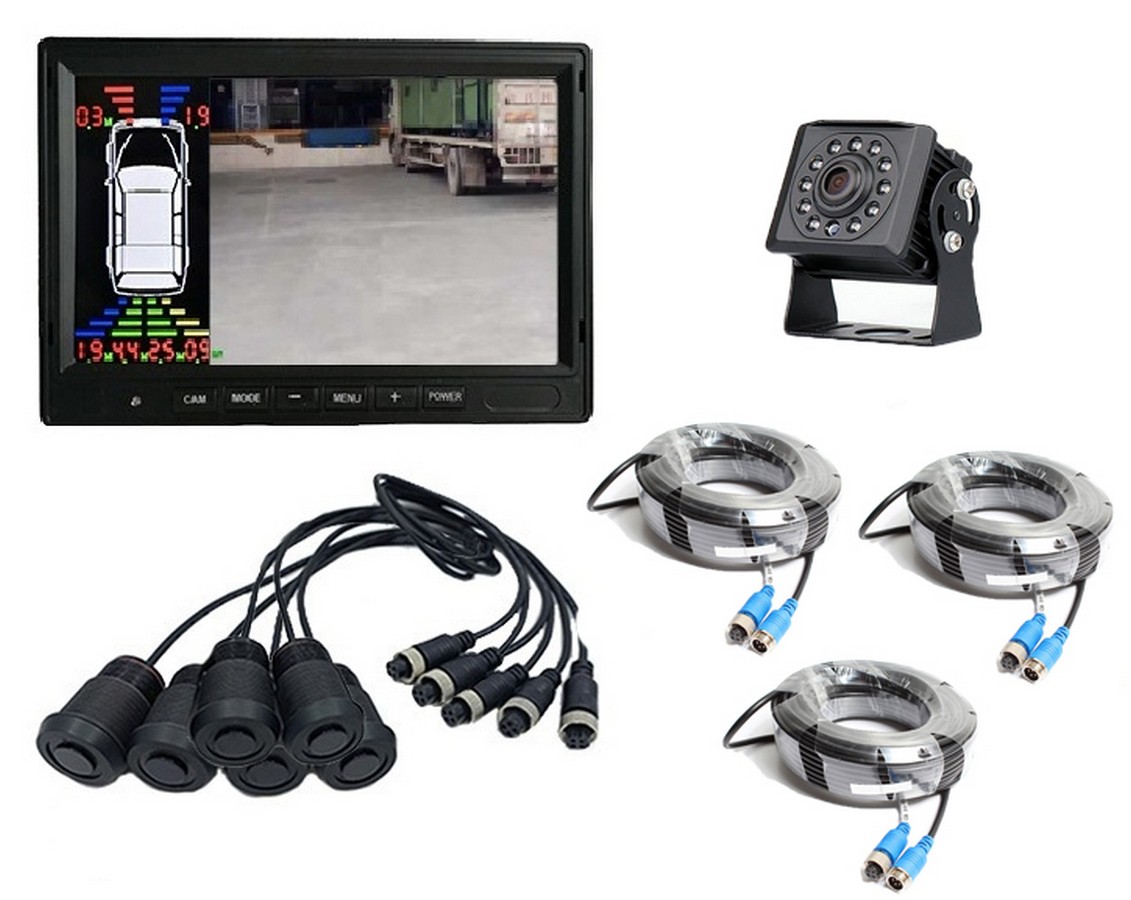 In case you need to mount the monitor in a different way than with bracket (what is included in package), you can find in our offer another three more types of stands which allow you to attach your monitor for example onto a windshield or where is needed. In case you need to put the camera on a trailer that is able to remove from the car or truck, you can buy in our e-shop a connecting cable of reversing camera for trailers and semi-trailers. This ensure easy disconnection of the reversing system and re-connection.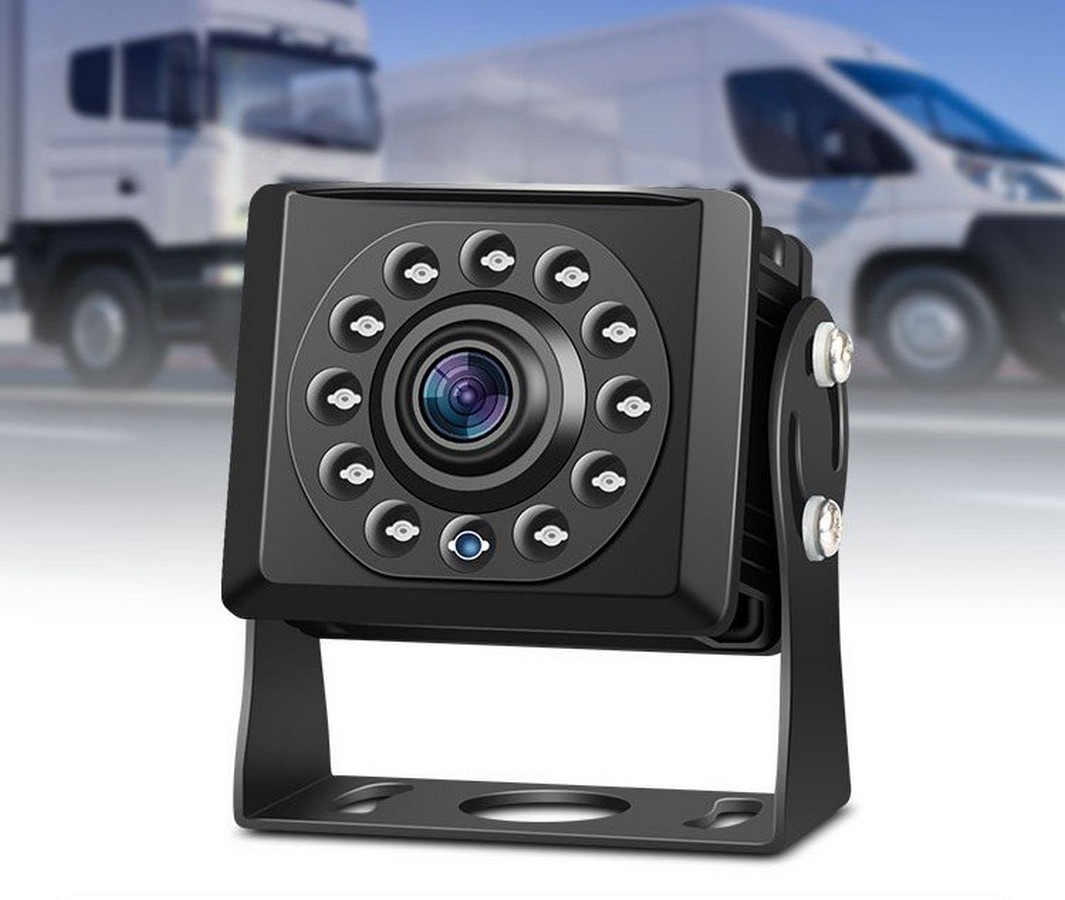 7" LCD monitor
IR night vision camera thanks to 11xIR LEDs
Camera viewing angle up to 145°
IP68 protection of the camera
6 parking sensors
Specification:
Operating voltage: 9-36V
Power consumption: up to 6W
Operating temperature: -20 to 70° C
Material: ABS + aluminum alloy
Monitor:
Model: PROFIO-VU70
Size: 7" inches
Resolution: 800x480 pixels (RGB)
Viewing angle: left 80° / up 160° / down 120°
Location: freestanding/built-in
Number of languages: 8
Contrast: 800:1
Backlight: 600cd/m2
Effects: brightness / contrast / resolution / color
Speaker power: 5W
Frequency: 60Hz
Audio channels: 3CVBS
Data recovery: 8x/s
Detection range: 0,3 to 5 m
Parking sensors:
Installation method: fixing to the L bracket, or fixing to the hole
Working mode: ultrasound 40K
Sensor material: piezo-electric ceramic
Protection: IP69
Voltage: 8-24V
Current: 10mA/piece
Sensor scan frequency: 4x/s
Sensor diameter: 16 mm
Color: black
Video camera:
Image sensor: CMOS 1/4"
Resolution: HD 1280x720 (500 TV lines)
System: PAL/NTSC
Minimum illumination: 0 LUX (IR on)
IR night vision: yes 11 IR LED
Night vision distance: 15 m
Viewing angle: 145°
IP degree of protection: IP 68 waterproof, dustproof, damage resistant
Power consumption: 3W
Working temperature: -20 to 70° C
DC power supply: 12-24V
Interface: RCA
Dimensions: 55x55x55 mm
Package contents:
1x 7" LCD monitor with sun visor
1x Monitor mounting bracket
1x Monitor mounting screws
1x Power cord
1x Manual
1x Reversing camera
3x 4 pin connecting cable of choice 5,10,15,20m
6x Parking sensors
6x Sensor mounting bracket
1x Sensor cable set
1x Mounting kit for sensors
You can choose the length of cables according to your needs 5m, 10m, 15m and 20m. Specify the cable length in the order note.
Comments
Other Products
new discount
new discount