GSM Power bank with camera and SIM card
Accessories
+

16GB Micro SDHC Class 10 Kingston U$ 18.70
+

Product description

GSM Power bank with camera and SIM card

GSM power bank with camera and SIM card. This spy power bank contains everything you need for inconspicuous monitoring of spaces which you need to be under control. Portable Charger includes a camera, listening device, a microSD card to store the records and SIM card for communication and interception remotely.

The device supports mobiles GSM 850/900/1800/1900MHz so you will not have any problem to connect from anywhere in the world. Camera hidden in a portable charger is ideal for use as surveillance or home security. Just buy a new SIM card of any provider, and insert it into the device and microSD card to a maximum of 32 GB also insert into the slot next to the SIM card in the device, and you can start your spy action.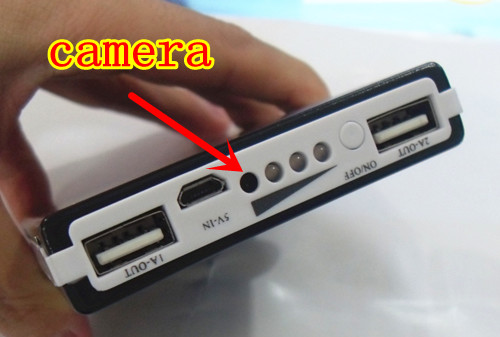 Hidden camera in an external charger has a built-in sensitive microphone and allows video recording with sound. All records are stored on the microSD card. Charger with camera you can control the camera via your phone via the commands in form of SMS to the phone number of the SIM card, which is in the device. This allows you to remotely start recording video with sound, or just the sound separately. You can also set the audio detection function and the device will call you back as soon as is captured some sound above 65 decibels. Interception function can start also by calling to the phone number on the SIM card in the device, which automatically recieves your call and you will hear what is happening nearby. External battery is fully functional and with it you can charge your phone, tablet or any other device rechargeable via POWERBANK. The camera works even when the device is just charging, so you can use the continuous power supply thanks to which you are not limited to battery power supply.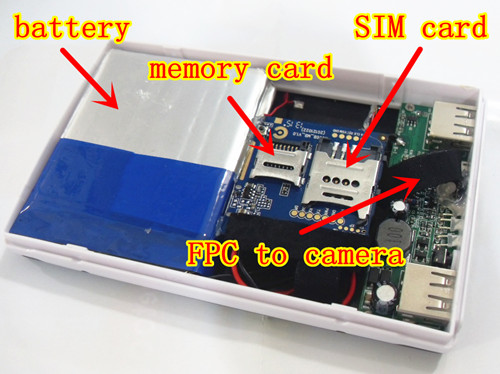 Features:
Camera hidden in an external charger
Possibility to record even when the battery is recharged
Communication via the SIM card and your mobile phone
The alarm function above 65 dB and a calling back to your mobile phone
Function of interception by calling to the SIM card in the Power Bank

Specifications:
Pixel: 2 million pixels
Video resolution: 480x320
Network support: GSM 850/900/1800 / 1900MHz
Built-in microphone: yes
Battery capacity: 4000 mAh
Charging time: 4 ~ 6 hours
Memory Card: Micro SD/TF card max. 32 GB
USB output: 1A-2A
Charging voltage: DC-5V
Battery: Li-ion battery
Weight: 200 grams
Dimensions: 75x120x15mm
Operating temperature: -10 to 60 ℃

Contents:
1x GSM Power Bank
1x USB charging cable for iPhone and smartphones
1x Manual
Comments
Other Products