BSD LCD Monitor 7" for 4 reversing cameras with image recording
Accessories
Product description

BSD LCD Monitor 7" for 4 reversing cameras with image recording

BSD LCD Monitor 7" for reversing cameras for cars, machines, vans with image recording from 4 cameras + BSD blind spot monitoring system. LCD monitor for reversing cameras with human and vehicle or object detection system (BSD) + recording to 128GB micro SD. With this monitor you can connect up to 4 reversing cameras with blind spot monitoring system makes this monitor an ideal reversing assistant. BSD - the monitoring system ensures that you will also have a view of blind spots. The BSD system detects people and cars in the viewing angle of the camera. It is supported on two cameras on channels 3 and 4. This the function shows you people in a yellow frame and cars in a red frame.

If a person or car moves directly towards the camera, the yellow or red frame will be whole colored up, indicating that the obstacle is going directly to you. In the settings, you can also enable or disable the sound notification. Directly on the monitor you have buttons with which you can switch the image between the cameras, or display all 4 cameras at once. The monitor allows you to switch between different camera display options, depending on how many cameras you have connected and which ones you want them to appear as main. You also have a remote control for even better monitor control. Only HD and FULL HD cameras can be connected to the DVR LCD monitor
BSD blind spot detection system​ - detects PERSONS in the yellow frame and CARS in the red frame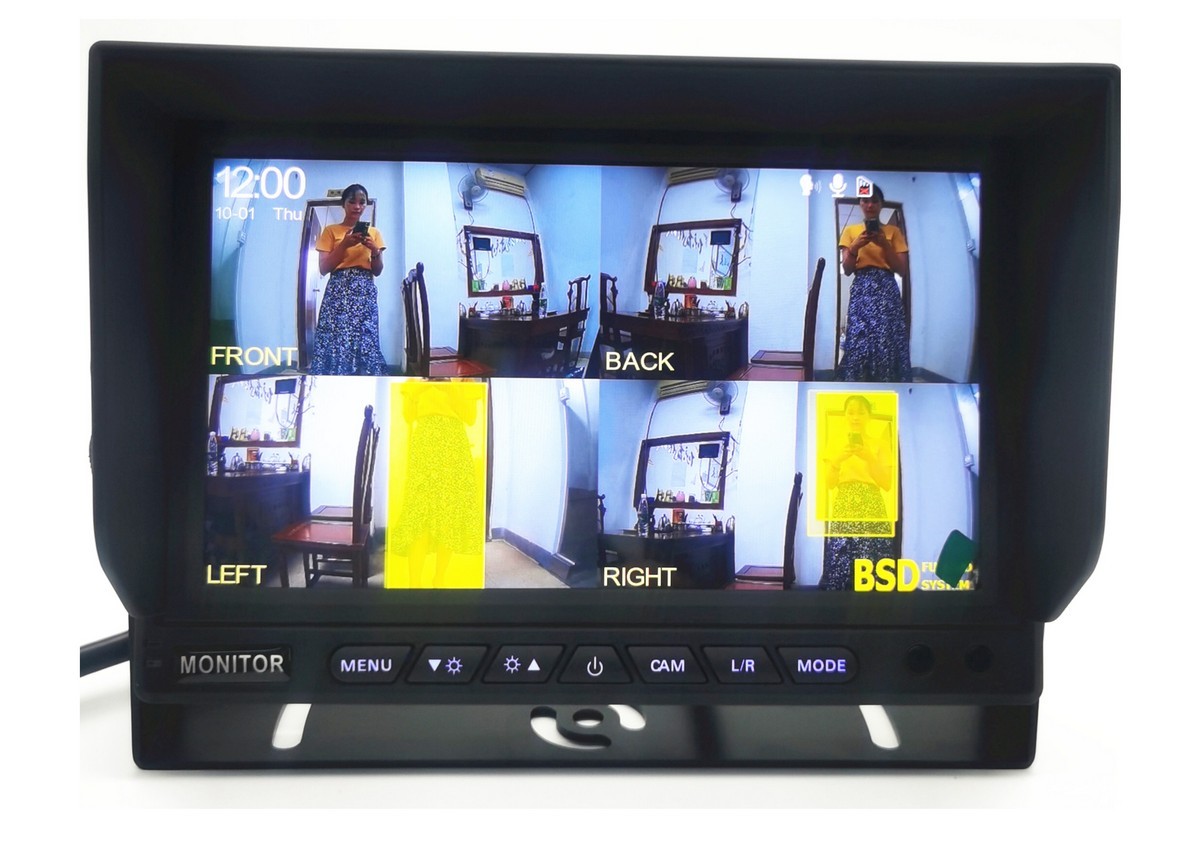 The monitor also supports the display of auxiliary guidelines, not only on the rear reversing camera, but also on the right and left cameras (channel numbers 3 and 4). The guide lines can be calibrated according to the vehicle on which they are installed. The monitor also serves as a DVR recorder with memory card support up to 128GB. Camcorder videos are stored in separate files according to channels 1 to 4. Thanks to its functions, this reversing system has a wide range of uses.
Possibility to connect up to 4 cameras with the possibility to choose the order of camera displaying.
The individual cameras can be displayed side by side or, if necessary, combine the arrangement of the cameras on the monitor.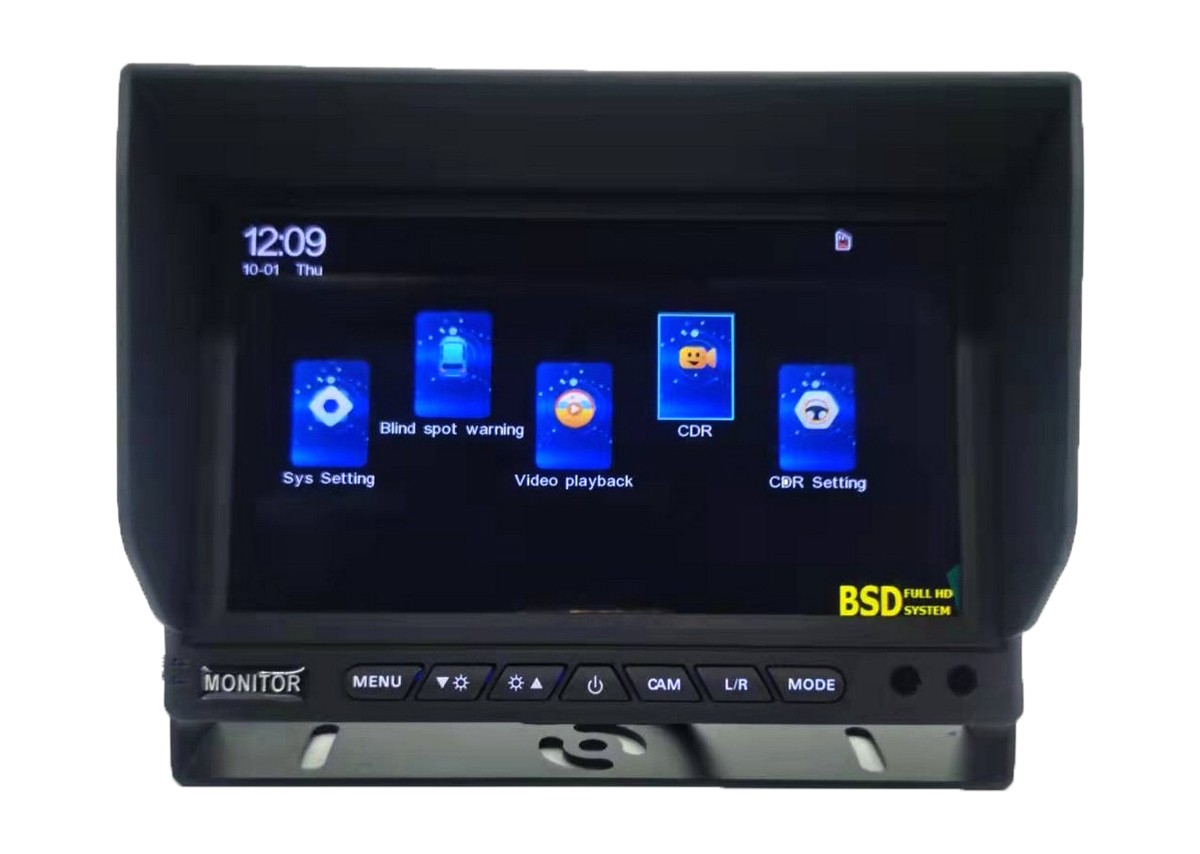 Only cameras with LED illumination can be connected to the DVR monitor (it is not possible to connect cameras with IR night vision). With this system you will know exactly what is behind or around the vehicle. It is suitable for car, van, minibus, caravan, bus, truck, semi-trailers, agricultural machinery and other vehicles. The monitor is equipped with an adjustable bracket that you can attach to the required location. There is also a sun visor to ensure a clear image and no glare and backlit buttons make operation easier in the dark.
BSD monitor for reversing cameras with image recording from 4 cameras (micro SD up to 128GB support)

Up to 4 cameras can be connected to the monitor, which you can choose from our offer (only cameras without IR night vision), and connect them to the monitor via 5, 10, 15 or 20 meter 4-pin cables. The 4-pin connector that connects the camera with the cable is waterproof, as well as the camera is dustproof and damage-resistant. Installation is simple. The power cables are located directly on the monitor and the individual cameras are powered through a 4-pin cable directly from the monitor, so is not necessary to connect each camera to the source. The monitor also includes 3 connecting cables to connect one camera to the reversing lights. When you reversing, the selected camera will be automatically displayed on monitor.

In case you need to mount the monitor in a different way than with bracket (what is included in package), you can find in our offer other types of stands which allow you to attach your monitor for example onto a windshield or where is needed. In case you need to put the camera on a trailer that is able to remove from the car or truck, you can buy in our e-shop a connecting cable of reversing camera for trailers and semi-trailers. This ensure easy disconnection of the reversing system and re-connection.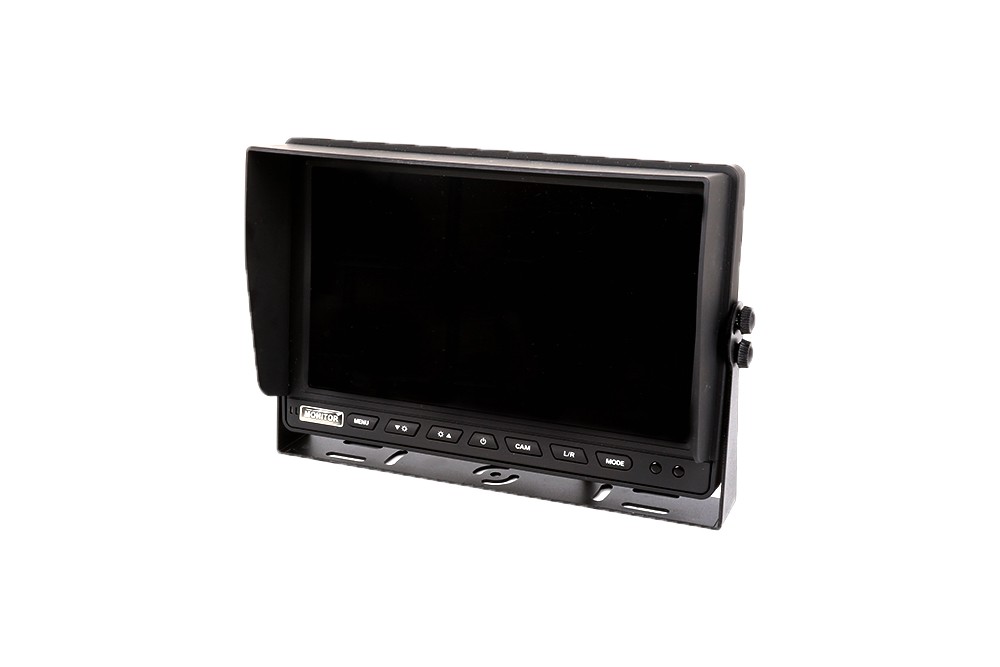 Features:
7" LCD monitor
BSD - blind spot monitoring system (blind spots)
Possibility to connect up to 4 reversing cameras
Image mirroring
Ability to display all 4 cameras on the monitor at once
OSD menu with remote control
Display resolution 1024x600 pixels
Technical specifications:
Model: Profio - W70BSD
Monitor: 7" LED HD 16:9 RGB
Resolution: 1024x600 pixels
Backlight: 500cd/m2
Viewing angle: 180°
AV input: 4 AHD channels, 720p @ 25/30 support
Trigger: 4 channels
Display modes: 4 cameras, 2 cameras, 1 camera
Functions: 3-channel blind spot monitoring system (blind spots) with alarm (left, right side, rear), monitoring distance can be set by the user
DVR: 4 channel recording, AHD resolution 1280x720 / TS format
Recording: support SD card up to 128GB
System: PAL/NTSC
OSD: brightness, contrast, color, volume, language, image mirroring, delay
Power supply: 9-40V input, 12V output
Consumption: up to 7W
Operating temperature: -20 to 70° C
Video connector: RCA / 4-pin
Size: 180x121x26 (75) mm
Package contents:
1x 7" LCD monitor
1x Remote control
1x Sun visor
1x Monitor mounting bracket
1x Monitor mounting screws
1x Power cord
1x Manual
Comments
Other Products