Backup AHD set - 1x 10" hybrid monitor + 2x HD IR camera
Product description

Backup AHD set - 1x 10" hybrid monitor + 2x HD IR camera

Backup camera AHD set - 1x 10" hybrid 4CH LCD HD monitor + 2x HD camera with 11 IR LED night vision up to 15m, with IP68 protection and 145° viewing angle. Reversing cameras AHD set with recording to SD card is a system designed for moving vehicles in difficult and confusing situations in any terrain. The camera from the PROFIO ELECTRONICS brand has an AHD resolution of 1280x720p, thanks to which you can see all the details clearly and sharply. The AHD camera with really very small dimensions of only 55x55x55 mm will take care of a quality image not only during the day, but through the night vision with 11 IR LEDs (15m afterglow) you will see well even when reversing at night. The size of the 10,1" LCD screen predetermines this set as an ideal helper when reversing.

This AHD system is a combination of the best technology that is developed for van, minibus, caravan, bus, truck, semi-trailer, tractor, harvester and other agricultural or construction machinery and vehicles. You will especially appreciate the AHD system when installed on larger motor vehicles, where you need more views from different angles. The monitor also serves as a DVR recorder for recording from cameras (it is stored on a memory card up to 256 GB).
Possibility to connect up to 4 cameras with the possibility to choose the order of displayed cameras.
The individual cameras can be displayed side by side or, if necessary, combined the arrangement of the cameras on the monitor.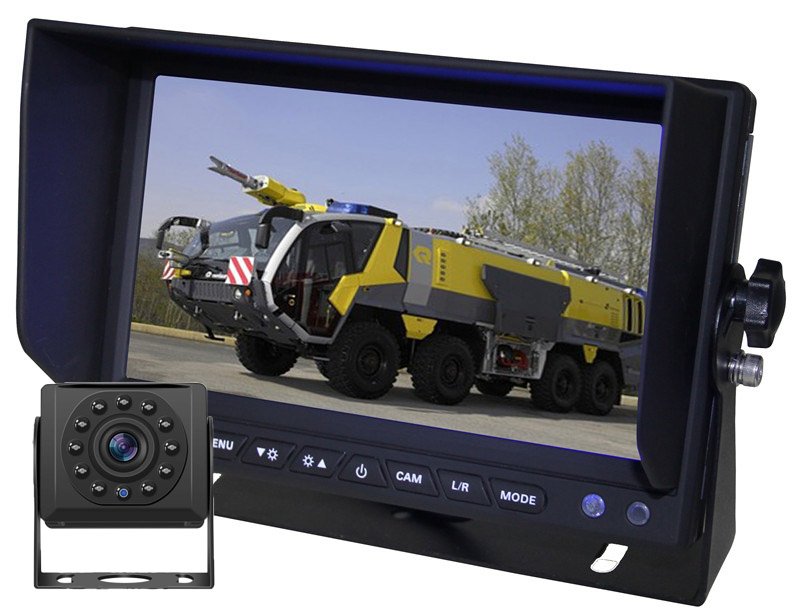 Thanks to this system, you will know exactly what is behind or around the vehicle. The reversing AHD set contains a 10,1" LCD monitor + 1x camera with IR night vision + 1x (5m, 10m, 15m or 20m cable) which is included in the price of the set and you can choose it according to your needs when ordering. The AHD set is exceptional except quality image also that the monitor can be connected up to 4 (AHD 1080P / AHD 720P / 960H / CVBS) cameras simultaneously. On the monitor can be for better orientation at the same time displayed all the cameras next to each other, or as needed to choose an option to view the camera that suits you best. The hybrid monitor supports mixed input in multiple video formats and also frequency PAL/NTSC. In the menu of the monitor is of course the mirror image of the selected camera. This reversing set has a wide range of applications. The IP degree of protection of the camera is up to IP 68, which means that it is resistant to water, mud, dust and mechanical damage.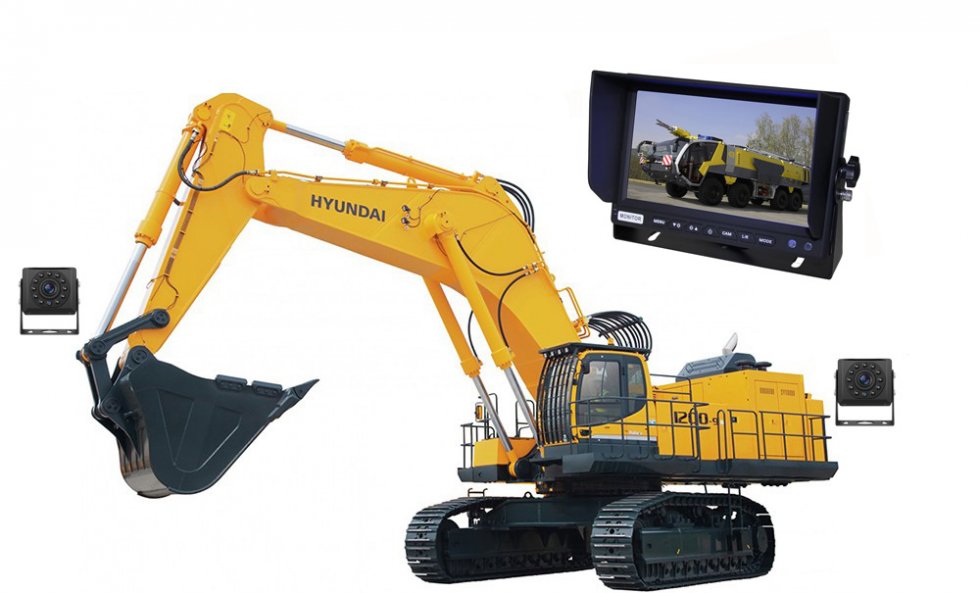 The reversing monitor contains a menu in which you have various options for setting up the LCD monitor and the cameras connected to it. The monitor also serves as a DVR recorder for recording from cameras (it is stored on a memory card up to 256 GB). The hybrid monitor supports mixed input AHD 1080P / AHD 720P / 960H / CVBS in several video formats as well as PAL / NTSC frequencies, up to 4 cameras can be connected to the monitor at the same time. This means that you can have a camera with AHD resolution of 1080P and the other, for example with a resolution of 720P, connected to the monitor, and the monitor will display the image from both simultaneously.
The recording from the cameras is stored on an SD card, which is supported up to 256 GB.
Hybrid 10,1" reversing car monitor (machines) for 4 AHD/CVBS cameras with recording to SD card up to 256 GB, with the possibility of connecting up to 4x any types of cameras FULL HD, HD, CVBS etc. reversing cameras. New generation of parking system, which brings you a clear, sharp image during the day, even in low light conditions and all the necessary technical means for safe operation and control of motor vehicles and machines. The package also includes a remote control, for even easier control of the monitor.
Use of a reversing camera with a monitor in HD resolution, also suitable for construction machinery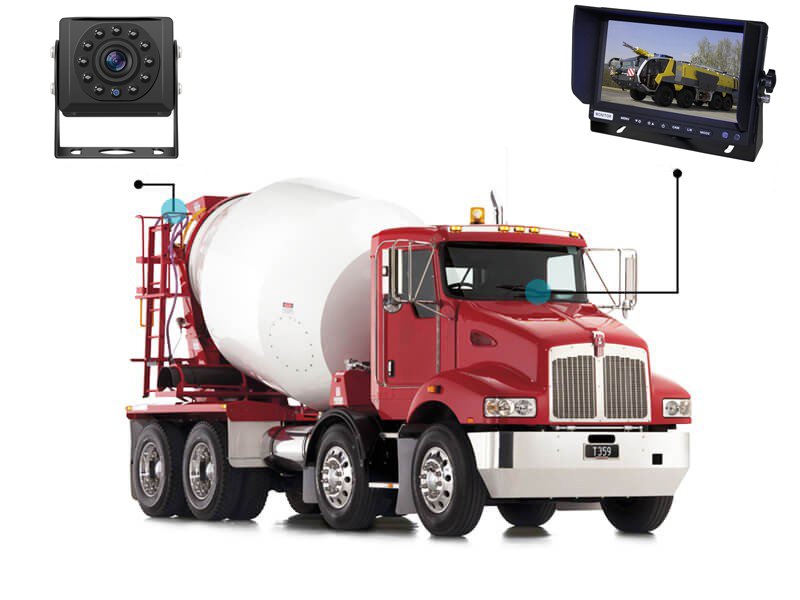 Up to 4 cameras can be connected to the monitor - AHD or CVBS. Depending on the need and type of vehicle, you can choose and combine cameras from our offer to meet your requirements. The cameras are connected to the monitor via 4pin cables. The monitor has cables for connecting the cameras and powering the monitor. The cameras are powered directly from the monitor, so it is no longer necessary to connect them separately to the source, what simplifies installation and you can place the camera anywhere in the vehicle. The monitor also includes 4 switching cables through which you can connect the camera to the reversing lights. When reverse gear is engaged, the reversing camera will automatically appear on the monitor. Cyclic video recording support (24-hour parking monitoring function).
Hybrid monitor for reversing cameras with image recording from 4 cameras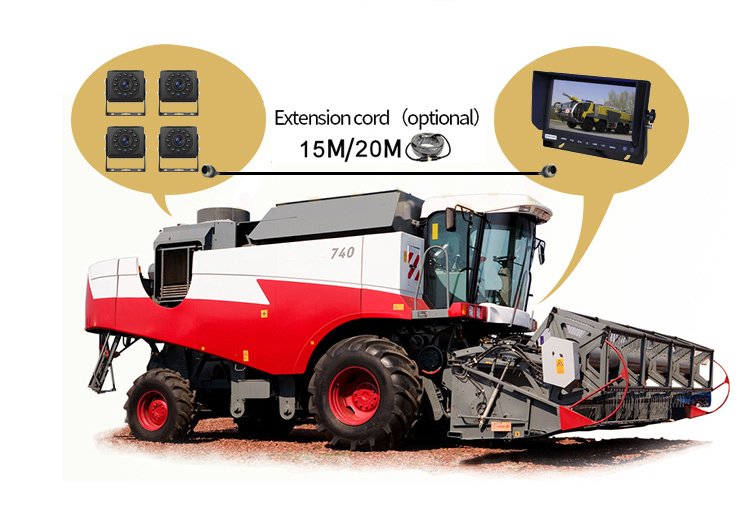 In case you need to mount the monitor in a different way than with bracket (what is included in package), you can find in our offer another three more types of stands which allow you to attach your monitor for example onto a windscreen or where is needed. In case you need to put the camera on a trailer that is able to remove from the car or truck, you can buy in our e-shop a connecting cable of reversing camera for trailers and semi-trailers. This ensure easy disconnection of the reversing system and re-connection.
Mini reversing camera 55x55x55 mm with HD resolution 720P and night vision 15m - 11 IR LED and IP68 protection and 145° viewing angle. This powerful reversing camera is the right solution for monitoring the vehicle's surroundings. It gives you an overview of what is happening around the vehicle when it is moving or reversing. The reversing camera has night vision with 11 IR LEDs and a afterglow of 15 meters. The camera has a wide range of uses, as it is suitable for larger cars, vans, minibuses, buses, semi-trailers, trailers, agricultural machinery or trucks. The 1/4 CMOS image sensor with an HD resolution of 1280x720 pixels enables high-quality and sharp image transmission.
IP68 protection guarantees resistance to water, mud, dust and mechanical damage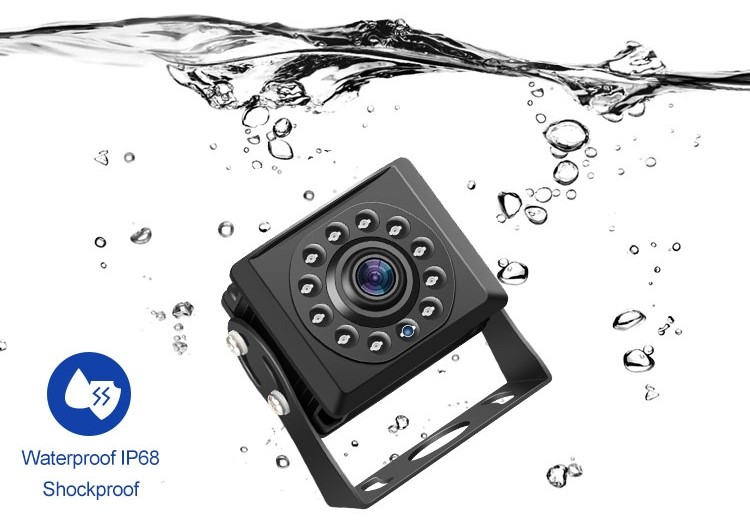 The reversing camera has a scanning angle of up to 145°, which is a sufficient range for the needs of reversing or monitoring the movement of the vehicle in an environment where increased attention is required in terms of safety. This HD camera meets the degree of protection IP68 which makes it waterproof, dustproof and resistant to mechanical damage. The camera body itself is protected by a durable alloy case. The camera can be installed on various surfaces, what is possible by a metal bracket, thanks to which you can tilt and fix it into the desired position. The power supply of the camera and signal transmission is via a high-quality, shielded connector with a 4-pin terminal, which has a waterproof finish, what will make your work easier during installation. The camera is powered directly from the reversing monitor with a voltage of 12-24V.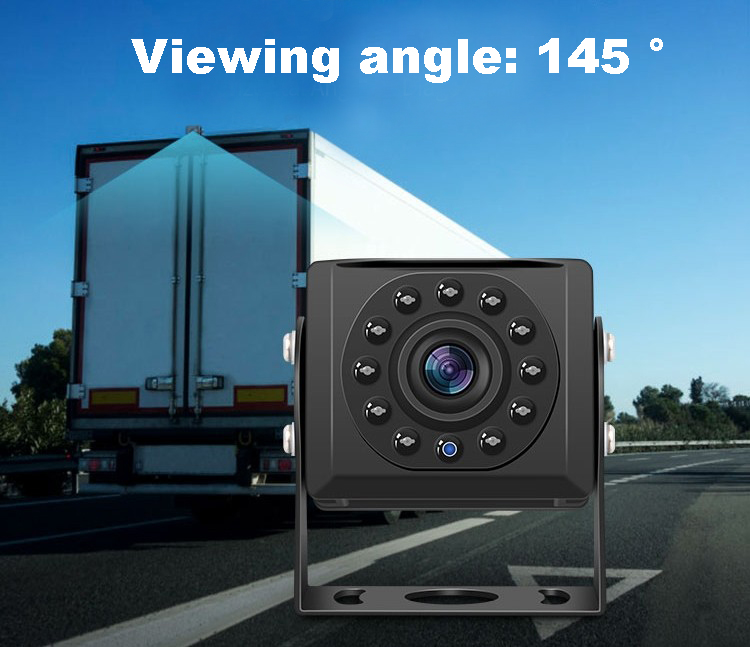 Features:

Reversing camera for all cars


11x LED IR night vision 15 m


Durable alloy camera body


Viewing angle up to 145°


IP68 waterproof, dustproof and damage resistant


10,1-inch reversing monitor


Wide range of settings in the display menu


Possibility to connect up to 4 cameras
Camera technical specifications:
Image sensor: CMOS 1/4"
Resolution: HD 1280x720 (500 TV lines)
System: PAL/NTSC
Minimum lighting: 0 LUX (IR on)
IR night vision: yes 11 IR LEDs
Night vision distance: 15 m
Viewing angle: 145°
IP degree of protection: IP 68 waterproof, dustproof, resistant to damage
Power consumption: 3W
Working temperature: -20 to 70° C
DC power supply: 12-24V
Interface: RCA
Dimensions: 55x55x55 mm
Monitor technical specifications:
Model: Profio - W100
Monitor: 10,1" HD screen
System: PAL/NTSC 50/60Hz
Aspect ratio: 16:9
Monitor resolution: 1024 x 600 RGB
Display visibility: 180° from each side
Video resolution when recording: 1280x720P, 1280x960P, 960H
Compatible signal: AHD 720P @ 25/30, 960P @ 50/60, 1080P @ 25/30, CVBS 960H
Inputs: 4x AHD/CVBS channel
Backlit buttons: yes, blue light
Luminosity: 500-700cd/m2
Recording: yes, 4 channels
Cyclic recording: yes
Display layout: 1/2/3/4 camera
Video format: AVI
Memory: support SD card class 10, up to 256 GB (memory card not included)
Possibility to adjust the OSD: brightness, contrast, volume, language
Power supply: DC 12-36V (for power supply with camera isrequired the voltage 13V)
Output voltage: DC + 11,5V/3A
Audio input: yes 1x
Connector: 4pin connector
Color: black
Remote control: yes
Dimensions: W/H/D 25 x 16 x 3,5 cm
Light curtain: yes, detachable
Operating temperature: -20 to 70° C
Package contents:
1x Hybrid 10,1" reversing monitor
2x AHD reversing camera
2x Connecting cable 5m, 10m, 15m, 20m of your choice
1x Remote control
1x Sun visor
1x Monitor mounting bracket
2x Bracket for mounting the camera
1x Manual
You can choose the length of cables according to your needs 5m, 10m, 15m and 20m. Specify the cable length in the order note.
Comments
Other Products