Wireless backup HD camera 2x with monitor 7" HD - SET
Accessories
Product description

Wireless backup HD camera 2x with monitor 7" HD - SET

Wireless backup HD camera 2x with monitor 7" HD - SET. Wifi reversing cameras full set - AHD parking and reversing set suitable for trucks, vans, agricultural machines has a simple installation, as it is not necessary to use cables to connect the camera and monitor. The first AHD WiFi reversing set on the market is designed for demanding work environments, where is necessary to have everything under control.

The advantage of this set is primarily the AHD resolution (720p), which is transferred via WiFi transmission. With the WiFi AHD set, is guaranteed a high-quality and sharp image, that is transmitted without the need for cables and complicated installation. A unique novelty in the offer of reversing sets from the PROFIO Electronics brand.
The reversing camera with monitor AHD WiFi set is unique with its high-quality clear and sharp image and transmission via WiFi signal without interference.
Possibility to connect up to 4 AHD WiFi cameras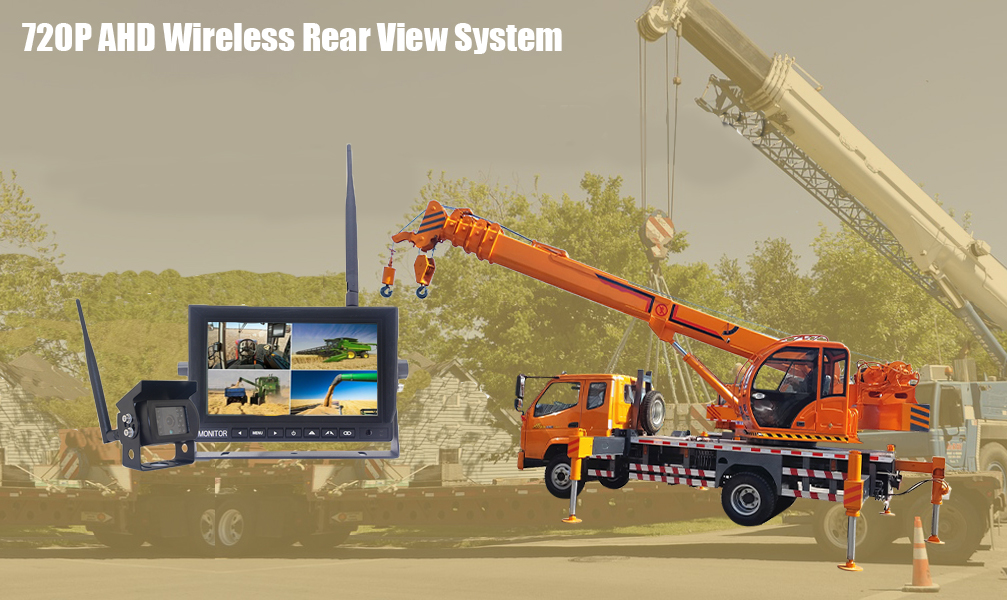 In open space, the range of WiFi signal is up to 200m. Thanks to these parameters, the strength and stability of the signal is very good without interference from the surrounding area. Metal parts of vehicles and machines do not affect the signal transmission. Wireless reversing camera for trucks or agricultural machines. The signal is strong and stable even at a longer distance.
Reversing camera WiFi AHD reversing set is characterized by an extra long range of wifi connection up to 200m in free space.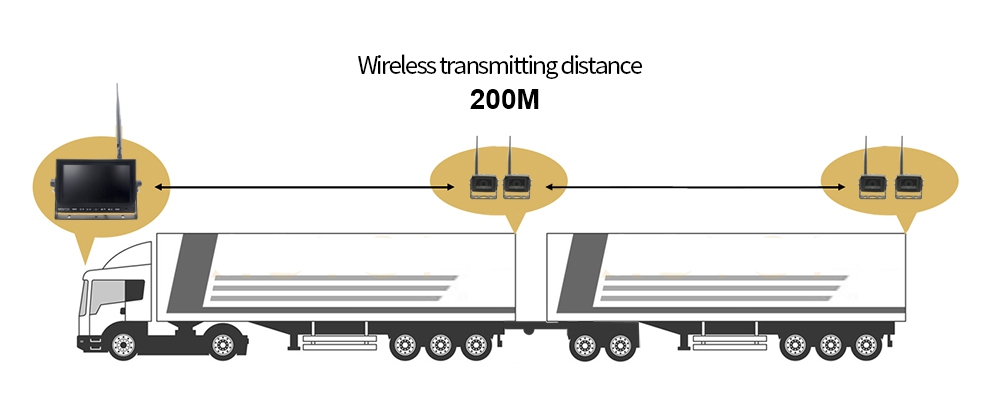 Wireless reversing camera with monitor set contains 1x WiFi AHD 7"car monitor and 2x WiFi AHD reversing camera (it is possible to connect max. 4 WiFi reversing cameras). The monitor and camera are equipped with an adjustable console, which you can attach to the necessary place. The set has a wide range of use, thanks to the high-performance wifi antenna is suitable not only for larger cars but also for vans, caravans, minibuses, buses, trucks, semi-trailers, agricultural or construction machinery and other vehicles. The IP level of camera protection is up to IP66, what means that is waterproof, dustproof and resistant to damage. The rear or front parking camera is also suitable for the vans like fiat ducato, mercedes sprinter and others.
The image from the cameras can be displayed individually or all four cameras side by side.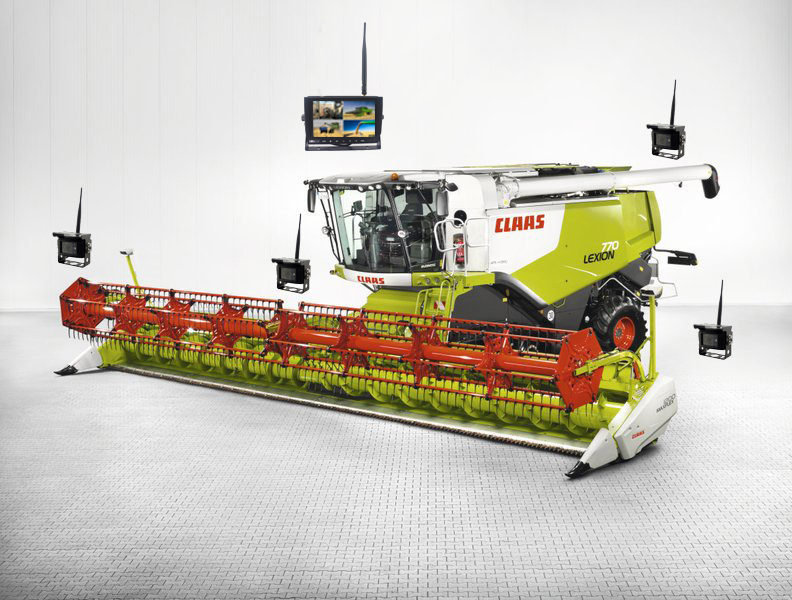 Up to 4 WiFi cameras can be connected to the WiFi monitor at the same time, what you will especially appreciate when installing on larger motor vehicles, where you need more views from different angles. Thanks to this system, you will know exactly what is behind or around the vehicle. The LED monitor has a brightness of 500:1 with a resolution of 1024x600. The camera lens with a wide shooting angle of up to 150° is also equipped with IR night vision. The monitor has a simple OSD menu through which you can adjust the color, brightness and contrast. The LCD can display all 4 cameras at once, or you can switch between individual cameras. The wifi camera also has an image mirroring function, that allows you to set to display the real right and left side from your point of view. You can adjust the image mirroring for each camera directly with the button on the monitor. You can also easily activate the auxiliary reversing lines, and with a special button, the monitor automatically pairs the connected WiFi AHD cameras.
WiFi reversing camera with monitor - AHD reversing set with HD resolution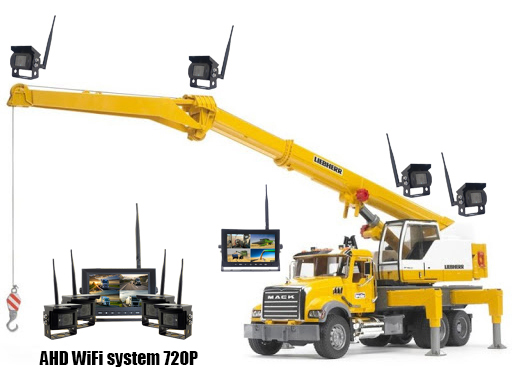 AHD WiFi 7"LED monitor with a clear and sharp image
AHD WiFi reversing camera with signal range up to 200m
Installation without the need to pull cables, automatic pairing with touching a button
Monitor with the possibility of connecting up to 4 WiFi cameras at once
IR night vision camera function
Monitor technical specifications:
Model: Profio Ultra View S7
7" AHD LED monitor
System: PAL/NTSC
Aspect ratio: 16:9
Monitor resolution: 1024x600
Inputs: 4 channel 2.4G WiFi video signal input
Contrast: 500:1
Possibility of setting: brightness, contrast, color
Power supply: DC 12V-24V
Power consumption: 5W
Working temperature: -10 to 60° C
Storage temperature: -20 to 70° C
Dimensions: 180 x121 x 24 mm
Technical specifications of the camera:
Model: Profio Parking Camera S9
Image sensor: SHARP 1/4 CMOS
Resolution: 720P
WiFi connection: 2.4G WiFi with a range of 100m
Minimum lighting: 1 LUX
IR night vision: yes
Viewing angle: 150°
IP level of protection: IP 66 waterproof, dustproof, resistant to damage
Power consumption: 3W
Working temperature: -10 to 60° C
Storage temperature: -20 to 70° C
Dimensions: 86,5 x 77 x75mm
Package contents:
1x 7" LED AHD WiFi monitor
2x AHD WiFi reversing camera
1x Manual
Comments
Other Products