WiFi camera with 180° rotating lens with FULL HD
Accessories
Product description

WiFi camera with 180° rotating lens with FULL HD

WiFi camera with 180° rotating lens with FULL HD that you can rely on to monitor your premises (flat, house, operation) when you need. The shots captured by the hidden camera are in Full HD resolution of 1920x1080 with sound and photos are in 4032x3024 resolution, which is high enough for detailed records.
The camera excels against its competitors with a great feature, with a rotating 180° horizontal lens, which gives you a complete overview of the monitored area.
The camera supports WiFi connectivity and is wireless, allowing the easy installation on the wall or ceiling, and you can then control all camera functions through the freely available Pro iCam smartphone application (iOS, Android) where you can change the angle of scanning by swiping your finger on the smartphone or zoom in or to change settings. The security camera can be connected to a home router via WIFI or P2P, allowing you to view the image anytime and anywhere using your mobile phone.

The black-box camera also has a motion detection feature to trigger recording when capturing motion in the room. A great feature with which you wil not miss any important shot, beacuse it captures only images during the activity, and you will be informed by a notification directly to your mobile phone. Captured records go through H.264 compression to reduce file size and then are stored on a micro SD card supported up to 128GB. The security black box is equipped with a built-in 5000 mAh battery, which provides full-time charging for up to 10 hours, and can also be connected to the classic network, and so the hidden camera can operate continuously. The use of a black box with a camera is for multi purposes - it serves as a great helper for securing/monitoring the home, business premises, or as children's monitoring, respectively grandparents monitoring.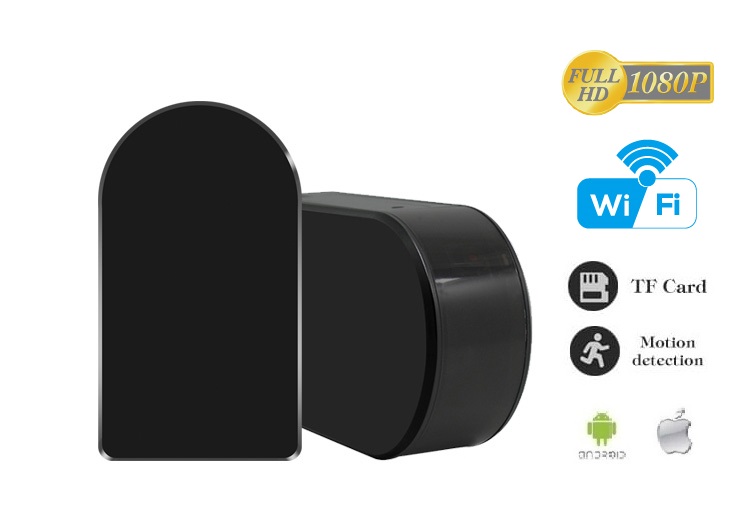 Features:
Intelligent WiFi security camera
Viewing angle 180° + horizontal 180° rotary lens
Motion sensor with notification alert
Uses microSD cards up to 128GB
Mobile phone application control
Specifications:
Image sensor: 1.0 Mpx CMOS
Video resolution: 1920 x 1080p Full HD 25 fps
Photo resolution: 4032 x 3024
Video format: AVI
Compressed format: H.264
Viewing angle: 180°
Horizontal rotary lens: 180°
Battery: 5000 mAh rechargeable
Working time: 9-10 hours
Motion detection and notification alerts
Maximum capacity of the memory card: 128 GB
Power: 2A/5V power supply with USB connection
Operating system: iOS 7 and higher, Android 4.1 and higher
WiFi: Wi-Fi 802.11 b / g / n, P2P
Dimensions: (L) 120 x (W) 650 mm x (D) 30 mm
Weight: 191 g
Package contents:
• 1x HD Camera
• 1x USB cable
• 1x User guide
• 1x CD with software
• 1x AC power adapter
Comments
Other Products