Veho Pebble SmartStick 2800mAh - portable battery
Manufacturer
/
Products availability

sold out

Sorry, but this product is sold out. This product is no longer available.
Yes! We Ship To
Price excl. VAT
U$ 32.09
Price incl. VAT
U$ 38.50
Product description

Veho Pebble SmartStick 2800mAh - portable battery

Veho Pebble SmartStick 2800mAh portable battery and charger for cell phones, MP3 players, GPS devices, Cameras and many other products.

The Pebble™ Smartstick+ emergency portable battery pack charger for mobile devices has been enhanced with an increased 2800mAh power supply, ergonomic re-design with protective port dust cap and handy clip on karabiner.

Charge your portable device on the move without the need for mains power. Small and light enough to carry around in your bag, or clip on your rucksack, the Pebble™ Smartstick+ portable emergency charger will provide your mobile device with over one additional charge, charging most popular devices including; Apple 30 pin, Blackberry and devices that use mini or micro USB.

The USB port on the Pebble™ Smartstick also allows you to charge your mobile device with the supplied manufacturer's cable.

The stylish new design incorporates a screw on cap to protect the Smartstick+ ports and also allow the Pebble karabiner to connect so you can hook onto anything.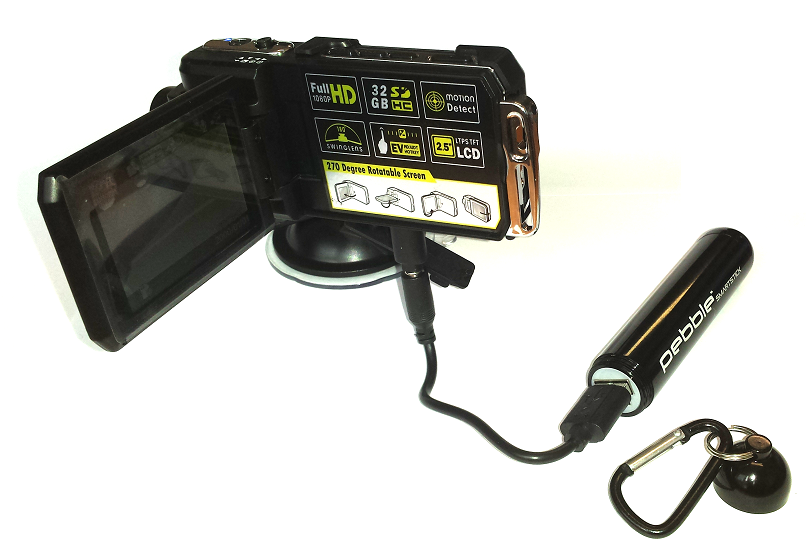 Key Features:
- Will charge most popular mobile devices and smartphones including iPhone, iPod, Blackberry, Samsung, Nokia, HTC
- Packed with 2800mAh emergency battery power for over a whole charge of most popular smartphones or mobile devices
- Comes with 3 connectors iPhone/iPod, mini USB and micro USB, 1 charging cable and stylish carry sock
- Blue and red LED charging indicators for re-charge notification
- Screw on dust cap for port protection with clip on karabiner
Box Contains:
1 x 2800mAh Pebble™ Smartstick battery charger
1 x USB charging cable
3 x Tips for most smartphones
1 x Karabiner
1 x Carry pouch
1 x Multi-lingual user manual (English, French, Spanish, German, Italian, Portuguese, Russian, Japanese, Chinese)
Comments
Other Products