Ultraviolet lamp UVC light 11W - Portable use
Manufacturer
/
Products availability
in stock
Products are in stock, ready to send.
Yes! We Ship To
Price excl. VAT
U$ 69.66
Price incl. VAT
U$ 83.60
Product description

Ultraviolet lamp UVC light 11W - Portable use

Ultraviolet lamp UVC light 11W - Portable use. Germicidal lamps best uv light sterilizer for sale. UV disinfection lamp with ozone ideal for 99,99% sterilization of bacteria and viruses (Covid-19). Through UVC light and ozone, the lamp guarantees a high degree of effectiveness in combating viruses and bacteria and disinfecting objects. The innovative lamp provides disinfection with UVC lights and is complemented by a powerful ozone generator, so it is able to sterilize pollen particles, mites and destroy viruses, bacteria and molds. The combination of UV and ozone radiation also effectively destroys the DNA and RNA of microorganisms, thereby they losing the ability to reproduce and they die. A great way to clean objects without chemical detergents and thus without any unpleasant odor. The application of the lamp is really wide, as it can be used for disinfection of personal items, clothes, dishes, telephones, toilets, bedrooms, cars, respirators and protective masks etc. The germicidal light can be used, for example, as a disinfection for terrariums, or for places where your furry pet is resting. Germicidal fluorescent lamps.

It is commonly used in healthcare as a UV lamp for disinfection of operating rooms or surgeries. In households, germicidal lamps are better known as germicidal lamp. At present, is suitable to use the lamp for protection against viruses and bacteria especially during influenza seasons (Corona - covid 19 etc.) Germicidal lamps + UVC lights - best uv light sanitizer for effective ozone disinfection and room sterilization with ultraviolet sunuv (bulbs, tubes, led) in stock for sale online - you can buy at good price.
UVC lamp - Double disinfection and sterilization of up to 99% of all microbes
Thanks to UV light and ozone, the lamp guarantees a high level of effectiveness in fighting viruses and bacteria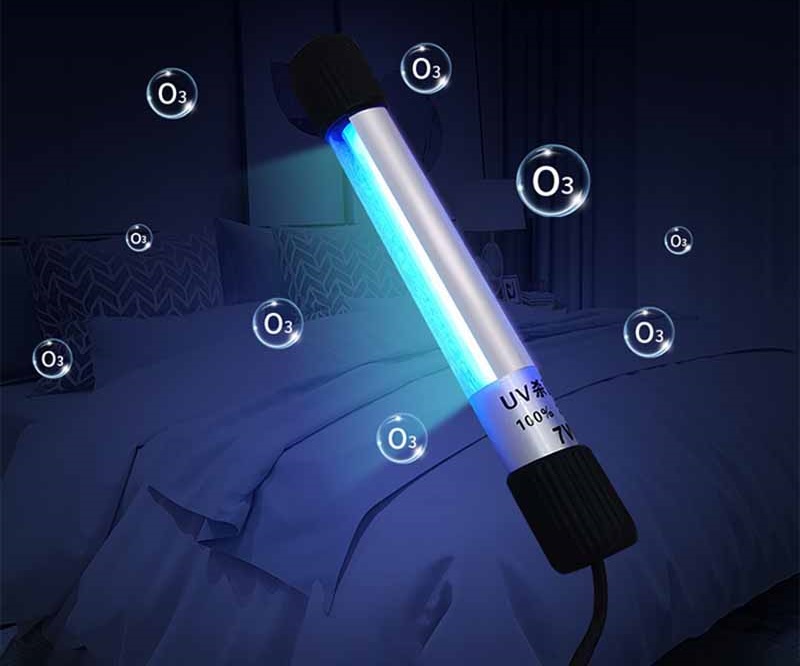 Germicidal fluorescent lamps - Fast and efficient
The sterilization rate is up to 99% - aim the light and gently pull the lamp over the object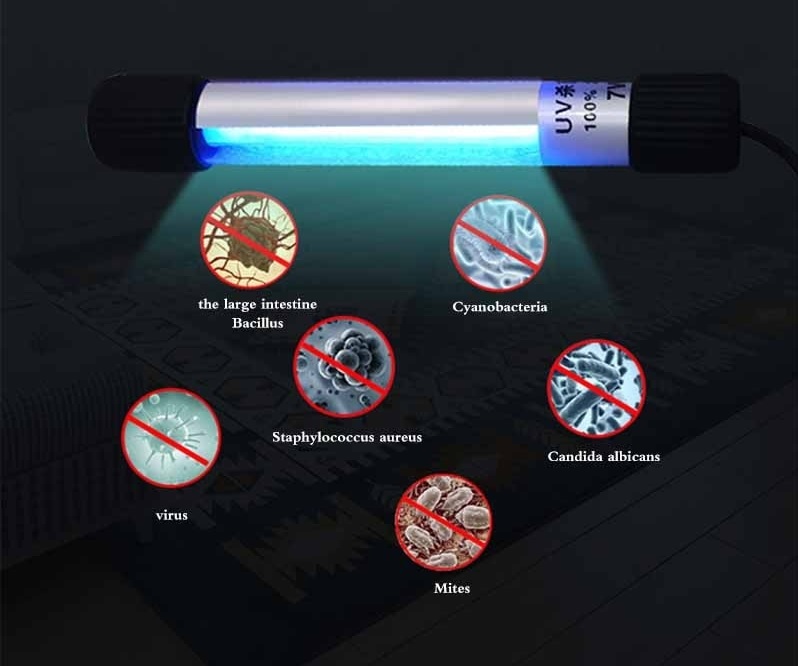 Germicidal tubes - Versatile use
UV LED germicidal lamp finds its use in every household for effective disinfection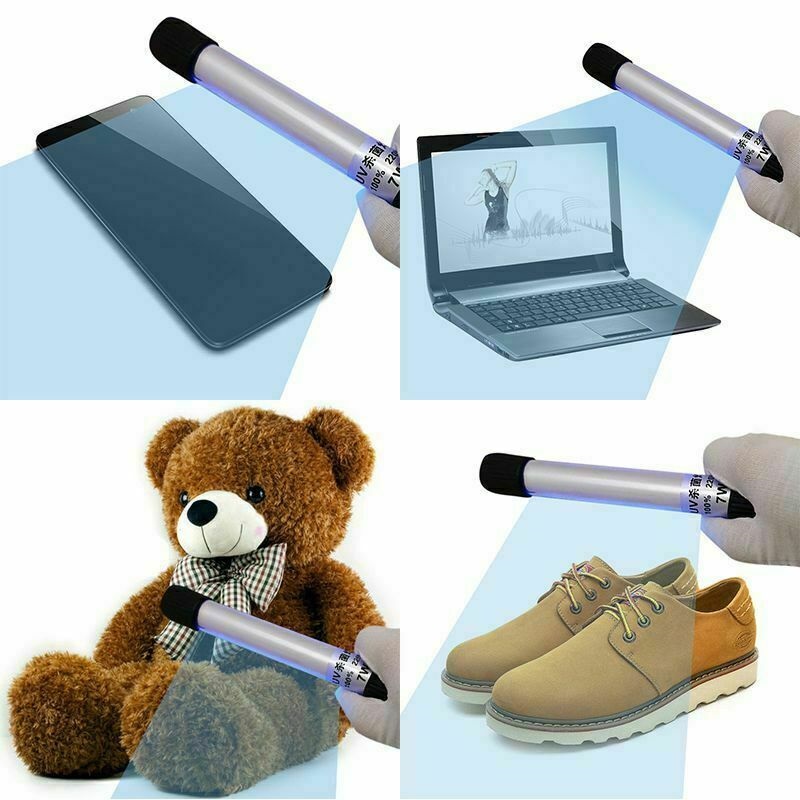 Features:
UV LED sterilization + Ozone
Versatile use for disinfection
Compact and lightweight design
Easy operation
Specifications:
Model: Profio UVC Tube1
Type: Handheld UV lamp
Material: ABS + Glass
Power supply: 220V
Power: 11W
UV wavelength: 240 nm
Lamp life: 80,000 hours
Cable length: 1m
Outer size: 23cm
Package contents:
1x UV sterilization lamp
1x Manual
What is UV-C radiation?
UV-C radiation is one of three types of UV light, its wavelength causes damage to the cell membrane and disrupts the DNA of viruses and bacteria and destroy them. This germicidal radiation therefore has disinfectant features. As it is a UV light, it is able to disinfect all the surfaces onto which it impacts, and in the case of various fabrics, it penetrates directly into them without damaging them. Such a germicidal light is not a new technology, but has been used for years, mainly in health care. The sterilization UV lamps were used mainly for disinfection of operating rooms, but we could also see them in various surgeries or waiting rooms.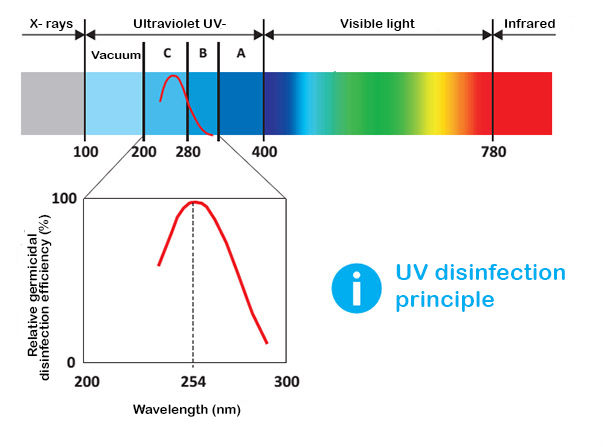 Use of germicidal light, UVC disinfection and sterilization:
- In health care, waiting room, surgeries, operating room
- In the food industry, food storage, storage areas
- Sterilization of drinking water
- In breeding for disinfection of terrariums, aquariums, bedding, food
- In hotels, restaurants, offices, toilets
- Sterilization of air conditioning, tools, instruments and machines
CAUTION
When activating the lamp, people and animals need to leave the room!
UV-C light can cause eye damage, so we recommend you to buy safety goggles from our offer when using it.
Animals or plants must not be present in the room you are currently disinfecting.
Comments
Other Products