Sterilization box UVC + wireless charger for smartphones
Manufacturer
/
Products availability
in stock
Products are in stock, ready to send.
Yes! We Ship To
Price excl. VAT
U$ 78.84
Price incl. VAT
U$ 94.60
Product description

Sterilization box UVC + wireless charger for smartphones

Sterilization box UVC + wireless charger for smartphones up to 6,6". Suitable for disinfection and sterilization of mobile phones against viruses and bacterias (Corona - Covid 19). Sterilizing UV box with wireless charging of mobile phones for maximum protection against bacteria. Nowadays, we face many different bacterial and viral treats against which it is good to protect ourselves (mobile phones, keys, bank cards, etc.) which can often be a haven for bacteria and must be completely removed. The results of scientific research prove, that there are up to 8x more bacteria and viruses on a mobile phone than on the toilet board.

We offer you a UV disinfection box designed for this, which ensures maximum disinfection of inserted objects in a few minutes. Ultraviolet radiation ensures complete sterilization while being safe and environmentally friendly. At present, the use is suitable for protection against viruses and bacteria, especially during flu seasons (Coronovid 19, etc.).
UV disinfection box
On the inserted objects, up to 99,99% of the bacteria are destroyed per one use. The UV box ensures complete sealing and sterilization environment from dust while preventing any kind of contamination of the inserted object.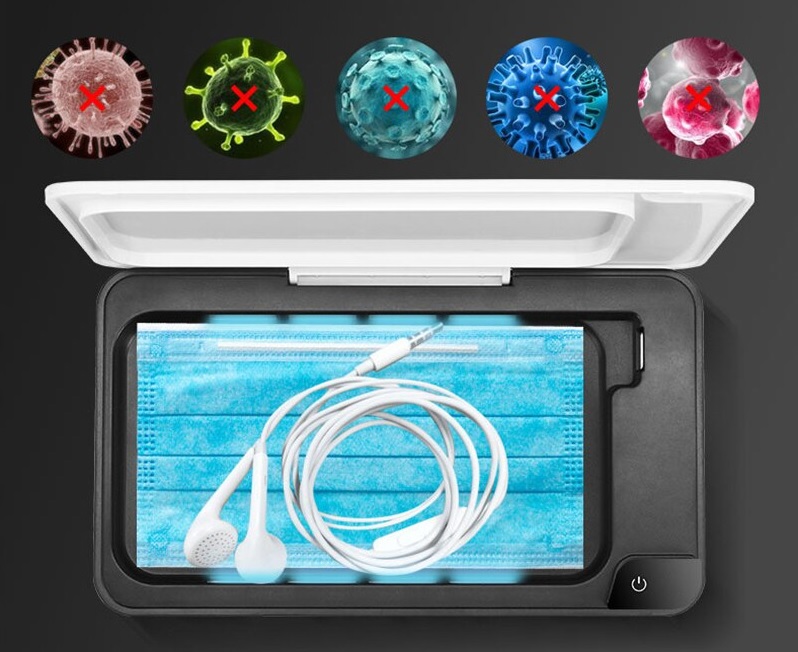 The advantage of UV box is the wireless charging function, so the mobile phone's battery will be charged during the disinfection process. The uv sanitizer box can disinfect your cell phones (up to max. 6,6") from bacteria and viruses also protective respirator and mask, toothbrush, jewelry, lipstick, keys, tools etc.. The use of UV box is universal and therefore finds its application in every home, office, hotel, travel and the like.
Do you know how many known types of viruses exist?
Protect your health and the health of your loved ones with an effective way.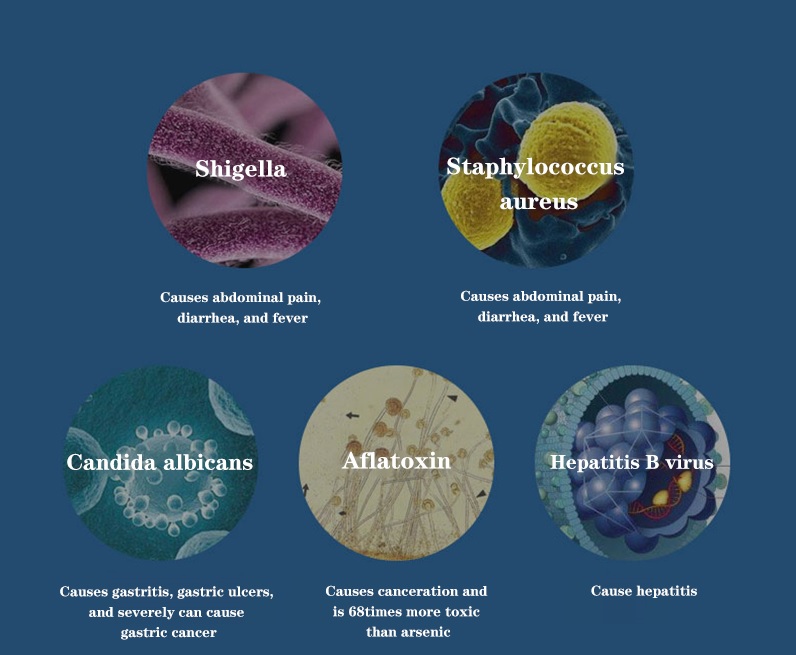 Phone stand
The interior of the box can also serve as a mobile phone stand for comfortable video viewing during video calls.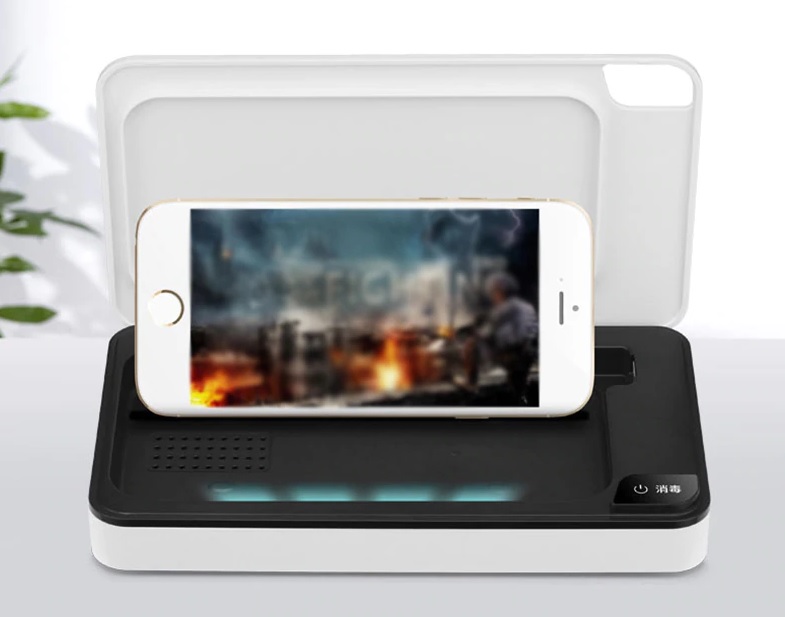 Aromatherapy diffuser
Just a few drops of your favorite aromatic oil into the aromatherapy groove will refresh your objects at disinfection and create a pleasant aroma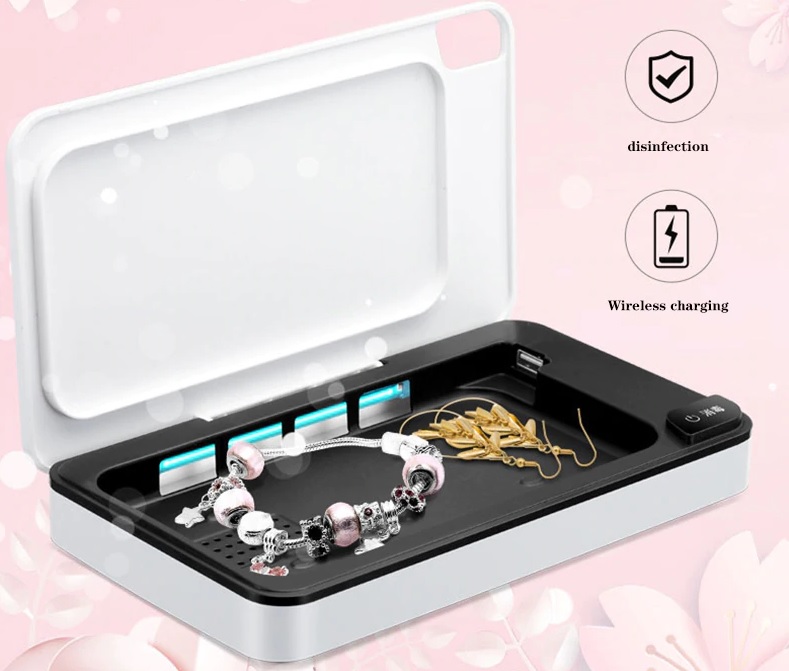 Compact and lightweight design
The design of the UV box is in perfect size with a light weight for comfortable everyday use when travelling.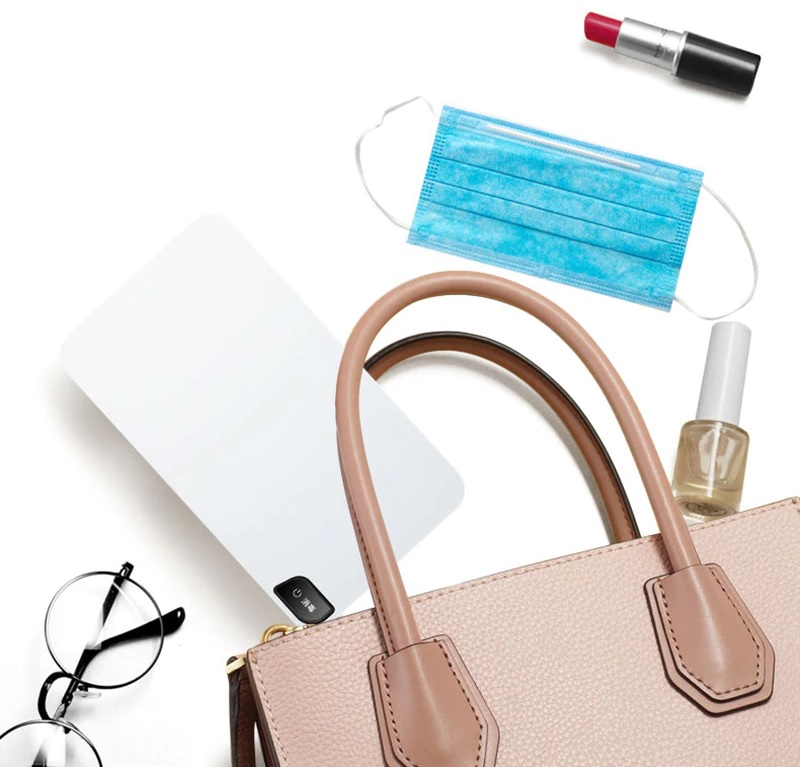 Disinfection is prevention
Disinfection has never been as easy as with our UV box. Simply put the item in the box, close the lid and press a single button to start disinfection
Features:
UV sterilization
Wireless charging
Versatile use for disinfection
Perfumed sterilization (aromatherapy)
Phone stand
Compact design
Specifications:
Model: Profio UVC Box S2
Type: UV sterilizer
Color: White
Material: ABS
Voltage: DC 5V
Current 1-1,2A
Max. power: 9W
UV wavelength: 253,7 nm
Disinfection power: 2W
Max. size of mobile phone: 6,6"
Operating temperature: -10° C - 45° C
External dimensions: 220 mm (length) x 125 mm (width) x 27 mm (height)
Weight: 300 g
Package contents:
1x UV sterilization box
1x USB cable
What is UV-C radiation?
UV-C radiation is one of three types of UV light, its wavelength causes damage to the cell membrane and disrupts the DNA of viruses and bacteria and destroy them. This germicidal radiation therefore has disinfectant features. As it is a UV light, it is able to disinfect all the surfaces onto which it impacts, and in the case of various fabrics, it penetrates directly into them without damaging them. Such a germicidal light is not a new technology, but has been used for years, mainly in health care. The sterilization UV lamps were used mainly for disinfection of operating rooms, but we could also see them in various surgeries or waiting rooms.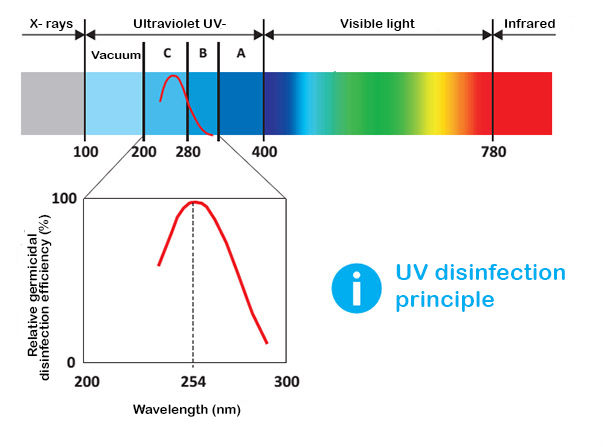 Use of germicidal light, UVC disinfection and sterilization:
- In health care, waiting room, surgeries, operating room
- In the food industry, food storage, storage areas
- Sterilization of drinking water
- In breeding for disinfection of terrariums, aquariums, bedding, food
- In hotels, restaurants, offices, toilets
- Sterilization of air conditioning, tools, instruments and machines
Comments
Other Products