Spy camera with IR LED - permanent recording + motion detection
Accessories
+

Micro SDHC 8GB Class 4 U$ 11.00
+

16 GB micro sd class 6 U$ 20.90
+

32 GB micro sd class 6 U$ 35.20
Product description

Spy camera with IR LED - permanent recording + motion detection

Spy camera with IR LED - permanent recording + motion detection - unique spy shop products for best price. ISO EN 9001:2008 certified online seller. The spy camera in motion sensor is very effective if you have suspicion that someone is stealing or cheating on you. Now you can finally find out the truth this great spy camera hidden in the motion sensor of alarm. Just put the camera to the corner of your room, connect it to the electricity, insert micro SD card and just wait what will happen. Later, you can play all the important recorded videos and maybe you will be very surprised what you might see on the records from the camera.
The advantage of this camera is, that according to the constant connection of power supply, the camera can make the records for several days due to the capacity of inserted micro sd card.
In the package you will find a set of holders for easy mounting of the sensor, the camera remote control (operates within 8 m), and additional cables.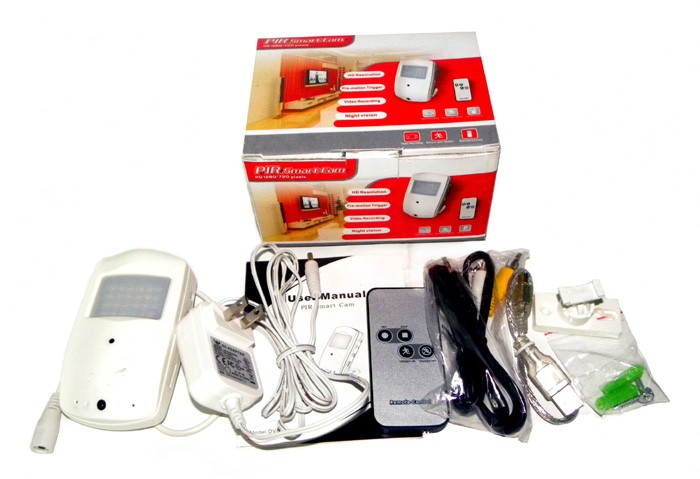 Mini camera records in mode 30 frames per second in AVI format. You can connect the camera by the included USB cable to your computer and use it as a webcam or an external drive, which allows you to play records on the computer.
Specification of spy camera
- Built-in detection of motion
- Format of memory card: Micro SD Card / TF card - (1GB - 32GB)
- USB: USB 2.0
- Video format: AVI format HD resolution 1280x720px/30 frames per second
- Photo in resolution: 1280 x 960
- Slot for micro SD card
- Range of remote control: 10 m
- Night vision: up to 8 m
- Operating temperature: -10 up to 50 degrees
- Operating humidity: 20% - 85% RH
- Dimensions: 103 * 60 * 29.5 mm
- Weight: 145 g (including adapter)

Accessories of Spy camera
- Spy camera in motion sensor
- Remote control
- Holder on the wall
- Adapter 220V
- Set of screws for installation
- AV cable
- USB cable for connection to PC
- Manual
Comments
Other Products