Button Angel Eye camera with LCD display
Accessories
+

16GB Micro SDHC Class 10 Kingston U$ 18.70
+

Product description

Button Angel Eye camera with LCD display

Button Angel Eye camera with LCD display - unique spy shop products for best price. ISO EN 9001:2008 certified online seller. You can capture the record with Audio not only by pressing of the record button on the unit or on the remote control, but you can set up automatic recording if camera detects any movement in front of the camera. An ideal solution for recording of the interior or the exterior. External lens is on the cable, and that allows you to attach or hide it at different monitored places. Video can be recorded at a resolution of 800x600 pixels.

The lens may be masked as a button (knob), it comes with several sizes of buttons, which can be attached onto your clothes. The lens has a long cord, which can be placed underneath the clothes, in your pocket etc. To start recording, you can use inconspicuous remote controler.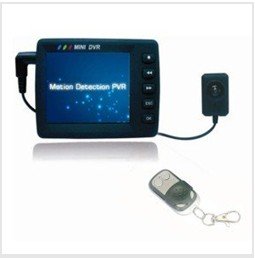 The device can be set either to record with video and audio, or audio only. Records are saved to internal memory or micro SD card (not included). Support of micro SD card, up to 32 GB. The record shows the date and time and can be played on a 2,5-inch LCD screen, or using a USB cable on your computer. High capacity lithium battery provides 5 hours of playing or 3 hours of video recording.
Specifications:
Video resolution: 800x600
Video format: MPEG-4
Video Output Mode: NTSC / PAL
2,5-inch LCD display 960x240
Format: MPEG-4/AVI/ASF
Frequency range: 20Hz-20Hz
The audio channel: Stereo
Headphone output: L20MW + R20mW
Speaker: 1.5W
AV input jack: 2.5mm
Flash memory 128MB
Support of Memory Card: TF / Micro SD (up to 32GB)
Built-in Li-ion battery 1800mAh
Recording of video > 3 hours
Playing > 5 hours
Contains:
Recording device
Mini lens on the cable
Remote control
USB cable
AV video cables
DC 5V 2A Charger
1800 mA lithium battery
Stereo headphones
Different sizes of buttons for hiding of the lens
Manual
Comments
Other Products