Spy camera pihhole FULL HD with IR LED + WiFi/P2P
Accessories
Product description

Spy camera pihhole FULL HD with IR LED + WiFi/P2P

Spy camera pihhole FULL HD with IR LED + WiFi/P2P with motion detection + alarm. Remote live streaming and external night vision up to 6m and support up to 128GB micro SD . The image from the camera can be viewed in the live transmission via mobile phone. The camera captures high definition images at resolution 1920x1080 with 25 fps in day and night, thanks to the night vision up to 6 meters and a with 120° shooting angle you have you great visibility of the shooting area. Captured images are stored on a micro SD card supported up to 128 GB and thanks to a battery capacity of 1500 mAh, you have up to 5 hours of recording time. Pinhole micro camera is a useful tool in the spy world, if you need to record the real behavior of people without any anyone noticing. You can buy online for a good price directly at our store.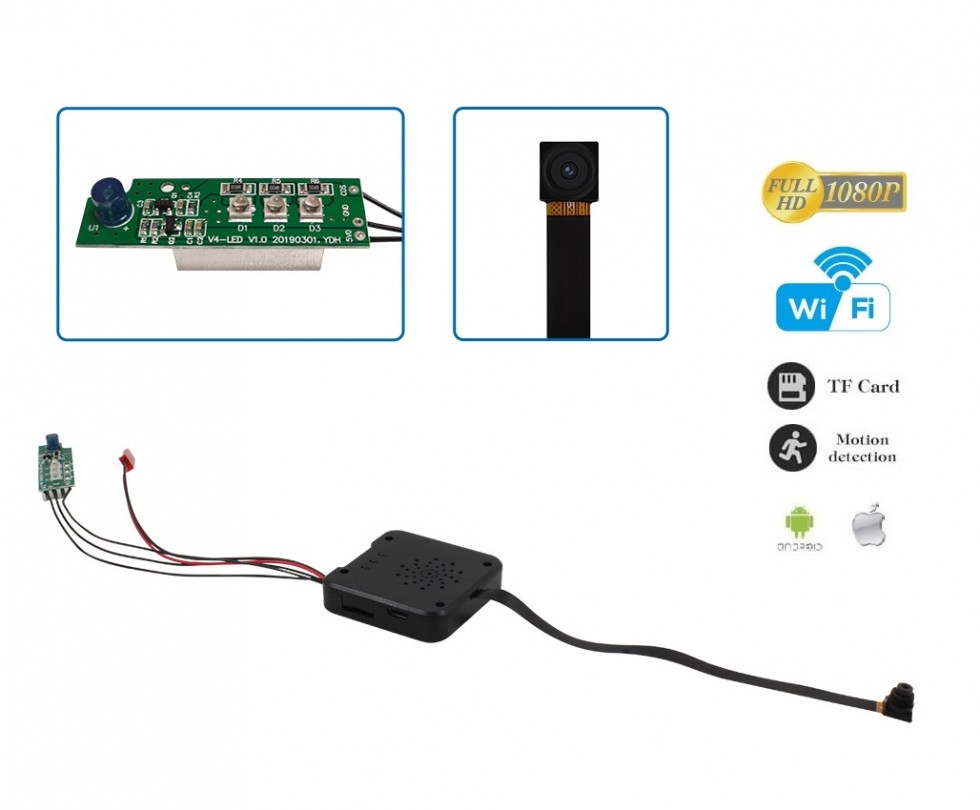 The miniature dimensions of the camera combined with a long neck of the lens up to 13 cm ensure inconspicuous installation. Another advantage of the camera is independence from external power, what makes the camera timeless in comparison wih the large security cameras. The device supports WiFi and is wireless, allowing easy installation into the ceiling, on the wall or into a teddy bear or flower pot.
You can control the camera functions remotely via the free application "TinyCam" for smartphones (iOS, Android). Through the application you can change video resolution, length of individual videos, recording method - motion detection with alarm (notifications) or continuous recording. The security camera can also be connected to a home router via WiFi or P2P which allows you to view the camera image anytime and anywhere directly via your mobile phone. Mini Pinhole HD camera is a suitable solution for security monitoring of an apartment, house, office or other premises during your absence.
Features:
Mini pinhole HD Camera
External night vision up to 6 meters
WiFi + P2P connection for live streaming
The lens with 120° wide angle
Video with 1080P resolution at 25 fps
Supports memory cards up to 128GB
Battery capacity 1500 mAh guarantees up to 5 hours of recording
Motion detection function with alarm
Specifications:
Image sensor: 1.0 Mpx CMOS
Video resolution: 1920x1080p Full HD 25 fps
Photo resolution: 1280x720
Video format: AVI
Compressed format: H.264
Viewing angle: 120°
Lens cable: 130 mm
Lens size: 5x5 mm
Battery: 1500 mAh rechargeable
Working time: up to 5 hours
Motion detection and advanced notifications
Maximum memory card capacity: 128 GB
Operating system: iOS 7+, Android 4.1+
WiFi: Wi-Fi 802.11 b/g/n, P2P
Weight: 140 g
Package contents:
1x WiFi HD Pinhole micro camera
1x Li-on Battery (1500 mAh)
1x USB cable
1x USB micro SD card reader
1x Manual
Comments
Other Products