Pen camera - Spy hidden cam FULL HD
Accessories
+

Micro sd class 10 32 GB Samsung U$ 26.40
Product description

Pen camera - Spy hidden cam FULL HD

Pen camera - Spy hidden cam FULL HD​. The hidden camera in the pen records video in Full HD 1080p resolution, at 30 frames per second with H.264 video compression . Support micro SD up to 64GB - spy camera hidden in the pen for secret recording. Recording video discreetly is one thing and making quality recordings or images is another. The spy pen is a perfect combination of both and is really very easy to use. The spy camera looks like a stylish, elegant pen, which guarantees that no one will even think that it could be a hidden camera. The pen is also equipped with a microphone, a rechargeable battery with a capacity of 170mAh and a recording life of up to 120 minutes and support for micro SD cards up to 64 GB. The pen is suitable for indoor or outdoor recording. Controlling the pen is very simple with a single button. You can write with a spy pen as with classic pen, and also you can change the refills.
Writing pen with camera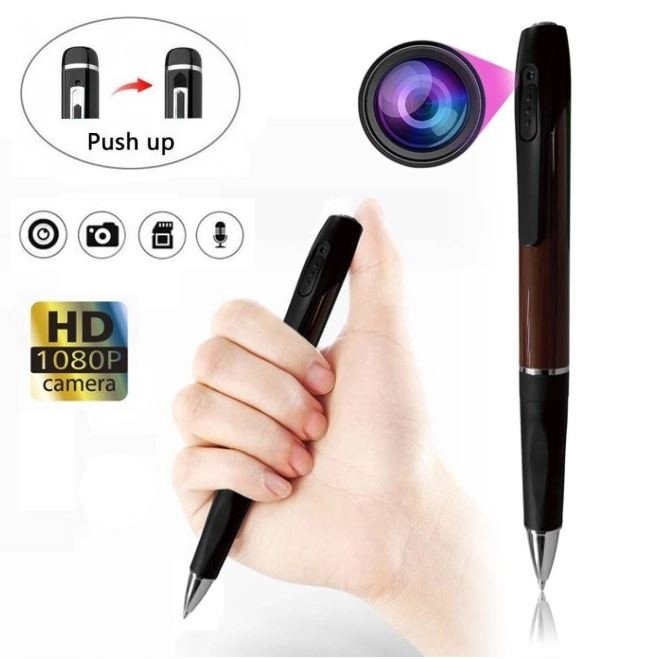 With a long hold of the button at the top, will switch the camera into standby mode, what is indicated by an inconspicuous blue LED indicator, which is on the opposite side as the camera, to stay hidden from surroudings. Press the button to start video recording and press again to stop recording and save the video to the micro SD card. The videos show the date and time of the recording. The pen also acts as a photo camera for capturing high-resolution photos. Charging is possible with a USB cable. When connected to a PC, the device can be used as a classic USB Flash Disk for archiving or data transfer.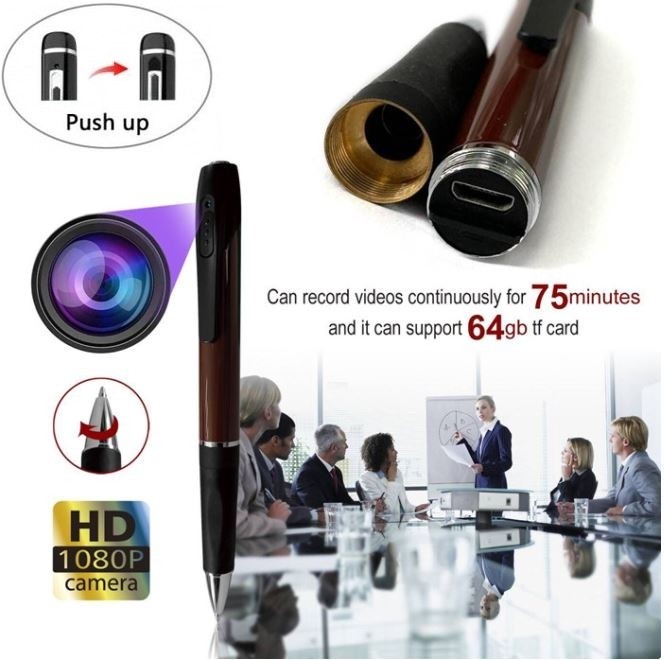 Camera in the pen - the possibility of covering the camera lens with a sliding cover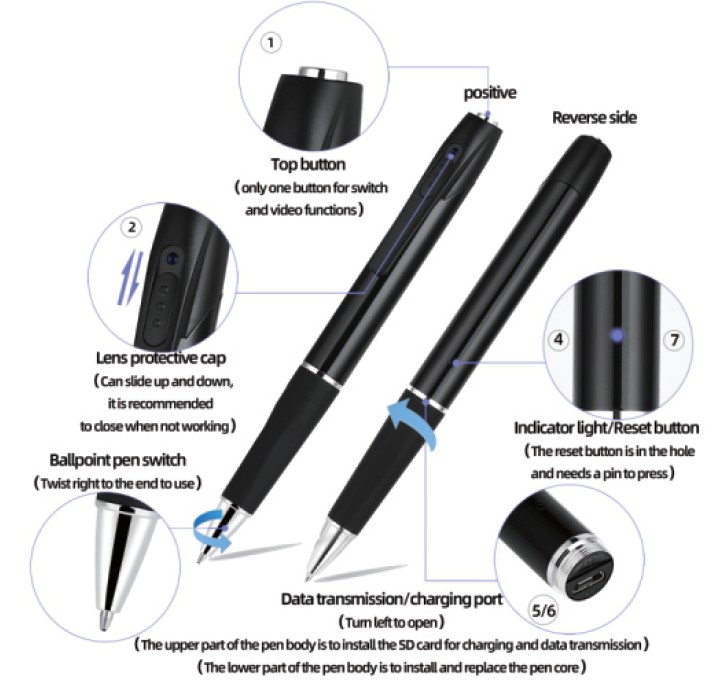 Features:



Inconspicuous appearance


Miniature mini DVR camera hidden in a pen.


Built-in microphone.


Possibility of covering the camera lens with a sliding cover


Possibility of recording the video even while charging the battery
Technical specifications:

Format compression: H.264
Video resolution: 1920x1080 pixels
Video frequency: 1080p max. 30 fps
Video format: AVI
Photo format: JPG
Interface: USB 2.0
Support micro sd up to 64GB
Charging: USB
Battery capacity: 170mAH
Recording time: up to 120 minutes
Color: black
Package contents:
1x Writing pen with hidden camera FULL HD
1x USB cable
1x Manual
Comments
Other Products