OWLER1 - 4x zoom binoculars with camera + night vision 500m
Accessories
+

Product description

OWLER1 - 4x zoom binoculars with camera + night vision 500m

OWLER1 - 4x digital zoom and 20x optical zoom, binoculars with camera with recording + night vision 500m/3000m day. HD video recording with sound, photos and playback - all on the binoculars screen. Digital telescope camera with recording on micro SD (pack contains 32 GB card, support micro SD cards up to 64 GB), photo camera and camera feature. Visibility even in 100% darkness - OWLER1 is designed for day and night use. It has features such as photos, video and playback. Optical 20x magnification and 4x digital zoom allow you to view distant subjects clearly. It is suitable for camping, hiking, caving, fishing, hunting, animal watching, search events and other night activities. The package also includes a case for binoculars and accessories.
Binoculars with recording camera + night vision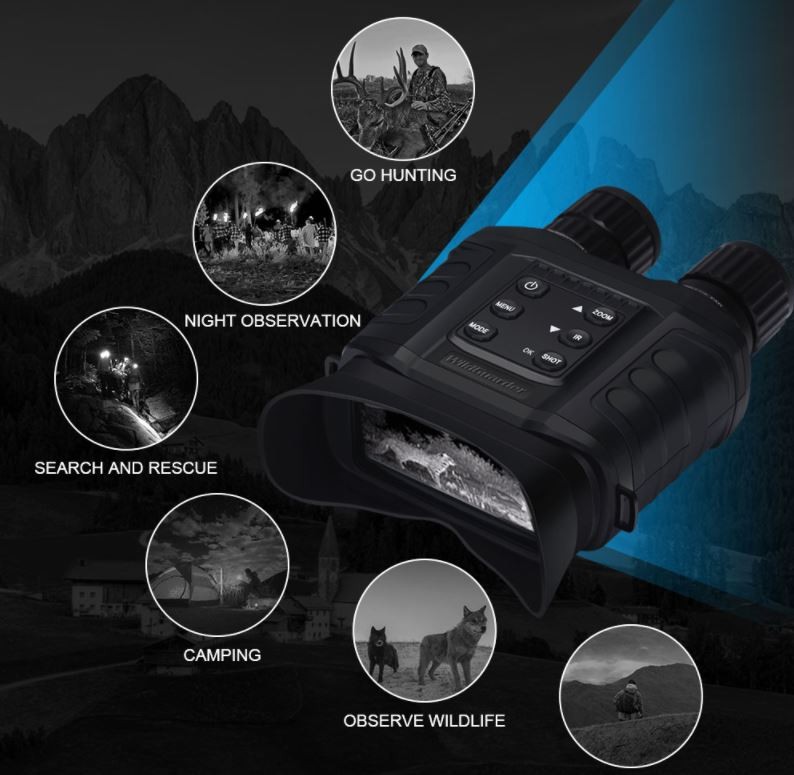 The built-in 5W infrared LED 850nm illuminator allows you to observe a target up to 500 meters away, even in complete darkness without ambient light. During the day, the visibility range is up to 3000 meters. The screen resolution is 854x480 pixels. Rubber armor allows comfortable use and protects against slipping out of the hand. Complete sealing and nitrogen filling - resistant to fog and rain, prevents moisture and dust from penetrating into the binoculars.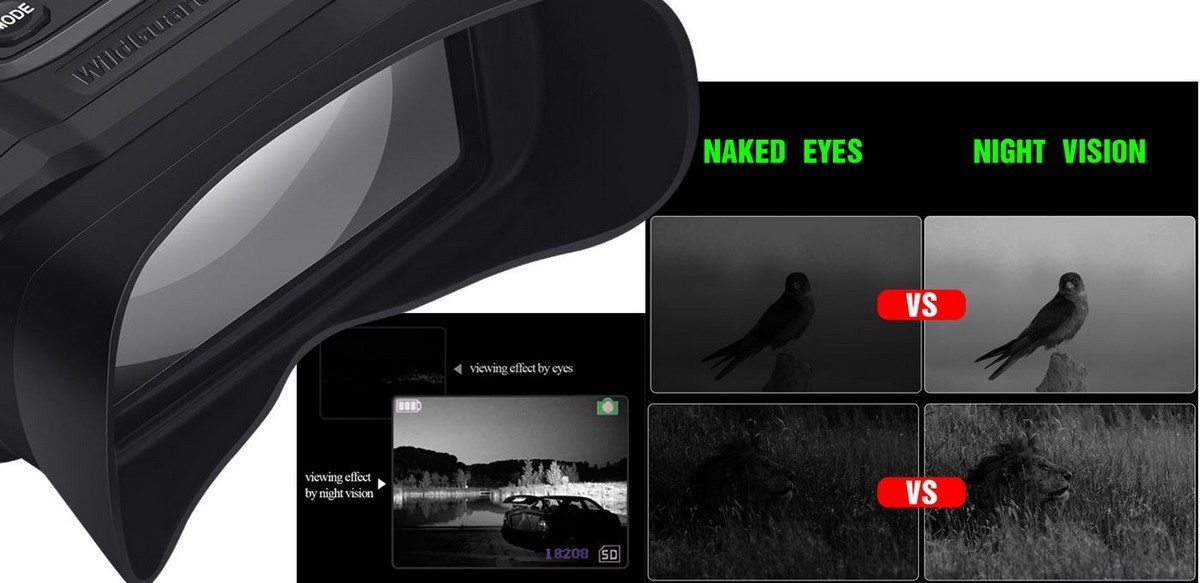 The night vision binoculars have a built-in 3" TFT LCD widescreen display, covex len converted to a 4-inch large screen. 4x digital magnification and 20x optical magnification allow the user to zoom in out the subject. 30mm lens aperture and viewing angle 1,8° - 68° offer more angle of view. LCD display provides easy viewing, quick control of various functions to capture perfect image or high-definition video. Easy operation thanks to six multifunction buttons, multi-layer optical elements increase light transmission and reduce glare. Thanks to the excellent optical clarity, high-performance digital night-vision binoculars can be easily adjusted to the best focus according to the actual viewing distance.
HD video recording with sound, photos and playback - all on the binoculars screen
OWLER1 with a sensitive infrared CMOS sensor and auxiliary lighting CCD, it is possible to use it day and night, to record an image in HD quality 2592x1944 pixels with sound. Operation for up to 6 hours of continuous operation with the IR emitter switched on. Supported capacity for micro SD card is up to 64GB. Support for battery power (8x AA - not included) and external power supply (power bank). You can easily attach the OWLER1 to the tripod and stand thanks to the screw 1/4 - standard thread. The package also includes a practical bag for binoculars and accessories.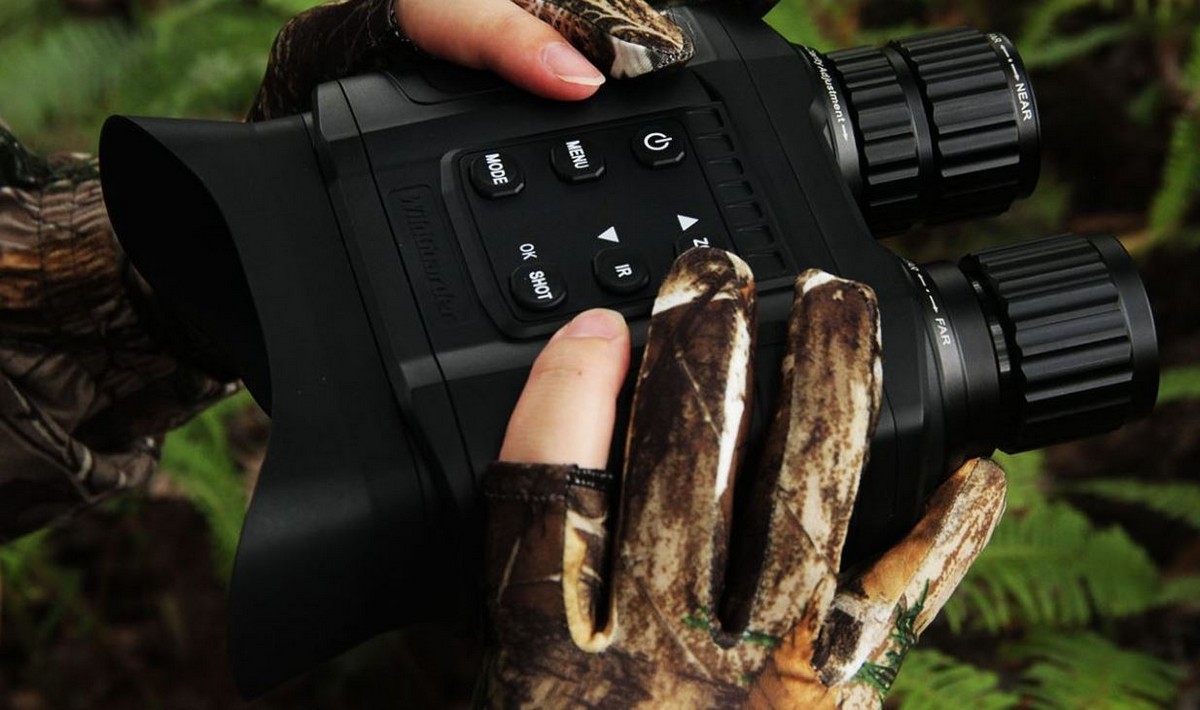 Perfect image even in complete darkness - OWLER1 Digital Binoculars with 20x optical and 4x digital zoom.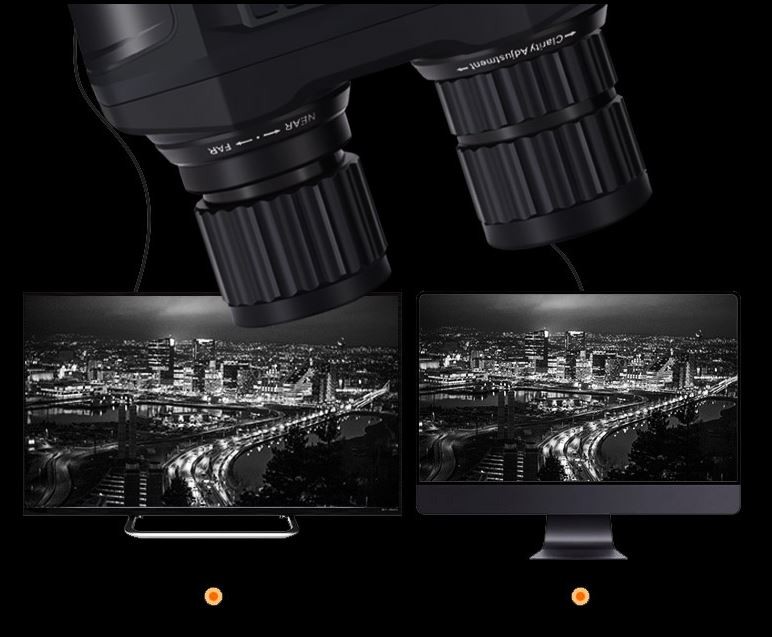 Features:

20x optical zoom


4x digital zoom


Range during the day: up to 3000 meters


Range during the night: up to 500 meters


Infrared night vision


Water resistance


Powered by batteries or power bank


Display


Video and photo recording
Specification:
Zoom: 20x optical zoom + 4x digital zoom
Viewing angle: 1,8° - 68°
Range during the day: 3000 meters
Night range: 500 meters
Video output: resolution 854x480 TFT LCD Display
Video resolution: 2592x1944, 1280x720
IR LED: 5W Infrared 850nm LED
Aperture: 30mm
Lens: F1.6
Sensor: 1/2.7
Resolution: 3840x2160
Image resolution: 4608x2592 pixels
SD card: package includes 32 GB card, supports micro SD cards up to 64 GB
Power supply: 8xAA batteries or 5-6V power bank (not included)
HDMI output: yes jack
Operating voltage: 4-6 V
Consumption: 5W
IR wavelength: 850nm
Dimensions: 210x161x63 mm
Weight: 900g
USB port: yes
Package contents:
1x Binoculars with night vision
1x Micro SD card 32 GB
1x USB cable type C
1x Strap
1x Suitcase
1x Reader for SD/micro SD cards - universal
1x Cleaning cloth
1x Manual
Comments
Other Products
new discount
new discount