FULL HD video camera portable with sound recording and magnetic holder
Accessories
Product description

FULL HD video camera portable with sound recording and magnetic holder

FULL HD portable video camera with sound recording and magnetic holder + voice recorder function and digital noise reduction for even clearer sound recording + 450mAh battery. Universal miniature camera with FULL HD video resolution, magnet and pin holder for versatile use. With this small and unobtrusive camera, you can capture a video recording with sound in FULL HD resolution - 1920x1080p at 30 frames per second (30 fps).

Instant recording starts with just one button press. There is a choice of video recording with sound in AVI format, or just audio recording in WAV format, what makes this camera a digital dictaphone. The recording is stored on a micro SD card, supported up to 64 GB. It has a built-in rechargeable Li-ion battery with a capacity of 450mAh, which guarantees video recording up to 2 hours and audio recording up to 5 hours.
Digital noise reduction for even cleaner audio recording
The camera has a practical clip-shaped holder for quick camera mounting. You can use this holder to attach to clothes, belts, bags, furniture, etc. After removing the clip holder, there is a magnetic part on the back side of the camera, for even more convenient and faster attachment of the camera to metal materials. You can attach the camera, for example, onto the car hood, metal legs of a table or bed.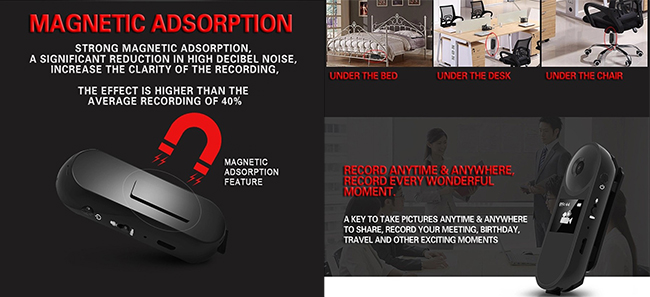 Features:
FULL HD video resolution - 1080p
Built-in microphone
Audio recorder function - dictaphone
One button recording
Icon display
Magnetic back side of the camera
Specification:
Video resolution: 1920x1080p at 30fps - FULL HD
Power supply: DC 5V using a micro USB cable
Battery: built-in, rechargeable lithium battery with a capacity of 450mAh
Endurance: up to 2 hours of video recording, or up to 5 hours of audio recording
Storage support: micro SD card up to 64 GB
Video format: AVI
Audio format: WAV
Frequency: 50/60Hz
Dimensions: 74x29x22mm
Weight: 29g
Package contents:
1x Mini camera with removable holder
1x Micro USB cable
1x Reset pin
1x Cleaning cloth
1x Manual
Comments
Other Products