Extra powerful spy dictaphone (voice recorder) with magnet + 16GB
Accessories
Product description

Extra powerful spy dictaphone (voice recorder) with magnet + 16GB

Extra powerful spy dictaphone (voice recorder) for audio recording with magnet for comfortable grip and 16GB memory + Mp3 player and stereo headphones. Sound recorder - portable, with magnetic part - easy attachment to metal. The dictaphone has a built-in 16GB memory (up to 60 hours) and stereo headphones for secret sound recording. The recorder is powered either via the included USB cable or via a rechargeable Li-polymer battery, when fully charged offers continuous recording of voice and sounds for up to 60 hours in WAV format. The included headphones can be used to play audio files. Discreet audio recording anywhere.
The dictaphone is equipped with a strong magnet for convenient attachment to metal objects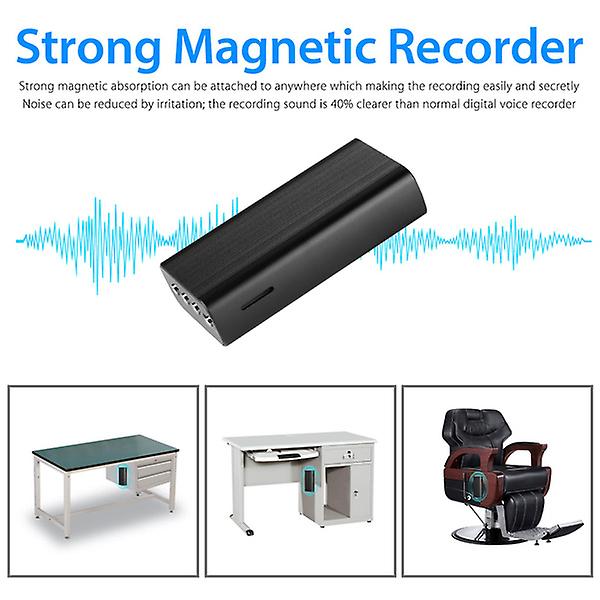 Each recording is saved under a name with the current date and time - this will help to easily find a specific recording. Thanks to its portable compact design, you can always easily store and record your voice recorder as a spy device, for example in your pocket, so that you can record secret or discreet conversations or various audio details. The voice recorder is the ideal mobile recorder for capturing sounds over longer distances. The device also offers an MP3 player function for your favorite songs, which you can transfer to the device via the included USB data cable.
Automatic sound recording - starts when an increased noise level is detected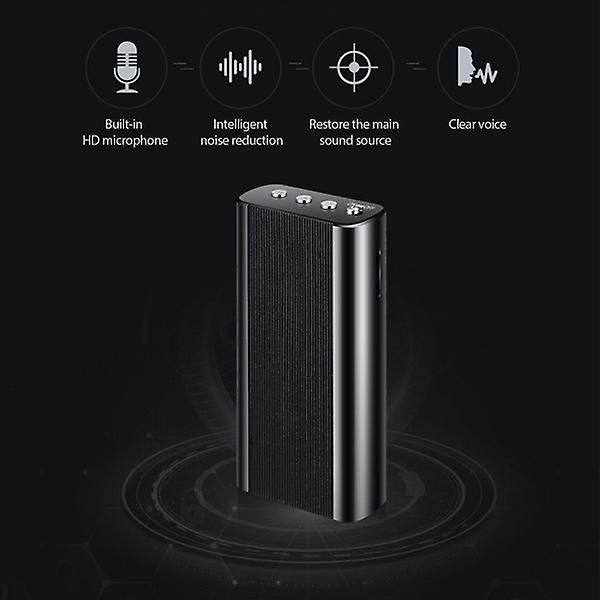 Digital voice recorder with magnet - 16 GB internal memory. The device offers 4 functions in one - sound recording, mp3 player, USB drive, automatic sound recording - starts when an increased noise level is detected. It is an innovative device that combines an elegant design and at the same time a pleasant design to use all its functions. The digital dictaphone records sound in top quality thanks to the reduction of ambient noise and is therefore a great addition to training, business meetings, business and other purposes of recording conversations. The integrated 16 GB memory provides plenty of storage space for recording long-lasting voice recordings - up to 188 hours of recording, also thanks to the built-in lithium battery, which can be used for approximately 60 hours of continuous recording.
The micro SD card slot offers an expansion of the internal 16 GB memory by up to 128 GB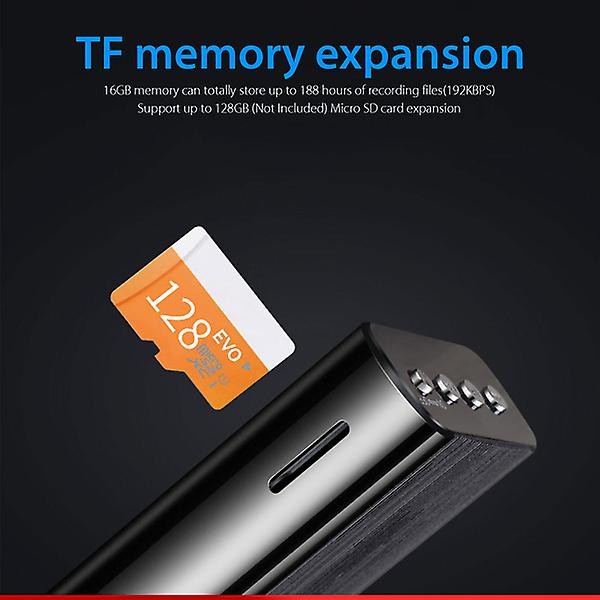 The sound detection function is important - automatic recording starts when sound is recorded
The recorder also serves as an MP3 player thanks to the integrated memory to which you can use a USB cable to record your favorite songs, or playback recorded conversations and then listen to them through headphones. Various other files can be uploaded to the integrated 16 GB memory, so it also performs the classic function of a portable USB flash drive. Thanks to its miniature dimensions, the mini dictaphone is a portable and practical recording device that can be used in various life situations, when an inconspicuous way of recording sound is also needed.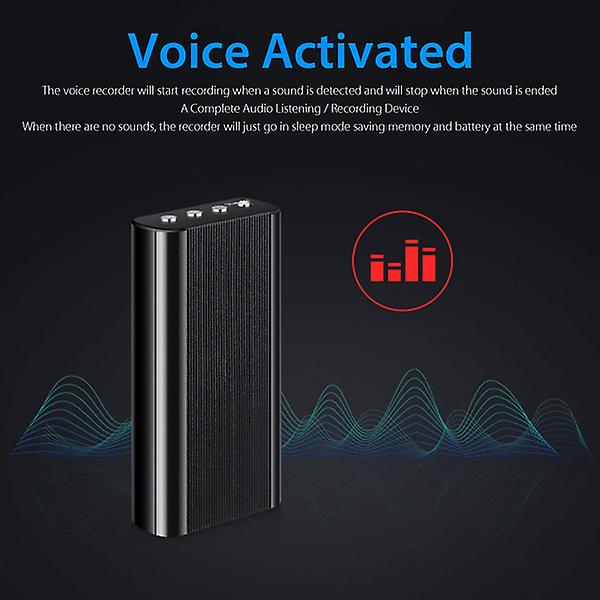 Features:
Start one-touch recording
Voice recorder
Automatic recording function in case of sound detection
MP3, WMA and WAV player
USB flash drive with 16GB internal memory
Stereo headphones
Specification:
Audio recording format: WAV
Playback - format: WAV / WMA / MP3
Bitrate: 192 KBPS
Playing time: headphones - 175 hours
Features: one-touch audio recording, automatic audio recording, mp3 player
Internal memory: 16GB
Micro SD card support: yes, up to 128GB
Power supply: built-in rechargeable lithium battery with a capacity of 1600mAh
Recording time (memory capacity): up to 188 hours
Recording time (battery life): up to 60 hours
Magnetic holder: yes, built-in
Color: black
Material: plastic
Dimensions: 78.5x39.7x18.4mm
Weight: 93g
Package contents:
1x Digital dictaphone
1x Stereo headphones
1x Micro USB cable
1x Manual
Comments
Other Products