Duovox V9 car camera with night vision - dual FULL HD 5M
Accessories
Product description

Duovox V9 car camera with night vision - dual FULL HD 5M

Duovox V9 car camera with COLOR night vision - dual FULL HD 5MP resolution with 8" monitor and vision up to a distance of 300 meters. This complete SET of car cameras includes the main front camera with monitor and rear - reversing camera with wide angle lens and 140° viewing angle. The front camera has perfect night vision, which is full color and has visibility up to 300 meters with a viewing angle of 72°. You do not have to watch anymore the black and white night footage from regular camcorder videos. You really won't believe this record until you see it.

Dual-channel video records from both the front and rear cameras at the same time - 2-channel video recording on a micro SD card. The recording is stored on a micro SD card, which is supported up to 128GB in size. Images and video are recorded in high FULL HD resolution - 1920x1080 pixels. The new generation of night vision - the color image even during complete darkness is guaranteed by a 7-layer glass lens with an F1.0 aperture. Night vision on this camera reaches visibility up to 300 meters. On the large 8" monitor you can watch the image from both cameras at once, or you can simply switch the image to full screen for a particular camera (when reversing with the rear camera with a wide-angle lens with 140° viewing angle). You can power the camera in 3 ways - cigarette lighter, ACC, or OBD connector.
The incredible NIGHT VISION of the new generation will guarantee you a COLOR IMAGE even during FULL DARK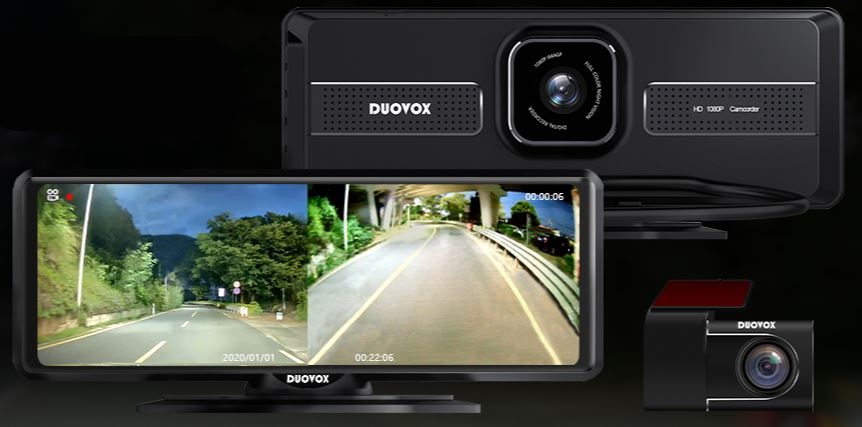 7-layer glass lens with F1.0 aperture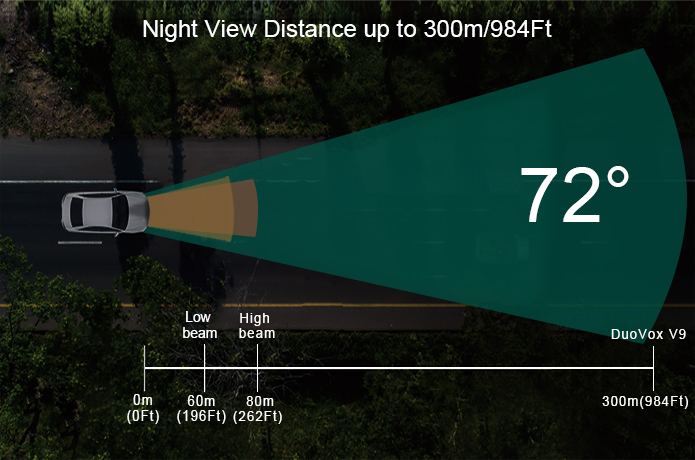 Adjustable lens angle - front camera with 72° viewing angle and rear reversing camera with 140°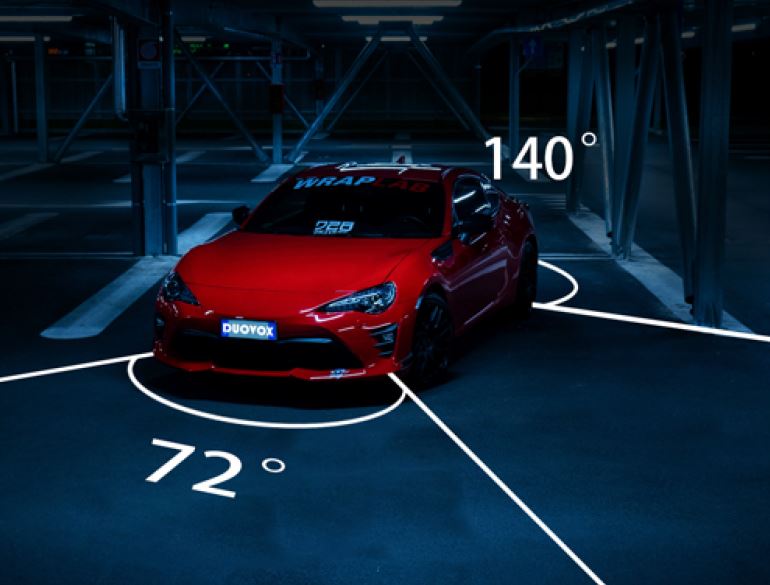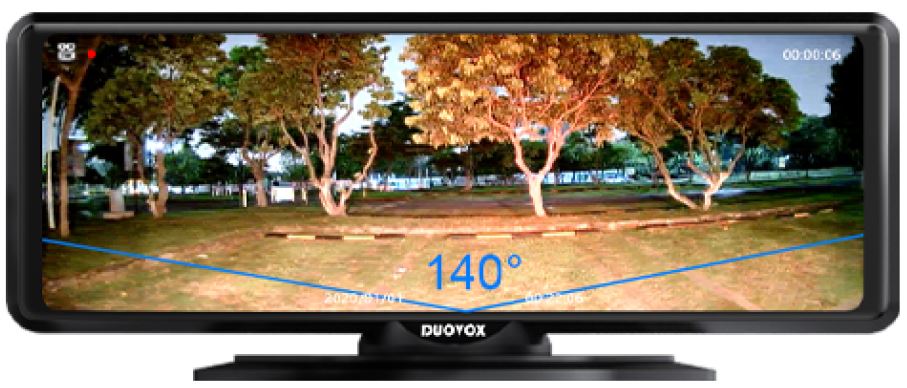 DUOVOX V9 - dual black car box with unique night vision - PROMO VIDEO
TIMELAPSE function - parking mode records time-lapse video, even after switching off the engine with low energy consumption and battery discharge protection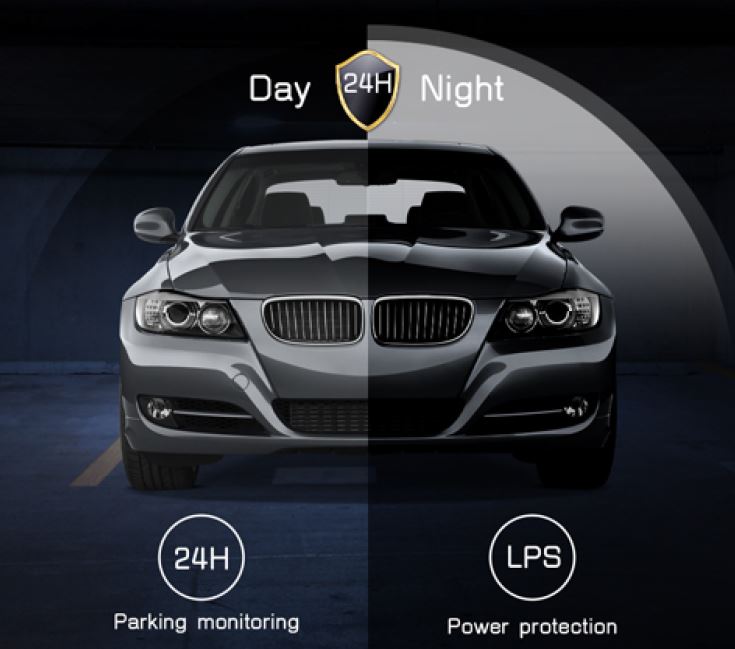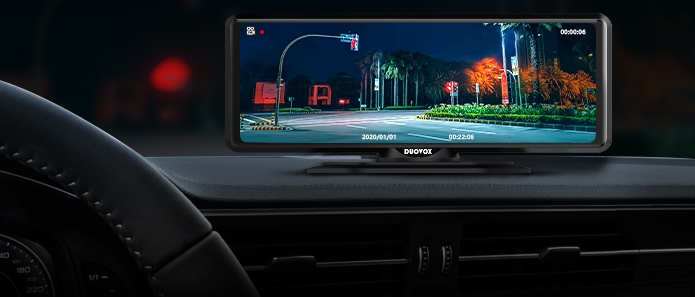 Thanks to the Duovox car camera, you will be able to see perfectly even during the night, rain, snow or fog




The F1.0 lens ensures a perfect color image even during complete darkness
Comparison of visibility DUOVOX V9 and Smartphone Huawei P40 and classic car camera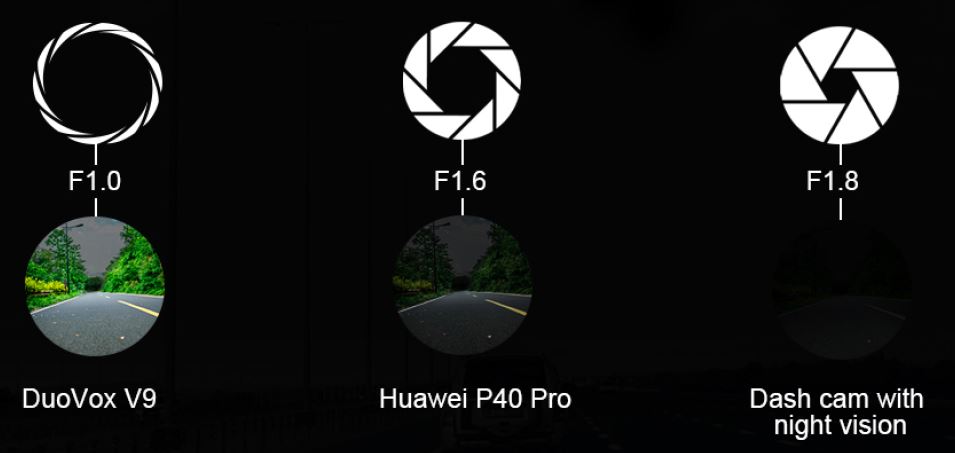 View with the naked eye during the day VS. View through a DUOVOX camera at night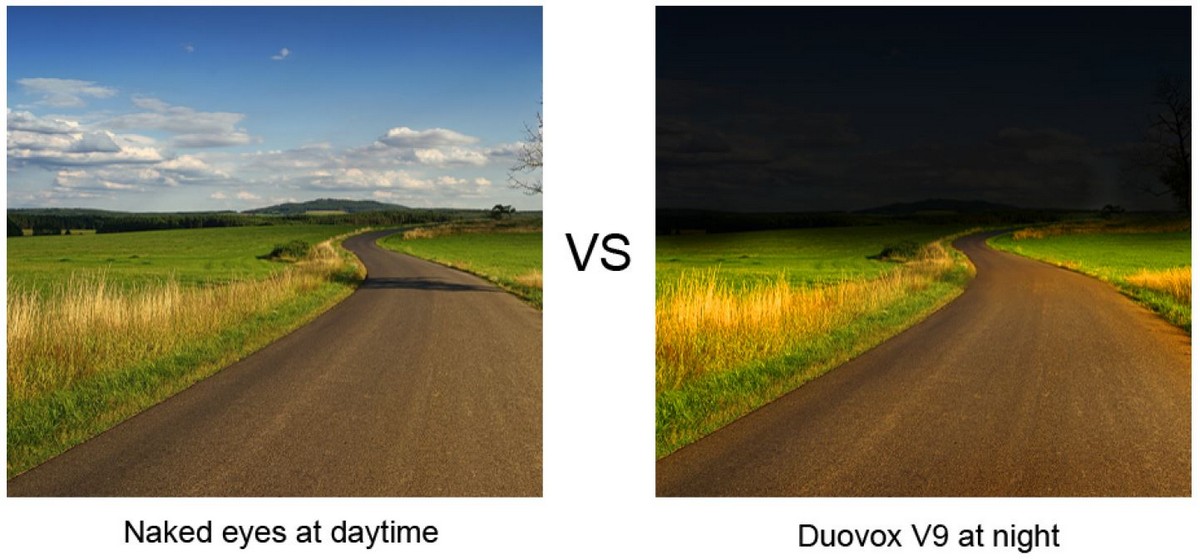 You can set the G-sensor to low, medium and high levels. When a collision is detected, the video is marked with an anti-delete lock - before, during and after the collision, the recording thus remains protected for overwriting on the SD card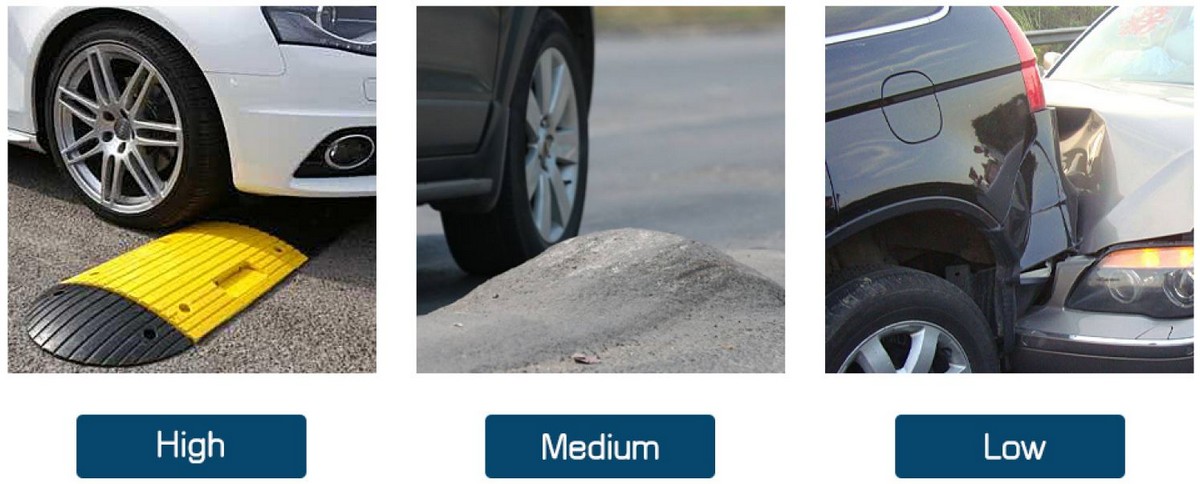 When recording cyclically, the old recordings are replaced with new ones when the SD card is full. You set the length of the looping video to 1, 3, or 5 minutes.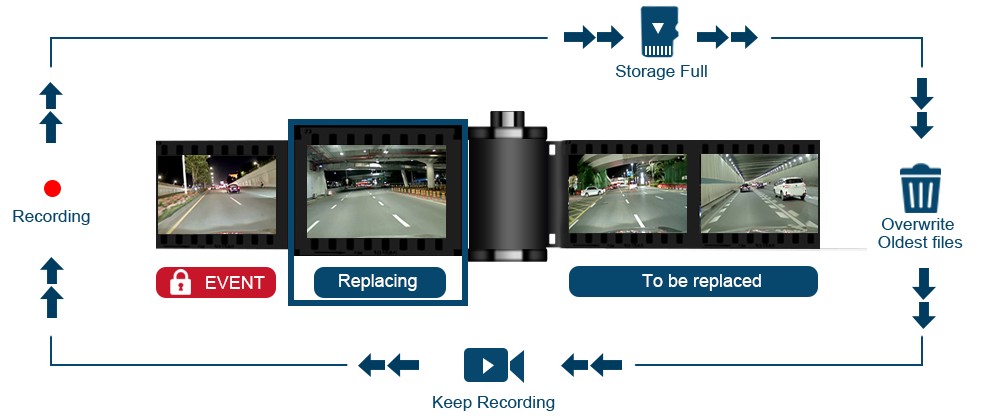 Micro SD card is supported up to 128GB

The camera can be powered in 3 ways - cigarette lighter, OBD connector and ACC connection to 12-24V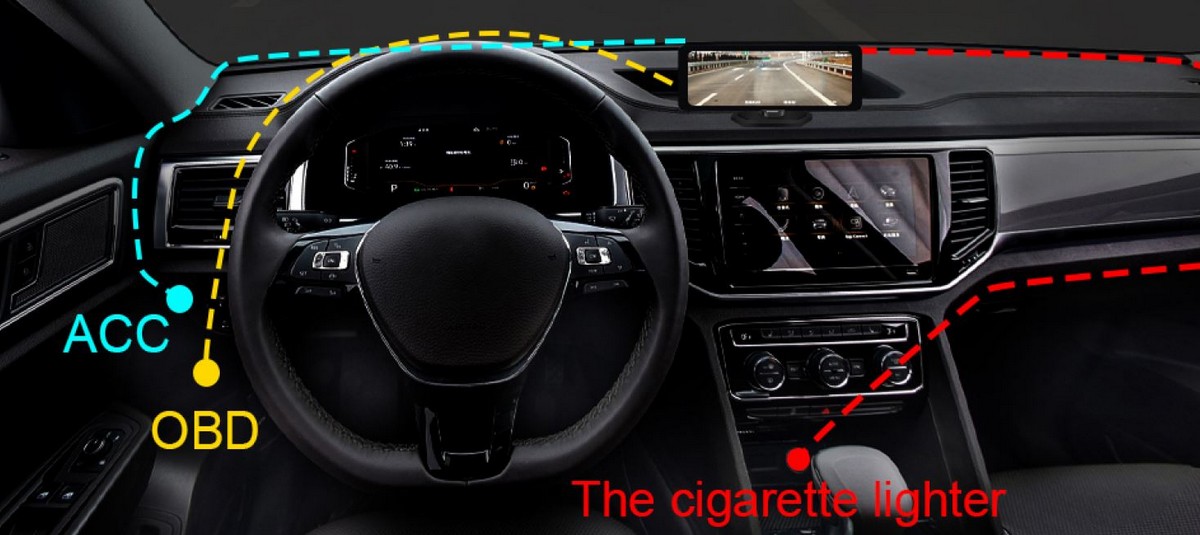 DUOVOX V9 - dual FULL HD car camera with the best night vision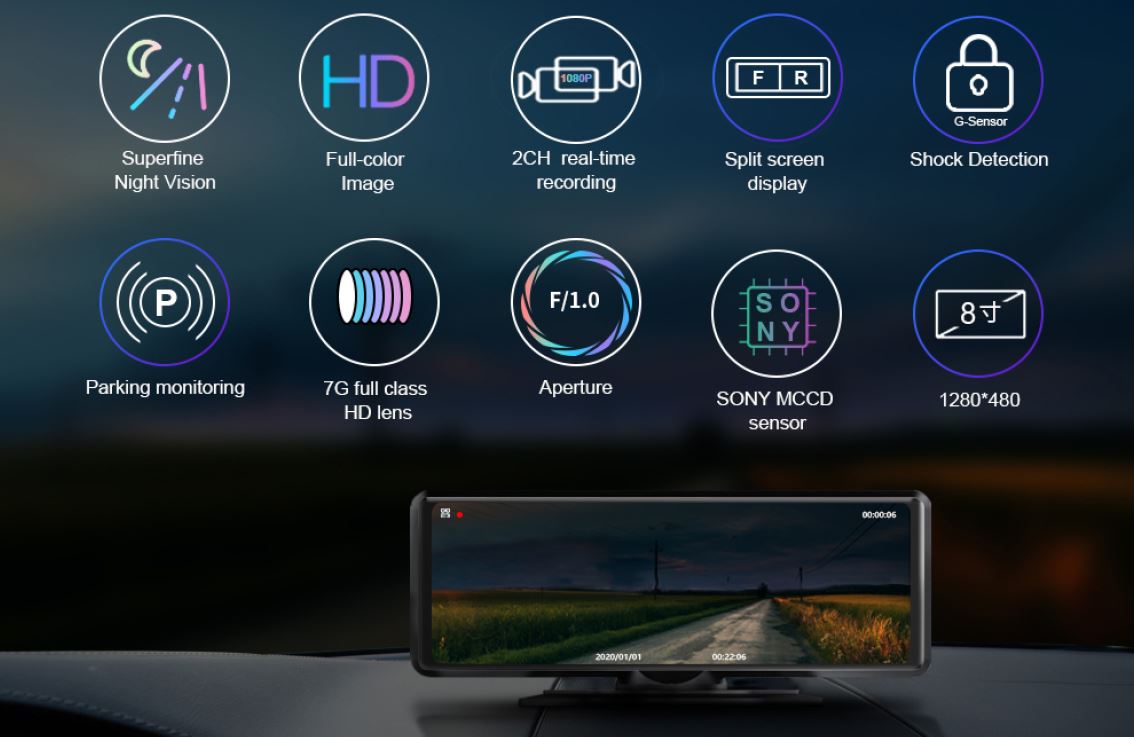 The Duovox V9 car camera is suitable for all types of cars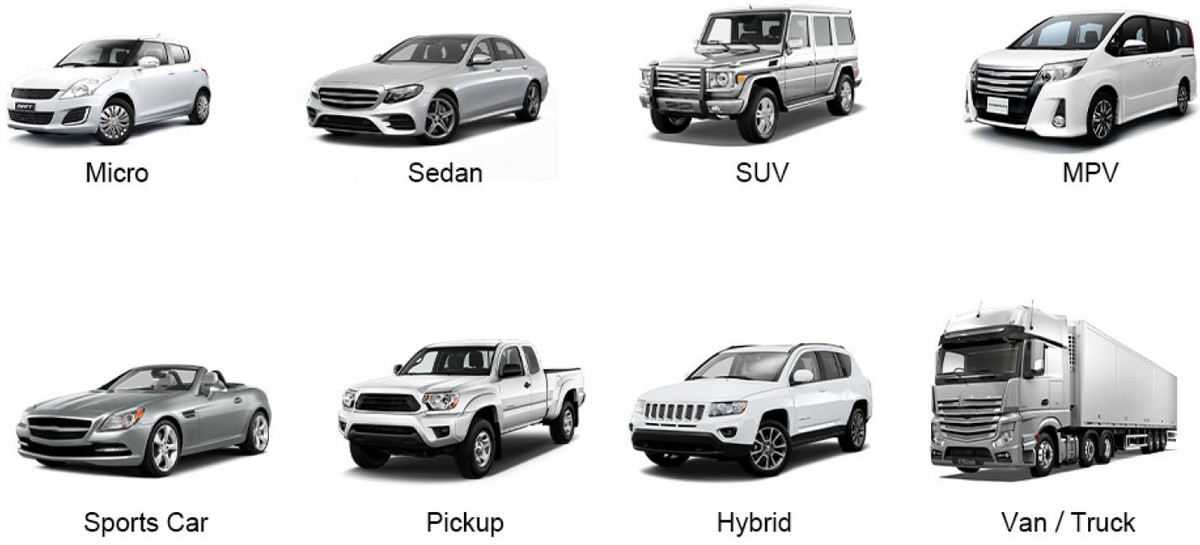 Features:
8-inch monitor for displaying both cameras
Colorful night vision up to 300 meters
F1.0 aperture lens
Dual video recording with audio
FULL HD 1920x1080 resolution
Front and rear camera
Technical specification:

Front camera with monitor:
Model: DUOVOX V9
Processor: SONY MCCD photosensitive chip
Night vision lens: 7-layer all-glass lens
Number of pixels: 5M
Aperture: F1.0
Chip: full-color HWDR image processing technology, 2 cores
Output signal: AHD Sony digital HD decoding, PAL format
Screen: IPS 8-inch monitor with a resolution of 1280x480 pixels
Image and video resolution: 1920x1080 pixels
Video format: MP4
Shooting: 30fps
Viewing angle: 72°
Minimum lighting: 0.0001 Lux
Night vision range: 300 meters
Memory: support for micro SD cards up to 128GB
Operating voltage: 12V
Operating current: 1A
Operating temperature: -20 to 85° C
Storage temperature: -55 to 125° C
Dimensions: 245x85 mm
Rear camera:
Night vision lens: 7-layer all-glass lens
Number of pixels: 5M
Aperture: F1.0
Image and video resolution: 1920x1080 pixels
Minimum lighting: 0.0001 Lux
Shooting: 30fps
Viewing angle: 140°
Dimensions: 44x53 mm
Water resistance
Package contents:
1x Front camera with monitor and stand
1x Rear camera with holder
1x Power cord
3x Power adapter (cigarette lighter, OBD, ACC)
1x Extension cable for rear camera
1x Connecting cable
1x 3M sticker
8x Adhesive clip on the cable
1x USB micro SD card reader
1x Plastic crowbar
1x Adhesive toning foil for the display
1x Manual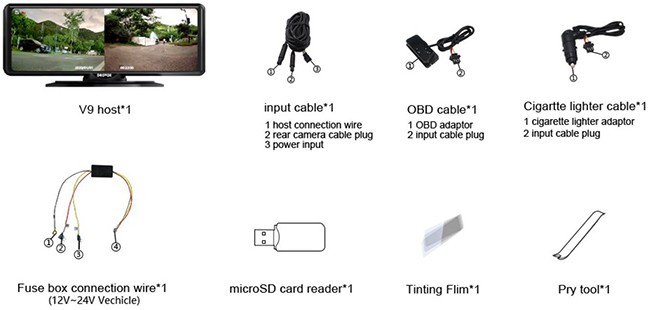 Comments
Other Products