Backup reversing cameras set - 7" HD monitor + 4x HD camera
Accessories
Product description

Backup reversing cameras set - 7" HD monitor + 4x HD camera

Backup​ reversing cameras set - 7" HD monitor + 4x HD camera - AHD parking and reversing set suitable for agricultural and construction machines. AHD LCD parking system from brand PROFIO ELECTRONICS has AHD resolution of 1024x600p through which you see all details clearly and sharply. AHD camera takes care of quality image not only during the day but by night vision with 18 IR LED you see when reversing well at night.

The size of the LCD screen makes this set an ideal helper when reversing. This AHD system is a combination of the best technology that is developed for van, minibus, caravan, bus, truck, semi-trailer, tractor, harvester and other agricultural or construction machinery and vehicles. You will appreciate the AHD system especially when installed on larger motor vehicles, where you need more views from different angles, or when driving vehicles if you need to know exactly where you are and what is happening around you.
Possibility to connect up to 4 cameras with the possibility to choose the order of camera displaying.
The individual cameras can be displayed side by side or, if necessary, combine the layout of the cameras on the monitor.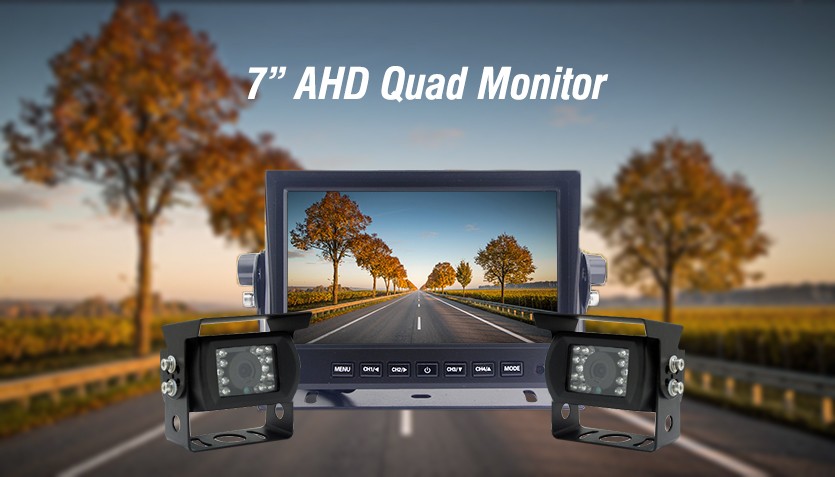 Thanks to this system, you will know exactly what is behind or around the vehicle. The reversing AHD set contains a 7" LCD monitor + 4x camera with IR night vision + 4x 5m, 10m, 15m, 20m cable, which is included in the price of the set, and you can choose it according to your needs when ordering. The AHD set is exceptional no only because of image quality, but also you can connect up to 4 AHD cameras to the monitor at once. On the monitor, it is possible to display all cameras side by side at the same time for better orientation, or if necessary, select the variant of camera displaying according to your needs. In the monitor menu you can also select the mirroring of the image of camera. This reversing set has a wide range of use. The IP level of protection of the camera is up to IP 66, what means that it is waterproof, dustproof and resistant to damage.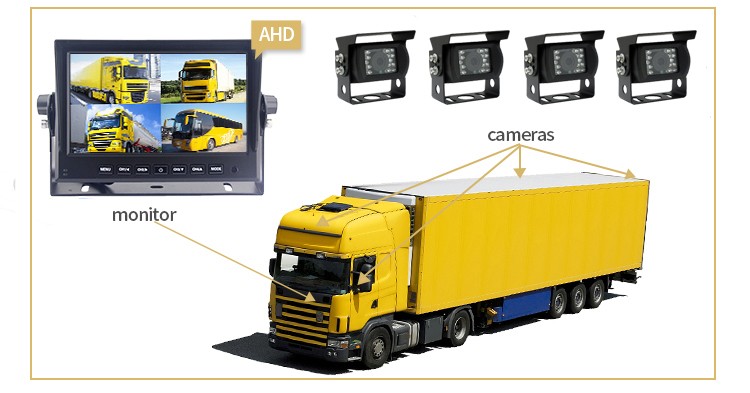 The first reversing set on the market with AHD resolution 1024x600p, LCD monitor 7" with the possibility of connecting up to 4 AHD cameras with IR night vision.
Thanks to the AHD resolution of the monitor and camera, you will see all the details clearly and sharply.
Installation and assembly of these cameras is very simple.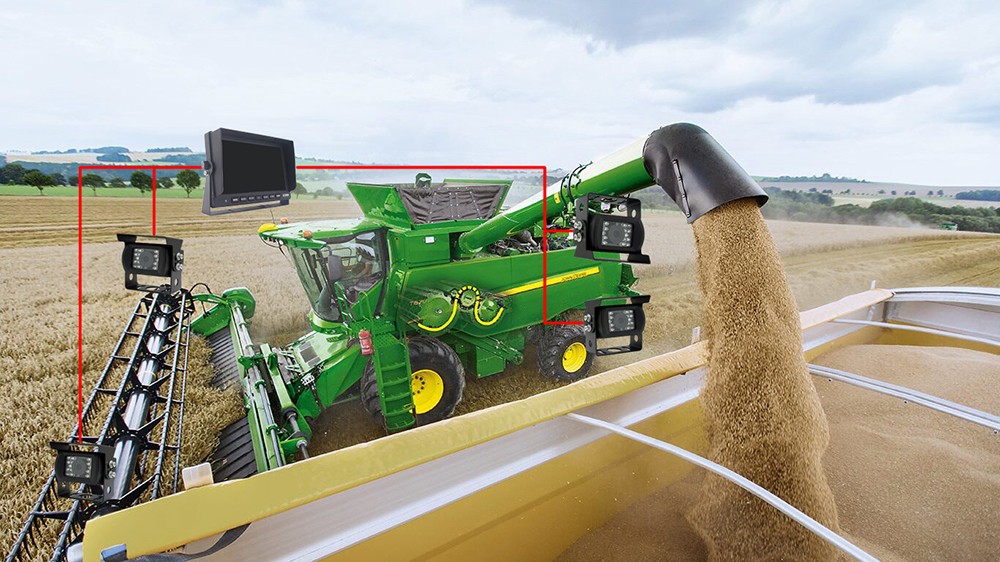 The monitor includes an OSD menu that lets you adjust sharpness, brightness, contrast, and also allows you to rotate and reflection of image to realistically display the right and left side. The remote control makes easy operation of the functions. Also included is a pair of built-in speakers and display resolution of 1024x600px with a 16:9 screen ratio. Each camera has its own channel and the individual cameras are switched by the buttons directly on the monitor or via remote control.
The use of a reversing camera with a monitor in HD resolution, also suitable for construction machinery
The LCD monitor allows you connect the necessary camera through connector with the reversing lights, so when reversing, it allows you to automatically switch the selected camera that will appear on the monitor. The LCD monitor with cameras can be connected in various ways, if necessary, to turn on at the reversing, or immediately after starting the vehicle. The angle of the camera is adjustable. The monitor with the camera is equipped with an adjustable bracket that you can attach to the required place. Comes with a sun visor that ensures a clear picture and no glare.
The high level of protection up to IP 66 is waterproof, dustproof and resistant to damage.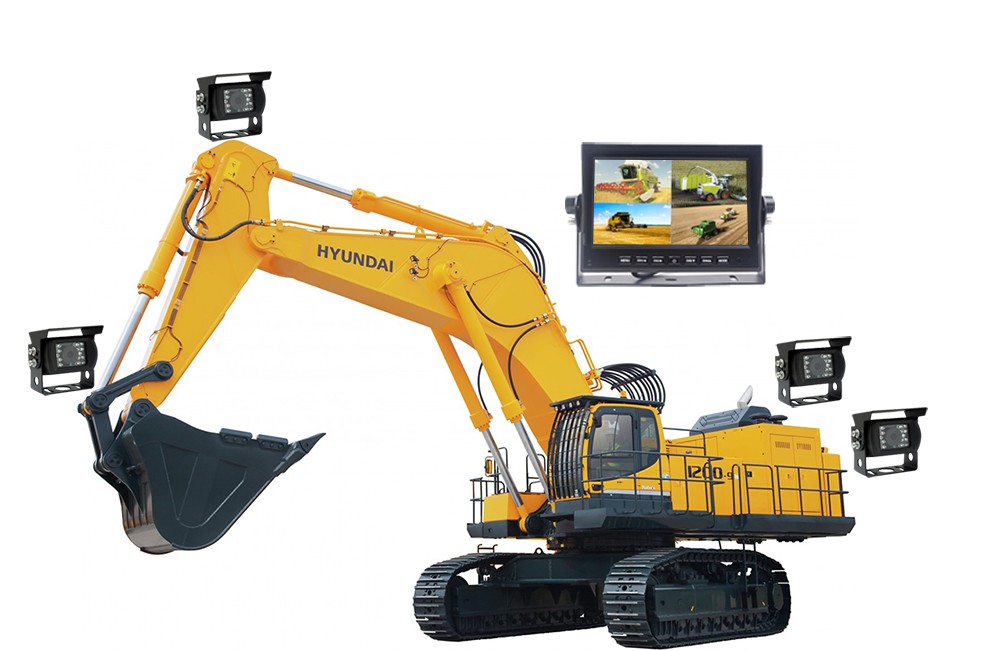 In case you need to mount the monitor in a different way than with bracket (what is included in package), you can find in our offer another three more types of stands which allow you to attach your monitor for example onto a windscreen or where is needed. In case you need to put the camera on a trailer that is able to remove from the car or truck, you can buy in our e-shop a connecting cable of reversing camera for trailers and semi-trailers. This ensure easy disconnection of the reversing system and re-connection.
Reversing camera with monitor - AHD parking and reversing set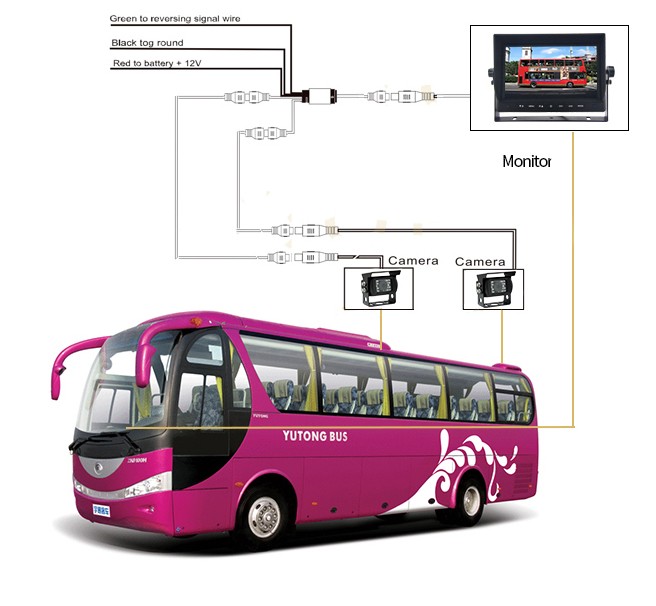 AHD 7" LCD monitor
Possibility to connect up to 4 reversing cameras
Night vision up to 10m
Camera viewing angle 150°
Possibility to display all cameras on the screen
Display resolution 1024x600px
Monitor technical specifications:
Model: Profio Quad View L7
7" LCD monitor
System: PAL/NTSC
Aspect ratio: 16:9
Monitor resolution: 1024 x 600
Inputs: 4x AV
Contrast: 300:1
Possibility of setting: brightness, contrast, color
Power supply: DC 12V-24V
Power consumption: 5W
Working temperature: -10ºC to 60ºC
Storage temperature: -20ºC to 70ºC
Technical specifications of the camera:
Model: Profio Rearview Camera L10
Image sensor: MIX SONY225 CMOS 1/3"
Resolution: HD 1024x600
System: PAL/NTSC
Minimum lighting: 0.1 LUX
IR night vision: yes 18 IR LEDs
Night vision distance: 10 m
Viewing angle: 150°
IP level of protection: IP 66 waterproof, dustproof, resistant to damage
Power consumption: 3W
Working temperature: -20 to 70° C
DC power supply: 12V-24V
Package contents:
1x 7" AHD LCD monitor
4x AHD reversing camera
4x Connecting cable 5m, 10m, 15m, 20m of your choice
1x Remote control
1x Sun visor
1x Bracket for mounting the monitor
4x Bracket for mounting of camera
1x Manual
You can choose the length of cables according to your needs 5m, 10m, 15m and 20m. Specify the cable length in the order note.
Comments
Other Products