WiFi camera SET for forklift for 9000 mAh battery - 720P HD camera with IP69 + 7" monitor
Product description

WiFi camera SET for forklift for 9000 mAh battery - 720P HD camera with IP69 + 7" monitor

Wifi camera SET for forklift for 9000 mAh battery - 720P HD camera with IP69 protection + 7" monitor with SD card recording (up to 128GB). Camera with LED lighting and universal magnetic attachment. Special security camera set for forklift from Profio brand Electronics. This is a special camera designed specifically for forklift trucks.

These trucks carry a certain kind of risk when handling them. They are mostly driven quickly and loaded with goods. The height and size of the load are different, which makes it difficult for the driver to determine the position of the forks and thus the handling with goods. It is possible to add another 3 wifi-compatible cameras from our offer to the set. The forklift camera is designed and positioned to clearly show the position of the forks and the surrounding area, giving the driver a larger field of view. It reduces blind spots during operation and improves work efficiency. Last but not least, it contributes to higher safety when working with the truck. The camera has a strong magnet on the bottom for easy installation without screws. The camera has IP69 protection.
Wifi Camera for forklift trucks with LED backlight and battery power + 7" Monitor with SD card recording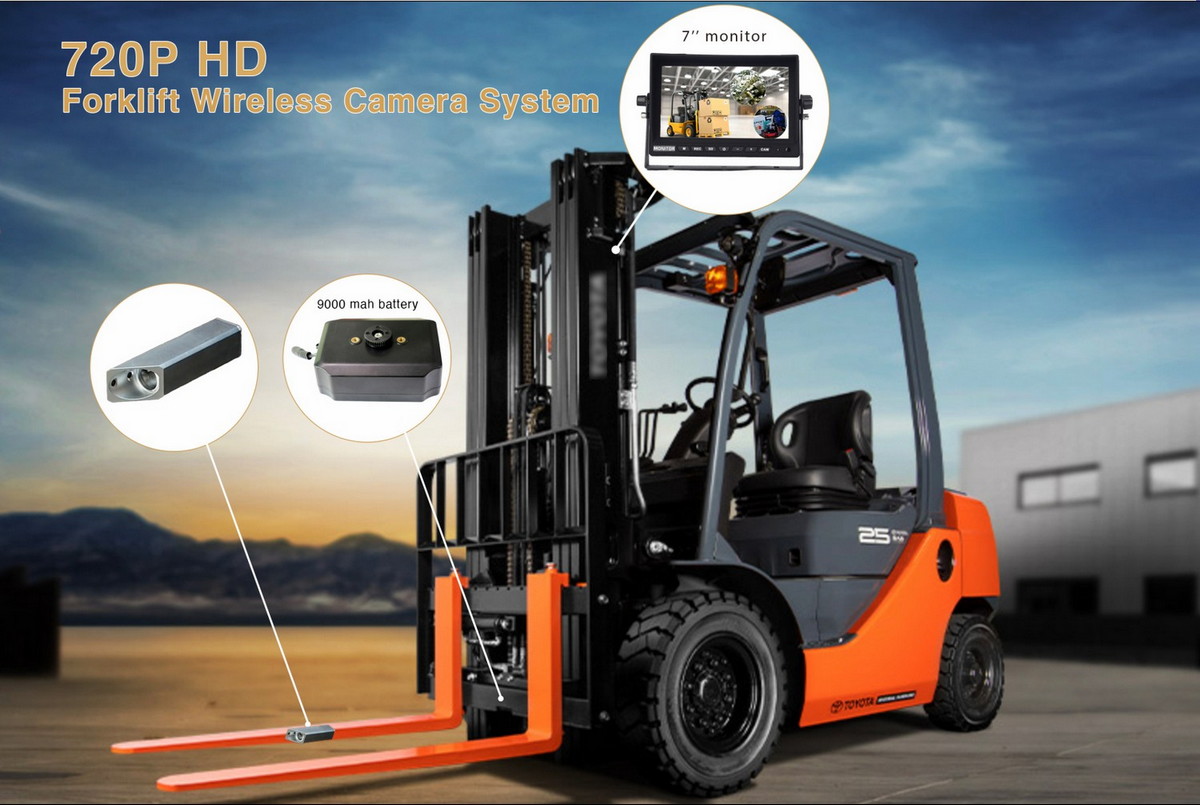 The camera is designed to be easily installed on any type of forklift. It is equipped with an LED light that turns on whenever the camera is switched on and helps visibility during handling. Camera for forklifts is in HD resolution and is connected to a 7-inch monitor via a wireless WIFI connection. The operating temperature ranges from -10 to + 60°C. The camera is powered by a 9000mAh battery and is installed behind the fork on the frame. The signal is stable and the image is clear. It is not disturbed by any metal parts of the forklift or operation. The battery is easily removable so that it can be charged after work. This system has been designed to be universal for every type of forklift truck and to work under all conditions.
Cameras for high-lift trucks wifi with LED backlight and battery powered + 7" Monitor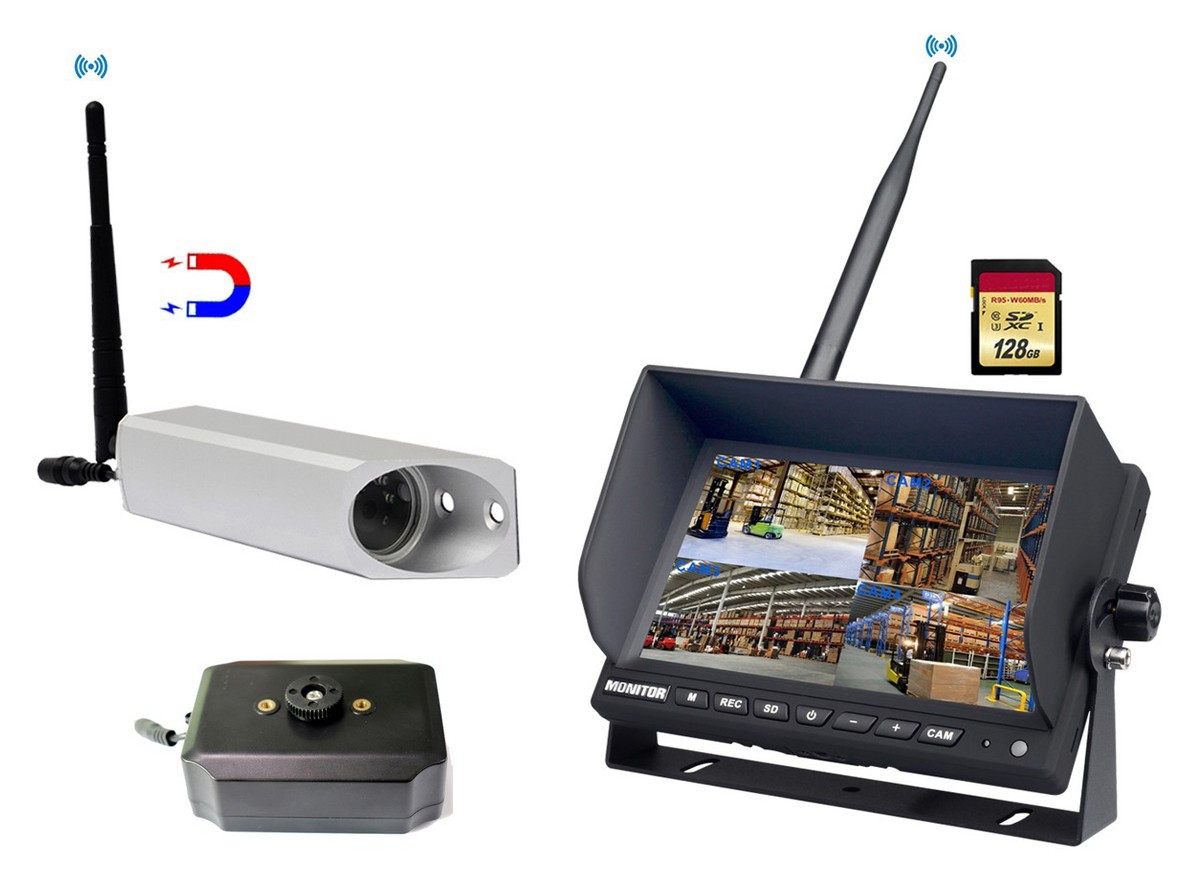 A new generation of cameras designed for forklift trucks, which brings a clear image and all the necessary technical means for safe operation and machine control. The shape of the special camera is adapted for mounting on a fork, and its image is transmitted wirelessly via WiFi.
Powerful up to 9000 mAh battery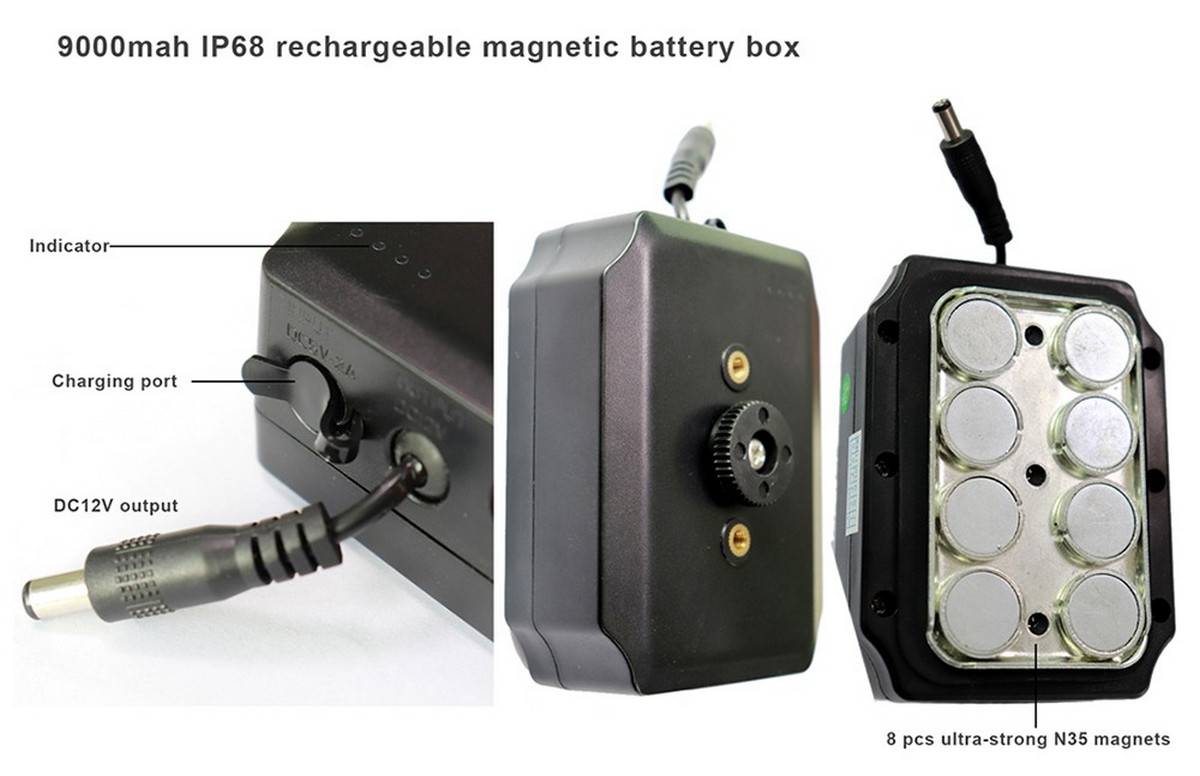 On the camera, you can set, for example, image mirroring, or brightness or contrast for better visibility, via the monitor. With this system, you will see exactly the blind spot that occurs when handling with a forklift. This will prevent collisions and damage to goods. With this set, every loading of goods, which is often limited in time, becomes more efficient. Thanks to this camera set with a monitor, you can make your truck a comfortable and safe tool for your daily demanding work in narrow and cluttered warehouse spaces.
Forklift truck - special wireless camera + 7" monitor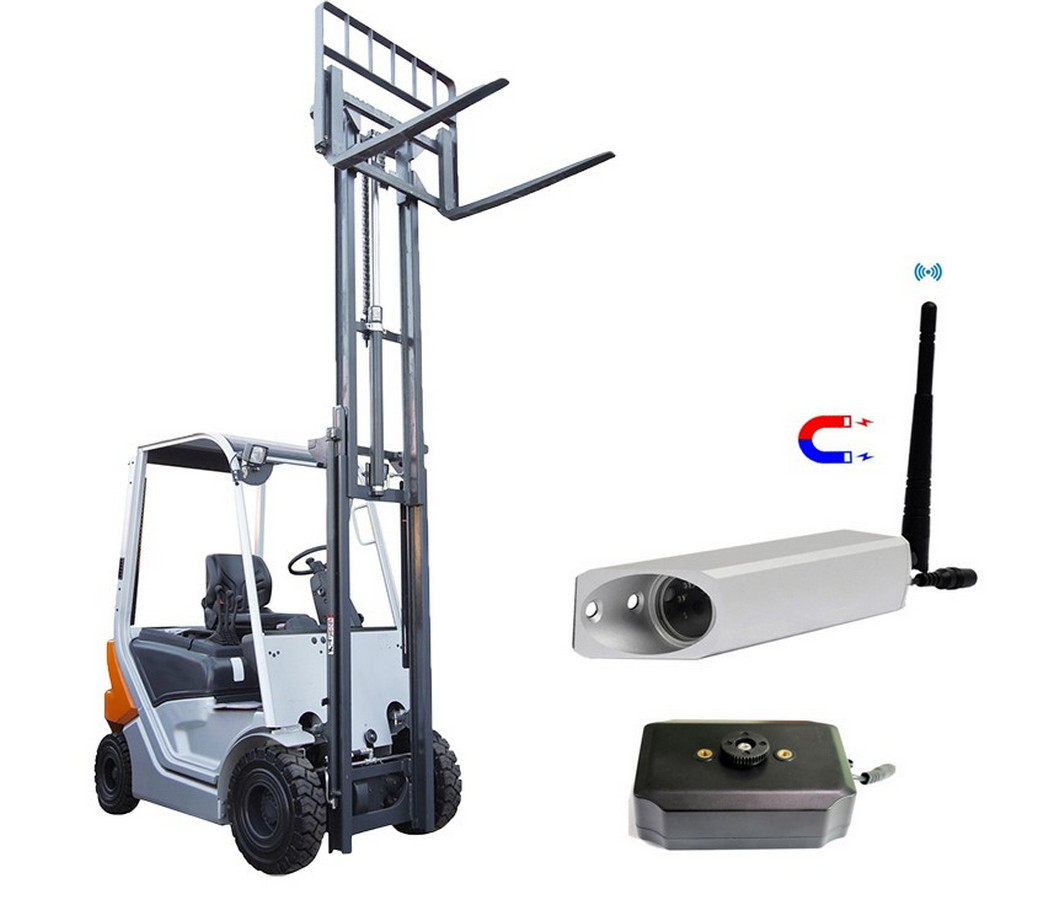 The monitor has its own positionable holder, which you can use to attach it to the required place. There is a metal bar on the back of the monitor to which other universal holders from our offer can be attached.
Camera with LED lighting and universal magnetic attachment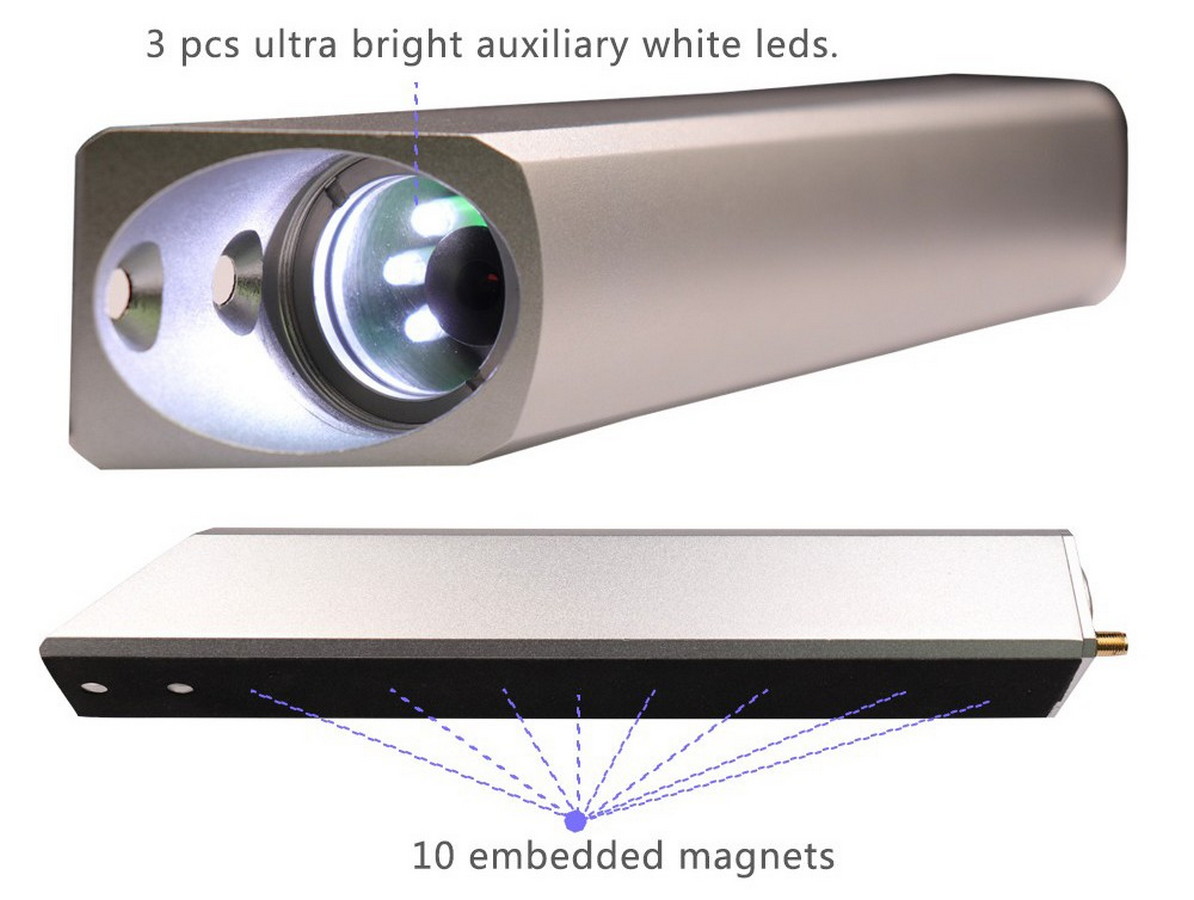 Features:

Special camera for forklifts


Wireless WIFI connection of camera with monitor


7 inch reversing monitor with SD card recording


Universal connection method with a strong magnet


Wide setting options in the display menu


Various camera display options


Option to connect 3 additional compatible wifi cameras (only from our offer)
Technical specifications of the monitor:
Model: PROFIO Forklift SN856
7" LCD monitor
System: PAL/NTSC
Aspect ratio: 16:9
Monitor resolution: 1024 x 600
Inputs for cameras: 4x wireless (possibility of connecting 3 additional Wi-Fi cameras)
Contrast: 300:1
Possibility of setting: brightness, contrast, color
Current consumption TYPE: 380mA Max. 480mA
Power supply +9~+30V
AVI video codec
Frame rate 25f/s 30f/s
Memory card SD Max 128 GB
Working temperature: -10ºC to 60ºC
Dimensions: 18,2x13,2x2,4 cm
Weight: 326g
Technical specifications of the camera:
Model: PROFIO Forklift KNL693
Sensor: 1/3 CMOS
TV system: NTSC/PAL
Resolution 720p
MPEG4 video codec
Minimum illumination: 0.1 Lux (day), 0 Lux with IR on
LEDs: yes, 3 pcs
Voice sampling frequency 16KHz/12BIT ADC AD PCM/PCM
Operating frequency 2400 ~ 2483.5 MHz
Range of direct visibility > 200 m
DC12V-24V Dual voltage suitable for most vehicles
Current consumption TYPE: 170mA, Max. 250mA
Point of view:
Water resistance: IP69
Operating temperature: -10 to +60°C
Dimensions: 17,2x3,5x3,7 cm
Weight: 318g

Technical specifications of the battery:

IP68 rechargeable magnetic battery
8 pcs of utra strong magnets
Capacity: 9000mAh
Voltage: 12V
Operating temperature: -20 to +55°C
Operating humidity: up to 85% RH
Dimensions: 10,5x4,5x8 cm
Weight: 425g

Package contents:
1x Camera with magnetic holder and built-in transmitter
1x Set of cables for connection
1x Battery
1x Charging adapter + cable
1x set of screws
1x 7" LCD monitor
2x antenna
1x sun visor
1x power cable
1x remote control
1x Mounting set of screws
1x Manual
Comments
Other Products