Wifi camera FULL HD with remote monitoring and speakerphone
Accessories
+

16GB Micro SDHC Class 10 Kingston U$ 18.70
+

Product description

Wifi camera FULL HD with remote monitoring and speakerphone

Wifi camera in alarm clock FULL HD with remote monitoring and speakerphone and others spy cameras for sale online – for a reasonable price. Buy from professionals. Wireless camera alarm is the ideal solution for long-term and inconspicuous monitoring. It records video in real time with a resolution 1280x720P at a frame rate of 30 fps.

1/4 CMOS lens has a viewing angle up to 160 ° which enables to monitor large area. The camera also has night vision IR LEDs which allow you to view image even in complete darkness. Video is stored on an external micro SD/TF card up to a maximum of 32 GB. Alarm clock with camera is powered by a 4000 mAh lithium battery that is able to record up to 6 hours. You can also use the possibility of permanent power supply via a USB adapter what allows continuous recording 24/7.

Camera alarm also has a motion detection function what saves the space on the card because the camera is in standby mode and starts recording only when the motion is detected. The data stream of video recording is 1 GB per hour. Through WiFi connection, you can connect alarm clock with the camera to a mobile phone tablet or PC, you can just download the app CAMWF which supports Android operating system, iOS, or on the included installation CD you will find software for the PC. This allows you to record and watch video streaming via WiFi in real time.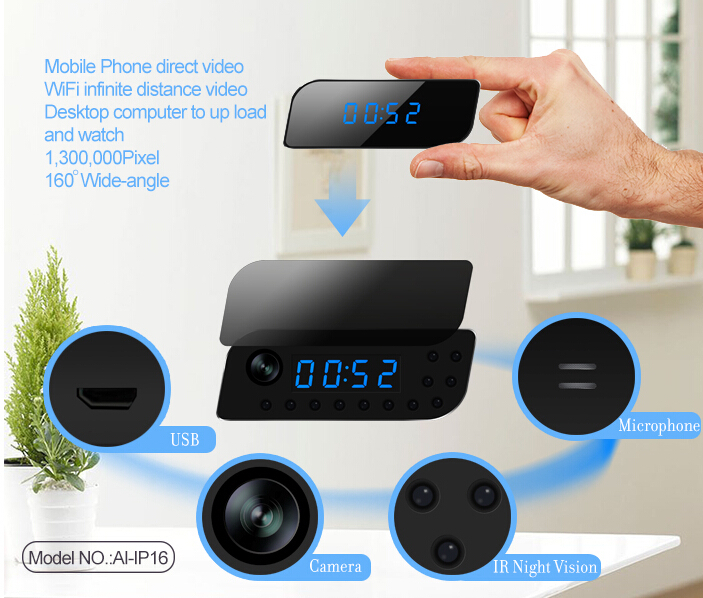 Alarm clock has a built-in speaker and microphone, which, in conjunction with the application can be used for remote listening. So you hear everything around alarm going on and the speaker will use for remote communication. The application can also set a specific time interval when the camera has sputum recording or photo shoot. This alarm clock is suitable for people who are less technically proficient. Because of its configuration and connect to the wifi router is very simple (similar to cell phone connection to a WiFi network). After such a connection to a local wifi router, you can connect the camera from anywhere in the world where Internet is available.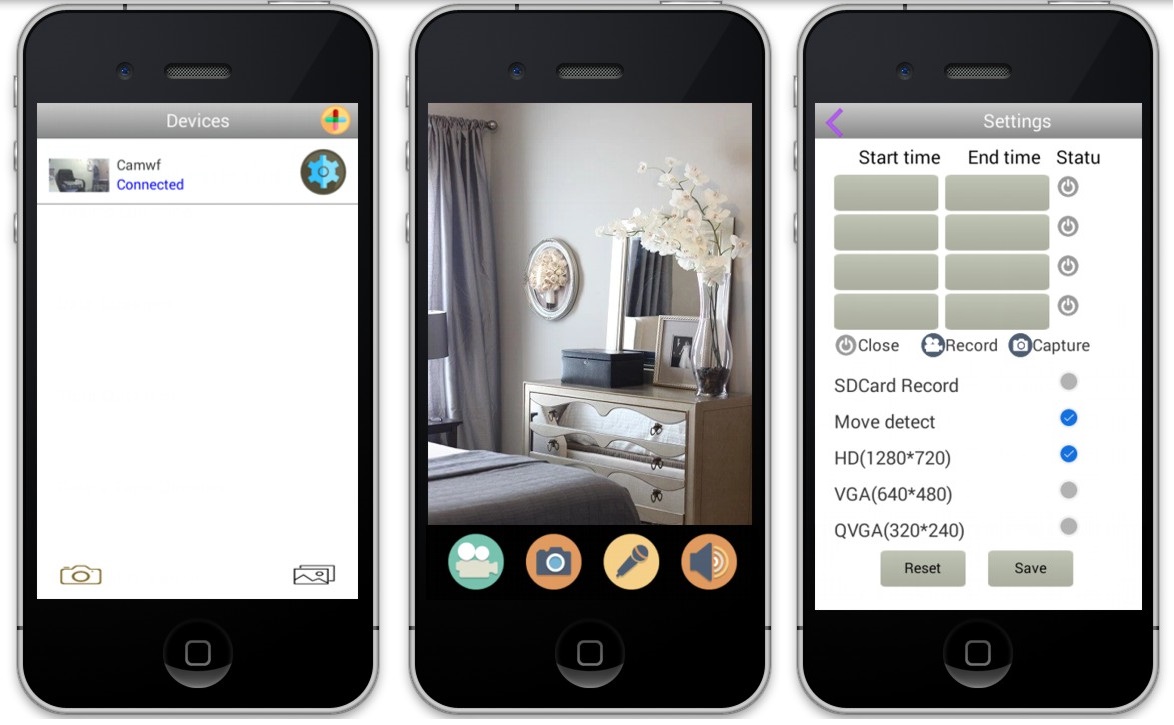 Features:
Camera hidden in alarm clock
Wireless transmission of image in real time
Possibility of permanent power supply
Motion detection function
IR LED night vision in complete darkness
Specifications:
Image Sensor: HD 1280x720p
Lens: 1/4 CMOS
Frame rate: 30 fps
Format: MP4
Compression format: H.264 Dual-stream
Memory Card: Micro SD / TF card up to max. 32 GB
Power supply: 4000mAh Lithium battery
Wireless connection: IEEE802.11
Wireless mode: AP / STA
Contents:
1x Alarm clock with WiFi Camera
1x USB cable
1x Power Adapter
1x Manual
Comments
Other Products