WiFi box for connecting of USB cameras
Product description

WiFi box for connecting of USB cameras

The connecting WiFi box for cameras to connect USB cameras and the option to wirelessly connect up to 4 devices and with a signal range of up to 25 m. This wifi box allows you to connect classic USB cameras and then connect them via a WiFi network to your mobile phone, tablet or notebook. It is an ideal choice for those who want to make a WiFi camera from their classic USB camera/endoscope. You can connect USB endoscope, borescope, USB microscope or even a classic PC web camera to the WiFi connection box via standard USB 2.0 interface. Download the application supporting Android and iOS via QR code. Through it you can connect to the WiFi box and to the device. Operation and installation is very simple.
You can record videos or photos to your phone via the app.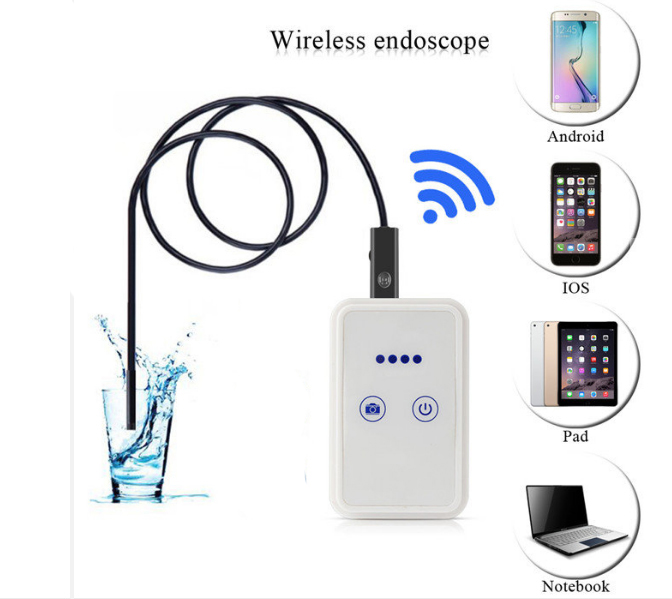 Connect the USB camera to the Wifi box and activate it with the button. You can search for a device on your mobile phone via a WiFi network and use the XJ_endoscope application that you can download via QR code to control the camera. Up to 4 devices can be connected to the WiFi box at the same time. The WiFi signal range is up to 25 meters in open air without obstacles. Battery capacity of WiFi box is 850mAh and four LEDs indicate battery status. Battery life is up to 3 hours. WiFi adapter for USB endoscopes, borescopes, microscopes and web cameras also has the possibility of permanent power supply via a network connection or power bank, so you do not have to worry that the battery will discharge in the middle of your work.


Features:
WiFi box for connecting of USB cameras
Possibility to connect up to 4 devices to Wifi box
Signal range up to 25 meters in open air without obstacles
Easy installation and control via application
Android and iOS support
Simple one-button contro

Specifications:
Connection: WiFi
Operating system: Android and iOS
WiFi signal range: up to 25 meters
Battery usage time: up to 3 hours
Camera support: USB endoscope, borescope, USB microscope and PC WEB camera
Power supply: 5V
Interface: Micro USB or USB 2.0
Battery capacity: 850mAh
Battery type: Li-ion

Package contents:
1x WiFi box
1x USB cable
1x Manual
Comments
Other Products