USB inspection camera with HD resolution
Product description

USB inspection camera with HD resolution

USB inspection camera with HD resolution and other inspection cameras on sale online - good price. We are the specialists in the world of cameras. Endoscope with 8,5 mm diameter and HD video resolution 1280 * 720 pixels. For excelent record even in difficult lighting conditions, the endoscopic camera has built-in 6 pcs LEDs.

Explore even inaccessible places and make a clear image about them through a computer connection. The flexible 83 cm long gooseneck is ideal for visual inspection of inaccessible places. Dimmable light of camera with 6pcs LED provides optimal illumination. Power is provided directly via USB. Suitable for all uses where is necessary to see the finest details. For operation is necessary the Windows®-compatible computer. USB cable length is up to 2 meters, which is sufficient for most applications.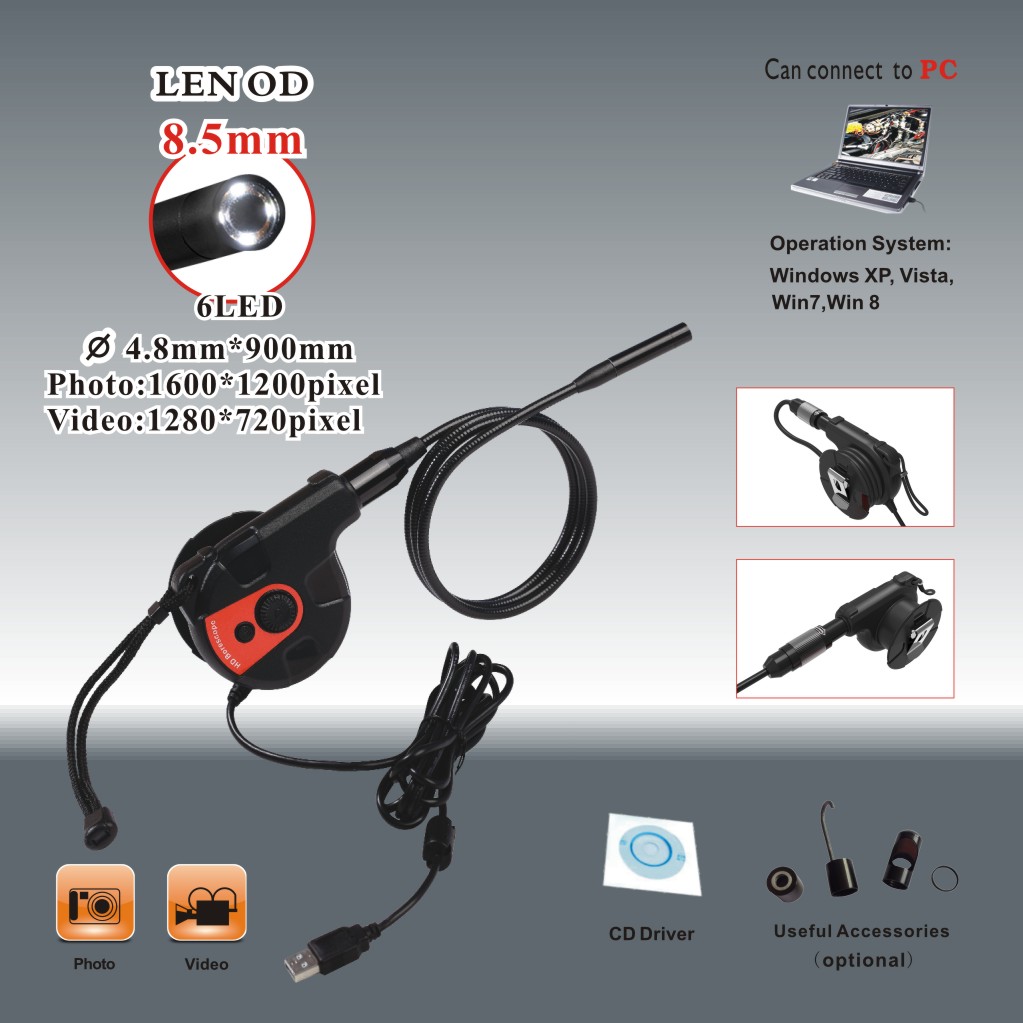 Application: Suitable for use in section geodezia pipes, facilities, equipment of devices, underwater exploration, installation, montage, construction, workshops, laboratories, education, maintenance and repair of cars, checking of inaccessible places, etc.
Specifications:
Model: 88AS
Interface: USB1.1 and 2.0
Sensor: 1/5 CMOS 2Mega
Maximum resolution: 1600 * 1200px
Video resolution: 1280x720px
Frame rate: 30 / fps - frames per second
Camera head diameter: 8,5 mm
Pipe diameter: 4,8 mm
Light sources: LED (6 pcs)
Length of the camera pipe: 830 mm
Resistance: IP67
USB cable length: 2000 mm
Angle of View: 65 °
Focal length: 2-10 cm
Accessories: mirror, hook, magnet
Comments
Other Products