Spy watch with Walkie Talkie
Product description

Spy watch with Walkie Talkie

Spy watch with Walkie Talkie. The fashionable look of the watch and crystal clear sound ensure effective communication within 2 km (in free space). Sport watch, which are suitable for different occasions from sports, hiking in nature to the normal communication with neighbors. The watches have simple controls and a large display for easy reading.

The sound is very clean when communicating remotely, and thanks to it you will not have a problem to understand even at a distance up to 2 km. The watch is powered by lithium ion battery that is rechargeable using the included adapter. On a single charge can be used up to 72 hours.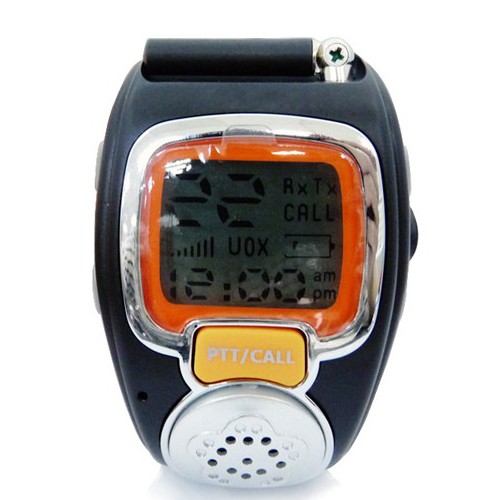 Features:
Fashion look and crystal clear sound
Effective communication: up to 2 km (in free space)
3,7V Lithium-ion battery for long time operation
VOX, channel scan, auto squelch, auto power
Specifications:
Display: Backlit LCD Display
Communication range: up to 2,0 km
Scanning of channels: 20 (depending on different countries)
Displaying of time: 12 hours AM/PM
Talkback mode: support 1-1 and 1 up to many walkie-talkies
Output power: 0,5W ERP maximum
Power supply: 3,7 V 600 mAh lithium-ion battery
Standby time: about 72 hours
Dimensions: 90 x 45 x 30 mm
Material: Plastic
Packing:
2 x The wristwatch with walkie-talkie
2 x Headphones
2 x Battery
2 x Adapter
Comments
Other Products