Spy pinhole camera with a dual lens
Accessories
+

16GB Micro SDHC Class 10 Kingston U$ 18.70
+

Product description

Spy pinhole camera with a dual lens

Spy pinhole camera with dual lens, with motion detection, remote control and the possibility of permanent power supply via AC/DC or POWERBANK. It is suitable for indoor monitoring and thanks to the possibility of permanent power is not dependent on battery capacity. Pinhole micro camera is an ideal choice for you if you need to record a meeting, or to monitor places and stay inconspicuous. All functions can be easily and conveniently operated via remote control.

The great advantage of this Pinhole camera is dual lens allowing you to record video from two angles. You will appreciate this possibility for example when monitoring a larger area. The camera has two batteries. First with capacity of 420 mAh is bulit-in directly in the device and a second external battery with capacity of 2500 mAh you can connect to the device. Together let you record continuously for up to 12 hours of video.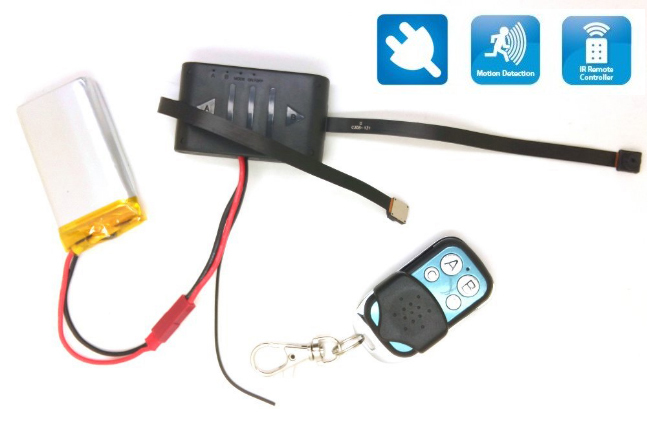 Battery capacity can be extended with connecting of micro camera to the POWERBANK. Video is recorded on the Micro SD card with support up to 32 GB. Motion detection function enables you to save space on the card. Thanks to small size of camera and battery can be easily hidden in different places or you can wear it as part of clothing. The video resolution is 640x480 at a rate of 30 fps on one lens. When playing a video, other videos will be displayed side by side. The camera also has the option of recording from one lens. The package includes the buttons that can be mounted to the lens what will guarantee a perfect camouflage at wearing on the body.
Features:
Pinhole camera with dual lens
Buttons for better camouflage
Memory card support up to 32GB
Battery capacity 420 + 2500 mAh offers up to 12 hours of recording
Motion detection function
Specifications:
Video Resolution: 640x480 at 30 FPS frame rate
Angle of View: 30 ° one lens
Wireless remote control
Features: video recording, photo camera, motion detection
12 cm strip of camera cable - the distance between the lens 24 cm
Support for permanent supply. Yes
Supply current: DC-5V
Support Micro SD: SD Card to up to 32GB
The battery 420 + 2500 mAh - up to 12 hours of recording
Video format: AVI
Contents:
1x Dual Micro Pinhole camera with battery
1x Additional Li-on battery
1x Set of buttons (camouflage)
1x Remote Control
1x USB cable
1x Manual
Comments
Other Products