Spy camera button as MP850
Accessories
+

Micro SDHC 8GB Class 4 U$ 11.00
+

16 GB micro sd class 6 U$ 20.90
+

32 GB micro sd class 6 U$ 35.20
Product description

Spy camera button as MP850

Spy Camera button as the MP850 - unique spy shop products for best price. ISO EN 9001:2008 certified online seller. You have more buttons on your shirt at disposal. Private investigation: The camera is very small, lens of camera incognito as shirt button. One-touch recording allows you to capture audio and video at a resolution of 720x480 pixels at 30 frames per second in the popular AVI format. And more, you can store videos and images to inserted micro SD card. Use this discreet button spy camera, shoot what you want and easily download the video to your computer via the USB connection.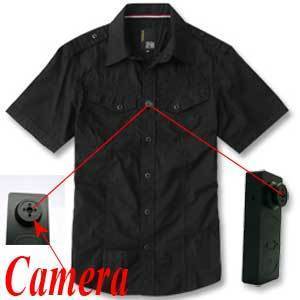 Technical specification of spy camera button:
• Video resolution:720x480
• Support micro SD up to 32GB (not included)
• Pinhole camera for digital recording in real time
• A highly sensitive built-in microphone
• Weight: only 17 g
• Operating button for quick and easy start recording
• Discreet and elegant design in the shape of a button
• Dimensions: 60x23x10mm
• Easy connection to PC via USB port
• The function of shooting images with a resolution of 1280 x 1024
Power supply: built-in 3.7V rechargeable 160 mA lithium battery, battery life of about 90 to 120 minutes. Charging via USB cable connected to your computer.
Comments
Other Products