Spy Bulb camera with Night Vision + Motion Detection
Accessories
+

16GB Micro SDHC Class 10 Kingston U$ 18.70
+

Product description

Spy Bulb camera with Night Vision + Motion Detection

Spy Bulb camera with 120 ° viewing angle + night vision, function Sound control and motion detection. Product in HD resolution (1280x720) and 30 frames per second. The camera has a remote control. It also has an external memory TF card.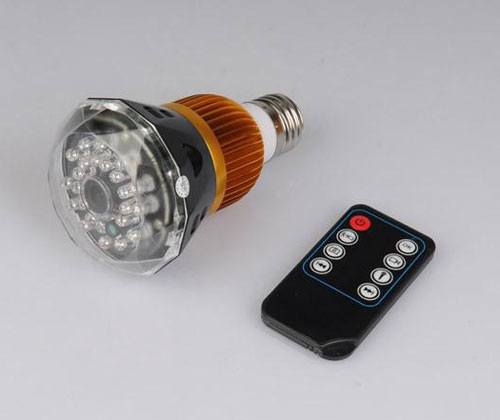 It is a multifunctional high-tech news, that records video, makes photographs, also has the function Sound control, night vision, motion detection and stores the records. It has an internal power supply. It can shoot video with a resolution of 5 megapixels and sound recording, supports TF card up to 32 GB for long-term recording. It is the best tool for protection against theft and for monitoring purposes of family.
Product Specifications:
Type of memory card: MicroSD/TF
Built-in memory: not
Camera Shape: Bulb
Sensor Technology: CMOS
Viewing angle: 120 °
The number of frames/second: 30 fps
Pixel: 5.0 Mega pixel
Video resolution: 1280 * 720 HD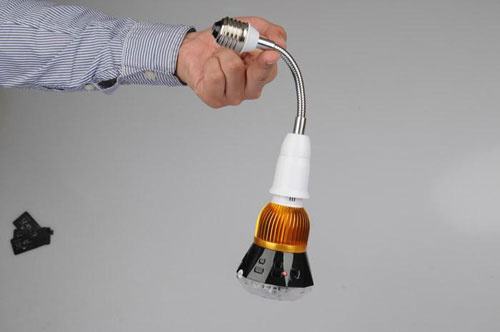 Modern look.
It also has infra-red night vision and can automatically switch between day and night mode.
It has a unique function - sequential mode
To save space on the storage media, you can use motion detection function.
Has AV output for direct monitoring of records
It has the function of cyclic video recording and automatic cover
Night Vision: extra good night vision
Reach video recording: when motion is detected within 6 meters (linear)
Minimum Illumination: 1 Lux
Compression Format: H.264
Continuous video recording time: less than 24 hours
Effective remote controlled distance: 18m
Range of sound recording: 40 m2
Power Consumption: 150 mA /3.7V
The maximum memory capacity: 32 GB
Player software: Media player/KMPlayer
Storage Mode: Loop video recording
Memory consumption: 1GB/40 minutes
Package includes:
1 x Bulb with camera
1 x Extension bar on the bulb
1 x Remote Control
1 x Manual
Comments
Other Products