Spy audio device for listening - sensitive
Product description

Spy audio device for listening - sensitive

Highly sensitive spy audio device for listening through the walls. With this spy bug, spy listening becomes more fun and productive. Simple and effective spy listening device. With this audio spy listening device, you can hear conversations through walls and other barriers.

So how does it work? Simple you switch on the listening Device, insert the earphones, and then place the audio bug on the wall and listen to what's being said.

This spy listening device works by amplifying the vibrations of audio. When people are talking in a room, their voices are at a certain waveband, and depending on how loudly they talk, the waveband travels short or long distances, which are picked up and amplified by this device.
Spy listening device for sale you can buy in our online shop for best price.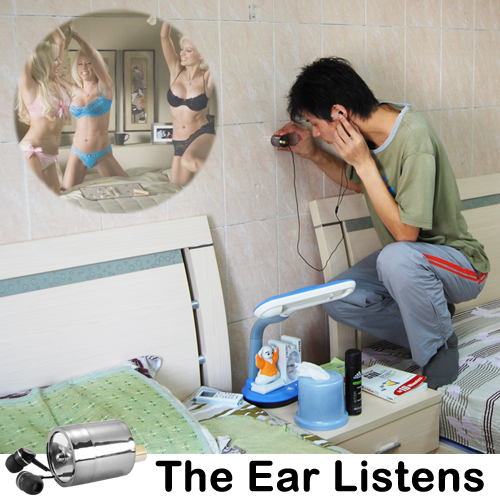 The sensor captures the vibrations of the walls, ceiling and floor and amplifies them, so you can listen to what they talk about. If the waveband is low, that means people talking quieter, then you can use the volume control, which is located on the back side of the device to adjust the volume and increase the sensors amplification. That makes the spy listening more funny and productive.

No one actually tells the truth directly to your face. So why not find out the truth! And you will wonder what people can say when you're not nearby ;-). So, whether you're at a hotel, at your apartment, or just in the next room, you will know what's going on.
Inspector Gadget listening device is highly sensitive spy device and should be used with high precaution.
Product specifications
Main functions: listening spy bug
Colour: silver
Parameters:
- 3.5mm headphone Jack
- USB connector
- Sensor
- ON/OFF button
Power supply: Built-in lithium battery
Dimensions: Lenght:43 x Diameter:36 (mm)
Using
It works well on wooden walls, doors, windows, metal plates. Highly sensitive, set the sensitivity slowly to avoid damage of hearing.
Package contents
Spy listening device
Headphones
USB Cable
Power supply (110-220V)
User manual
Comments
Other Products