Security system AHD 6x Micro camera 1080P with 15 m IR a DVR
Product description

Security system AHD 6x Micro camera 1080P with 15 m IR a DVR

The security system includes a 6x micro AHD camera 1080P with 15 meters IR vision and DVR hybrid recorder AHD 1080P/960H/720P. CCTV surveillance system is easy to use and includes 6 AHD 1080P cameras and hybrid DVR recorder AHD (possible to connect 2 more cameras) 1080P/960H/720P, which will record in Full 1080p in real time. To use the system you need to buy HDD (hard disk 1 - 4TB) adapted for a 24 hour operation, which can be bought as an optional accessory.
This micro camera AHD set (cameras with really small sizes 60x58x60mm) we recommend for offices respectively other areas that need the smallest size cameras.
8-channel DVR IQCCTV hybrid recorder (HD1080P, HD720P, 960H) - offers the most modern digital recording via a standard cables. The recorder can record camera image either from AHD 1080P/720P/960H cameras, or from conventional analog cameras and automatically captures it in the same format as the camera. The recorder also has 4 audio inputs and 1 output if you wish to add a sound.
DVR unit can record all 8 cameras simultaneously at 15fps in Full HD 1080P or at 25fps in 720P or 960H resolution. DVR provides Full HD 1080P output to a monitor using VGA or HDMI. Once the set is connected to a network (internet) you can easily view and control it from anywhere in the world using a smartphone (Android), tablets, PC and Mac (iOS) computers.

Application "XIQ Mobile CMS" for tablets and smartphones you can download for free in the app store and using the "Snap Shots" function you can set up e-mail alerts that are really useful. You will certainly appreciate alerts when there is some disruption of area monitored by security cameras.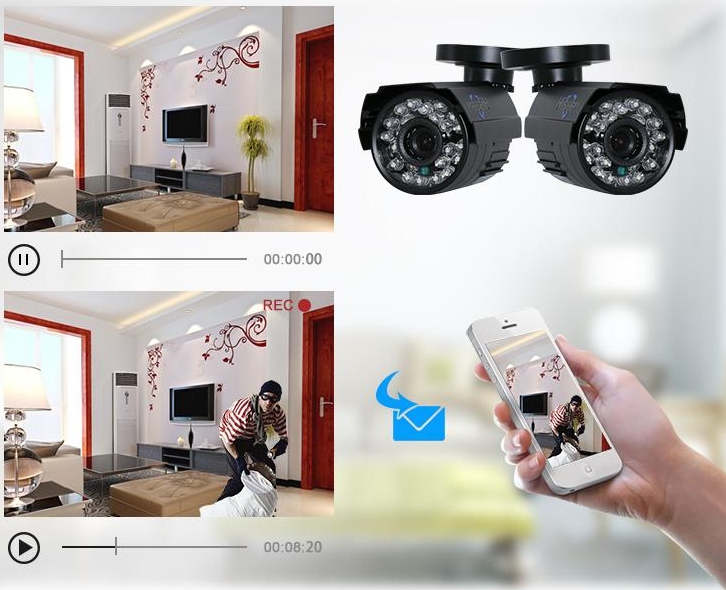 Another new feature is the option to automatically send video/photo files via the app Dropbox online service for sharing and backing up of files, either at the motion detection, or at the set intervals. The service provides additional protection for recorded files.
You do not need to have a fixed IP address or to log in to the DDNS service. For those who do not want to use direct IP connection is also available HD CCTV feature that is added to the new series of DVR. It gives you the ability to remotely connect via a dynamic IP address. The application also allows multi-camera viewing and the ability to play recorded images from DVR.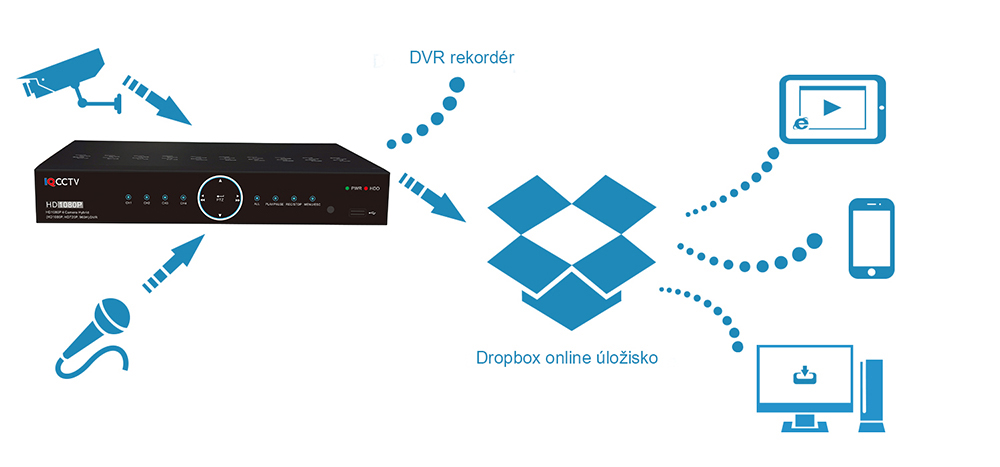 Miniature AHD camera HD1080P/960H hybrid antivandal camera with IR night vision with distance of 15 m. The camera is equipped with a wide angle lens that scans at angle of 92 °. The camera disposes with a hybrid image resolution of 1080P/960H. It is equipped with a powerful Xvision X3K-DSP processor, which processes an image in real time. The camera is also equipped with digital noise reduction (3x DNR) that removes pixelation, improves image quality when using the DVR recording and Wide Dynamic Range (WDR). The image does not suffer even on bright and dark spots.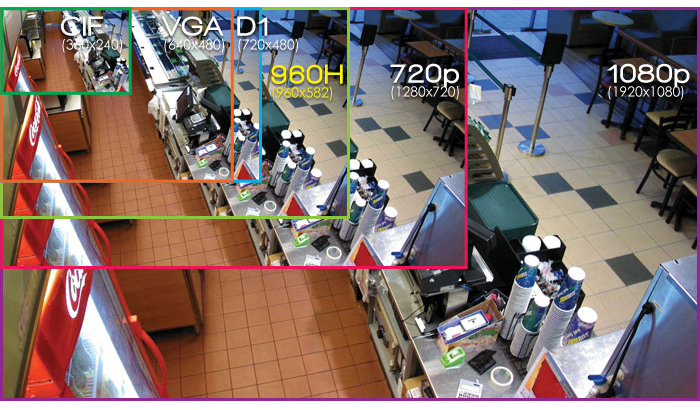 The camera also has night vision IR up to distance of 15 meters (it is activated automatically upon detection of lower light) that allows continuous monitoring even in complete darkness. After dark or in low light conditions, the camera automatically switches from the color scanning to black-white mode. Automatic IR filter produces quality color images during the day and clear images at night in combination with IR LED illumination.

It is ideal for indoor use (IP65) for example for offices and has a compact design. Can be installed on the wall using a console.


AHD systems 1080p
The latest technology of camera system that comes as the successor of analog systems, but in high-resolution 1280x720px and 1920x1080px. That´s why it has a unique technology that enables video transmission through coaxial cable (up to 500m).

Simple infrastructure


Analog connection and conduction


Signal transmission through cable up to 500m


More technologies of signal transmission


Digital recording on hard disks


Possibility of remote control (LAN)

Technical specifications DVR:
Model: IQR1080D8
Video compression: H.264
Video system: PAL / NTSC
Video input/output: 8 Ch. inputs, 1 VGA, 1 HDMI
Spot output: No
Audio input/output: 4 Ch. inputs, 1 Ch. output (RCA)
Display resolution: PAL: 960x576 / 1280x720 / 1920x1080 @ 25fps
Display function: Single, Quad, SEQ
Recording resolution: PAL: 960x576 (960H), 1280x720 (720p), 1920x1080 (1080p)
Recording speed: PAL: 960H Mode / Mode 720p / 1080p Mode: 25fps
Recording mode: Continuous / Manual / Motion Detection
Playback channel 1/8 Ch.
Frame rate: PAL: 960H Mode / Mode 720P / 1080P Mode: 25fps
DVD-RW: No
Sensor and Alarm I/O: No
IR Extender Port: No
Network: LAN, DHCP, Dynamic IP and DDNS
HDD Interface: 1 SATA HDD up to 6 TB
Multiplex Operation: Live view, recording, playback, backup and network
USB: 2 x USB (for mouse and backup/upgrade)
PTZ control: Yes
Mobile Surveillance: XIQ CMS - Android and iOS
CMS Software: Yes
Web browser: Internet Explorer, Safari, Chrome, Firefox
VGA: 800x600, 1024x768, 1280x1024, 1440x900, 1920x1080
HDMI 1080p
Power supply: 12V DC
On/Off Switch: No
Remote control: Yes
Dimensions (WxHxD): 300x53x227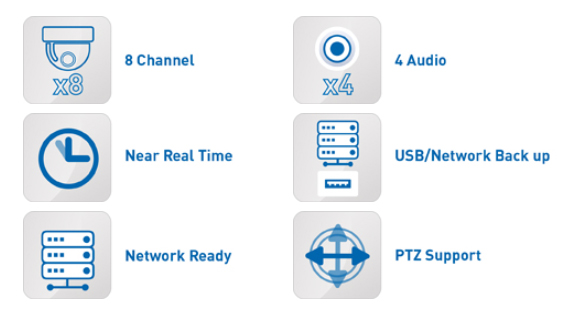 The camera parameters:
Model: XHC1080M-W
Type: Micro Security Camera
Resolution: 1080P/HD960H
Sensor type 1/2,8 "CMOS Sony 2,43 Megepixel
Lens size: 2,8 mm
DSP Type: Xvision X3K DSP
DSP Function: Sens-up, DWDR, NR, suppression of fog
DPC, Mirror, MD, Privacy Zone, AGC, white balance
Minimum illumination: 0 Lux IR
Night Vision: 15m IR
Lens Type: Fixed
Angle: 92 °
Weather-resistant: Yes (IP66)
Vandal Resistant (anti vandal): yes
Dimensions (WHD in mm): 60x58x60
Operating voltage: 12V DC
Weight (kg): 1,1
This security camera AHD has really micro dimensions (WHD in mm): 60x58x60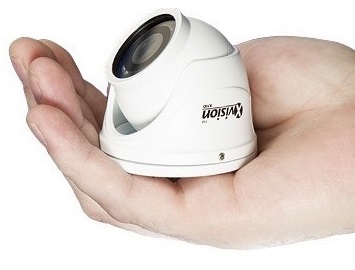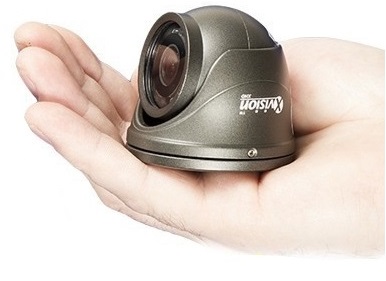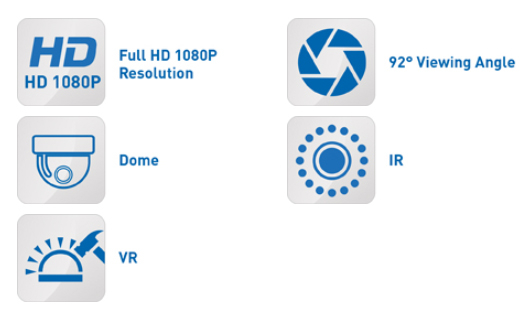 Contents:
1x Camera XHC1080M-W
1x 20 m cable for video/audio/power
1x Installation material (screws, dowels)
2x power adapter of camera 12V 4000 mA
2x Splitter for 3 cameras

1x DVR recorder IQR1080D8
1x Power Adapter DVR
1x USB mouse
1x Remote Control
1x Installation CD
1x Manual
If you are interested in
an individual solution of camera system,
the selection of cameras and DVR respectively NVR and other accessories
according to your needs,
please contact us by email at:
[email protected]
Why to buy safety cameras through our e-shop?
We are the official distributor of leading European brands of IQ CCTV and X-VISION and seller of safety technology with years of experience. Our requirements regarding the processing and improving of products we consult directly with the producer. Each product included in the sale will pass the entry quality control and only after that is ranked to our offer.
Our tests show that our sold technique is more efficient, more reliable and has a longer life compared to competitive products. In case of unexpected technical problems, we try to solve the situation urgently towards customer satisfaction. Of course we provide a warranty of 24 months on goods and professional advising.
Comments
Other Products