Reversing set with 6700mAh battery - WiFi AHD HD 720P camera with magnet + 8IR LED + 7" HD monitor
Accessories
Product description

Reversing set with 6700mAh battery - WiFi AHD HD 720P camera with magnet + 8IR LED + 7" HD monitor

Reversing set for 6700mAh battery - WiFi AHD HD 720P camera with magnet + 8IR LED night vision and 7" HD monitor - installation without any cables. The monitor has a built-in recording system on an inserted SD card. Video monitoring and recording system from the brand PROFIO ELECTRONICS with 7" inch monitor with wireless 720P magnetic Wi-Fi car camera, which comes with a built-in battery. Stable WiFI signal with a range of up to 200 meters (in open space) - reliable help not only when parking.
Reversing set for the car - WIFI camera with magnet and 8 IR LEDs + 7" monitor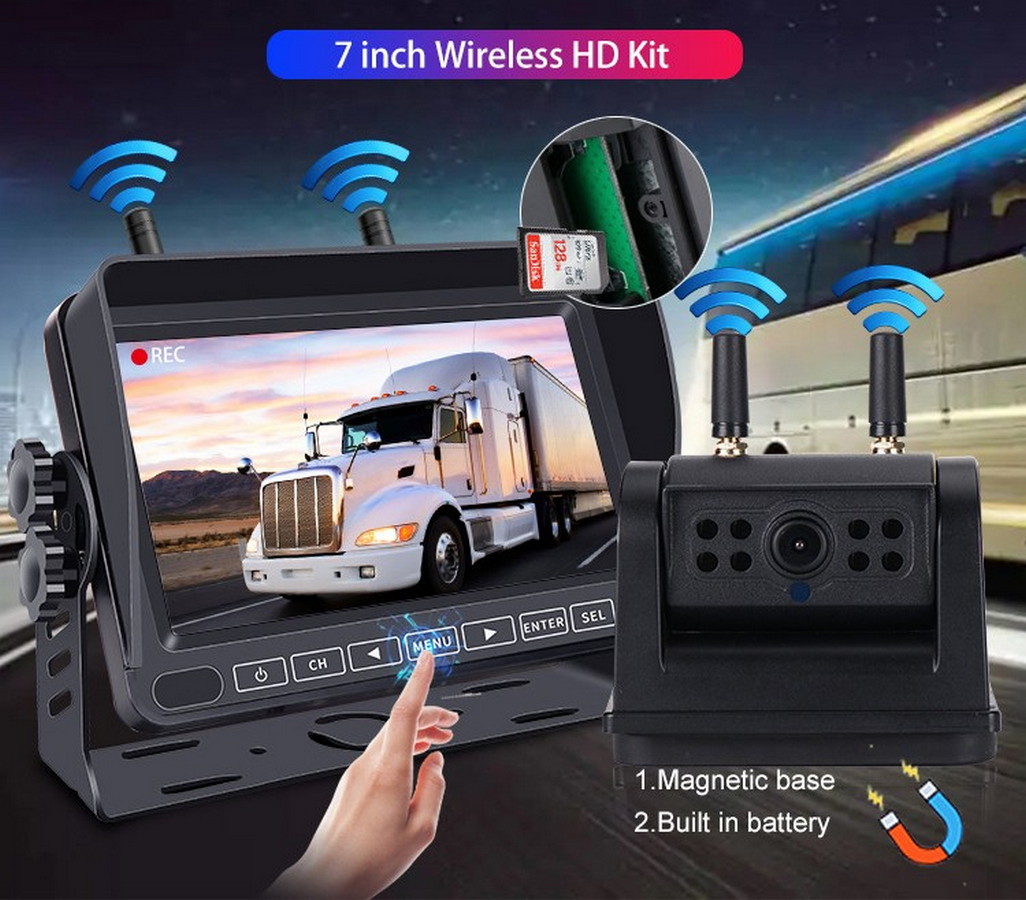 Quick mounting of the camera on any metal surface. The camera has a 6700 mAh battery, and the camera can be attached anywhere thanks to the magnetic holder. Innovative wireless rear camera and 7" monitor for trucks and vans, trucks, buses, caravans, semi-trailers, trailers, or agricultural or construction machinery.
Installation of the camera without any cables.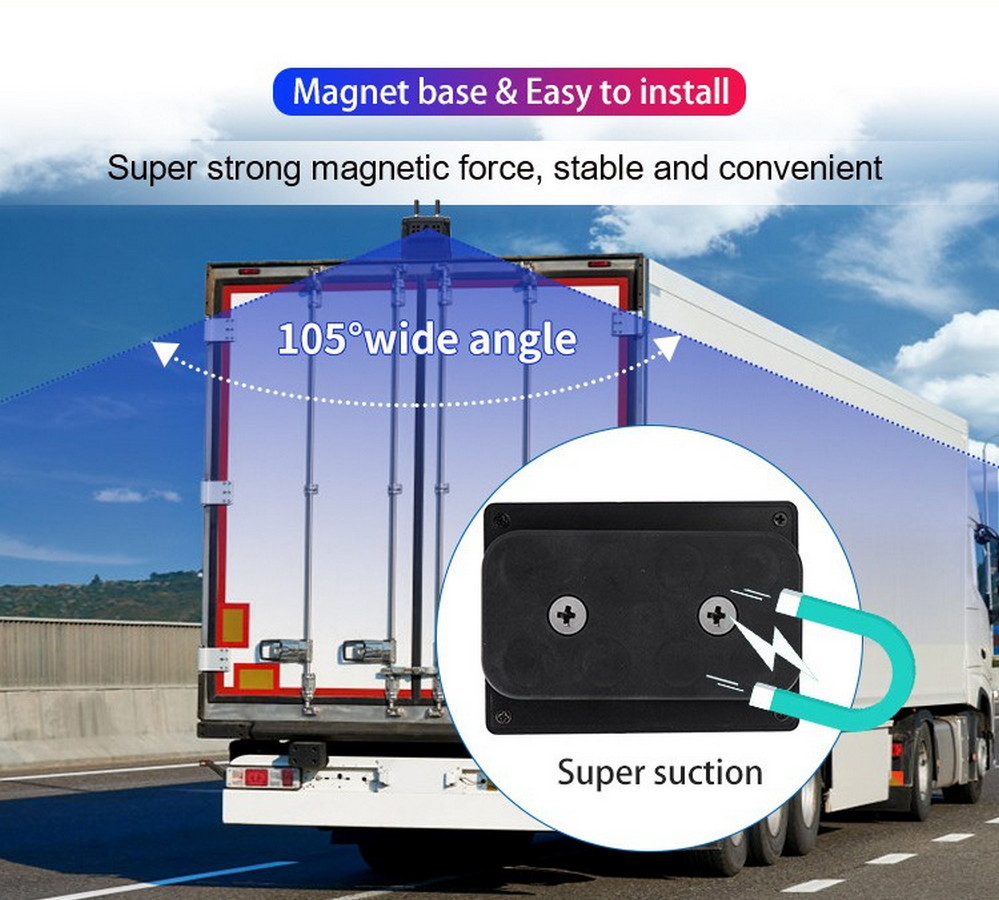 Wireless reversing camera system with magnet for easy installation without any cables. Reversing camera and monitor set with complete accessories. The digital wireless parking assistant 2,4 GHz transmits an undisturbed image in a stable and reliable way, between the monitor and the camera. This set will guarantee trouble-free reversing and movement of the vehicle when working in unclear or difficult driving situations.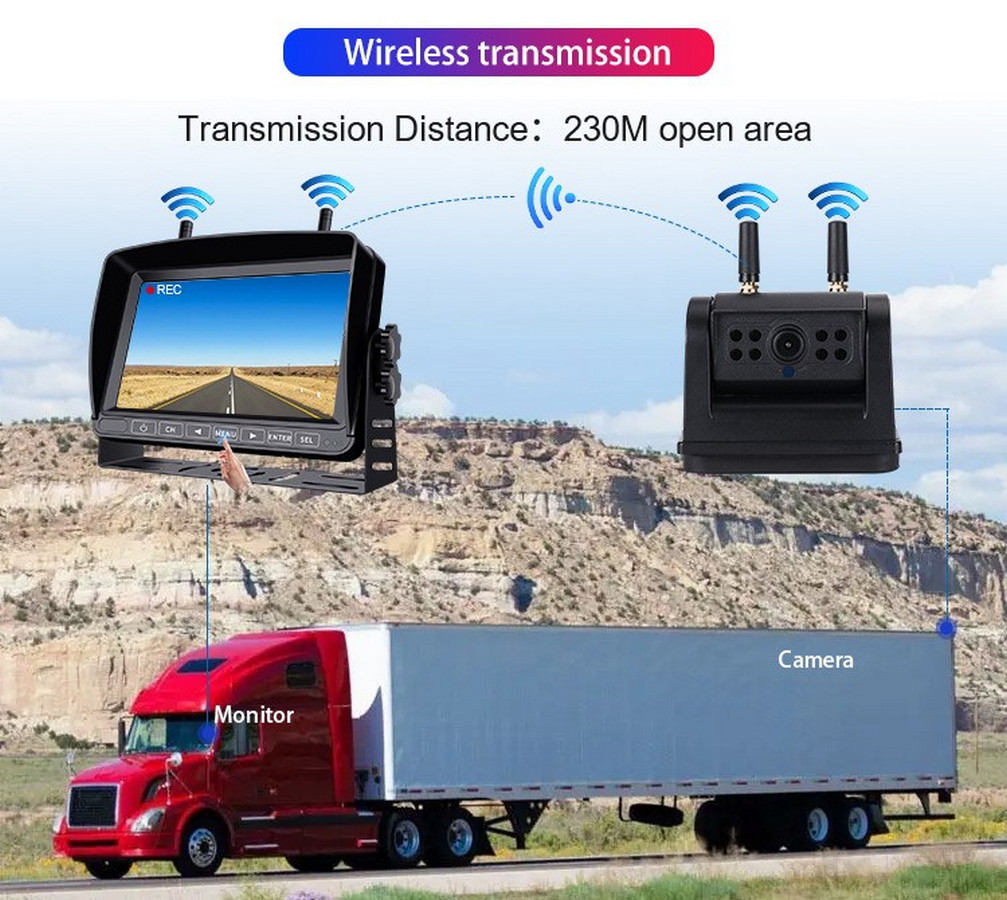 Adjustable reversing wifi camera with magnet for flexible setting with 140° viewing angle with night vision with 8pcs IR LEDs. The functional 7" HD monitor has adjustable auxiliary lines for parking, a holder and automatic connection to a wireless camera. Image mirroring and brightness can be set on the display. It is also possible to turn on the guide lines. It is possible to record on an SD card up to a maximum size of 128GB. The monitor also has the function of playing recorded videos.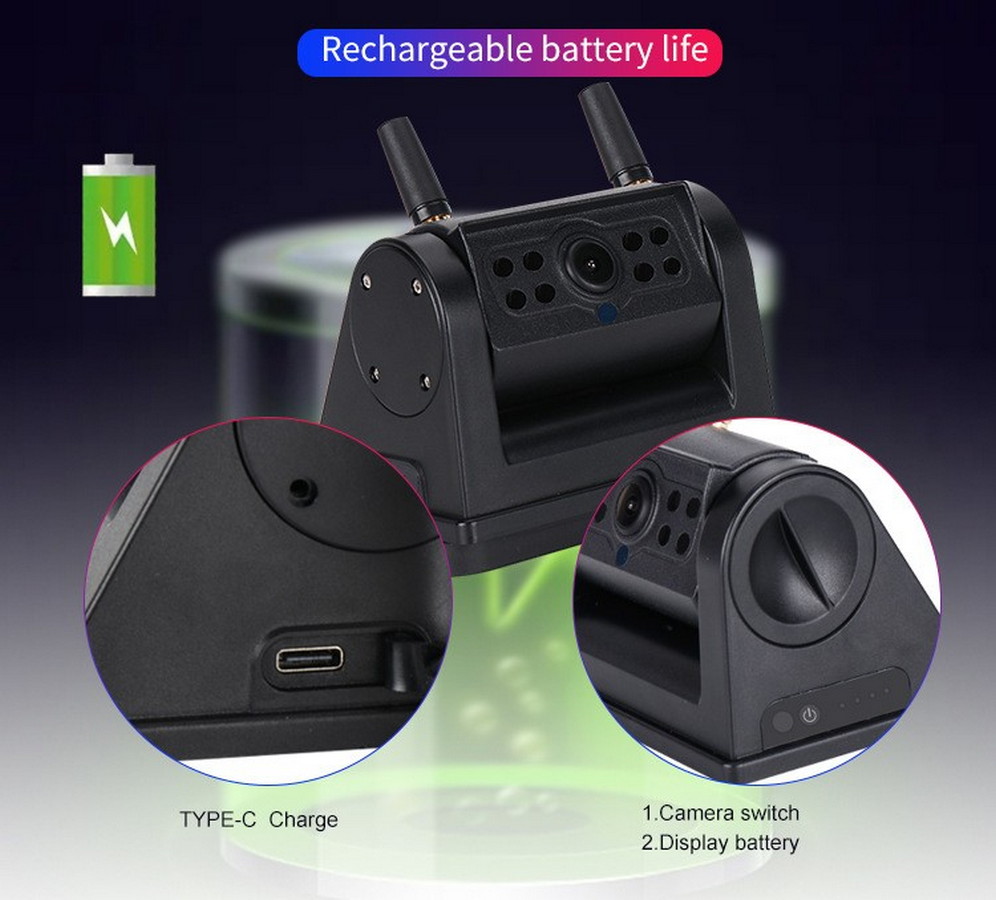 Wiring diagram of the wifi camera with battery and monitor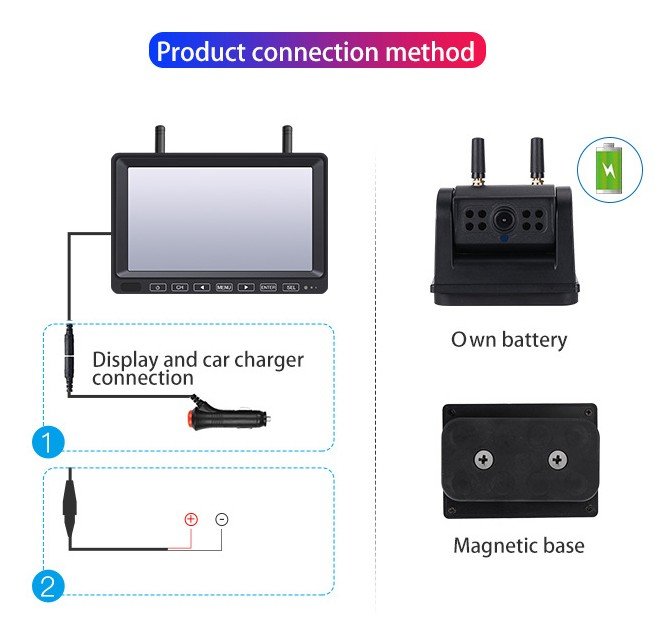 Universal use of the reversing set for cars, trucks, buses, caravans, construction or agricultural machinery and others.

Product features:

Reversing set WiFi camera with magnet and 7" HD monitor


Rotating camera cover for optimal and flexible adjustment


A strong magnet wrapped in a silicone rubber case for perfect positioning of the camera


Suitable for all trucks, vans, caravans and farm machinery


The camera has night vision with 8 IR LEDs


An ideally suited and optimized monitor for reversing systems.

Specifications of the 7'' AHD IPS monitor:
Model: PROFIO Monitor AM695
Ideally suited and optimized as a monitor for reversing systems.
Resolution: 1024xRGB*600, contrast: 600:1
Power supply: DC12V-36V
Brightness: 600 (cd/m2)
TV system: PAL/NTSC (AUTO)
With recording: support 128G SD card
Wifi transmission: built-in 2,4G wireless receiver
Wi-Fi transmission distance: ≤ up to 21-30 m
Operating frequency: 2400 ~ 2483,5 MHz
Waterproof camera with IP 68 protection
Working voltage: 12V-36V
Working temperature: -20 ℃ to +70 ℃
Camera specifications:
Model: PROFIO SL89
Sensor: 1/3'' AHD
Transmitted power: 23±1DB
Color camera with HD resolution 720P
Night vision: 8 IR LEDs
Night vision distance: up to 5 meters
Viewing angle: 110°[H] 140°[D], with CCD chip for good overview
Power supply: DC12V-36V
WiFi transmission: built-in 2,4G wireless receiver
Operating frequency: 2400-2483.5 MHz
Battery capacity: 6700 mAh
Charging time: up to 9 hours
Working time: up to 16 hours in standby mode
Charging input: 5V Waterproof type C
Battery using warning light: 25%-50%-75%-100%
Rotating camera cover for optimal and flexible adjustment
Strong magnet wrapped in silicone rubber for perfect positioning
Suitable for all trucks, vans, caravans and farm machinery
Anit vibration rate: 4G
Package contents:
1x Reversing monitor
1x Rear camera with magnet
1x screw holder
1x adhesive pad for the holder
1x remote control
1x USB-C charging cable for the camera
1x cigarette lighter adapter
1x connection cable for the monitor
1x assembly set of screws and clamps
2x antenna
1x user manual
Comments
Other Products