Reversing camera in the rear brake light for Sprinter + Crafter
Product description

Reversing camera in the rear brake light for Sprinter + Crafter

Reversing camera in brake light for Mercedes Sprinter + Wolkswagen Crafter vans with waterproof finish and built-in microphone. It is an ideal improvement of your car for safe movement and reversing from the PROFIO ELECTRONICS brand. A perfect overview of what's going on around you will ensure170˚ angle of view, which allows you to park safely when reversing and moving in a problematic vehicle ride. It gives you an overview of what is happening around the vehicle when moving or reversing.

The camera is designed for built-in installation into vehicle bodywork for automotive rear view systems. No demanding installation or drilling in the body of car is needed, because the camera is built in the brake light. The built-in parking camera is suitable for Mercedes Sprinter and Volkswagen Crafter. The 1/4" Sharp CCD image sensor delivers quality and sharp image transmission, and the built-in microphone lets you hear what is happening behind your van.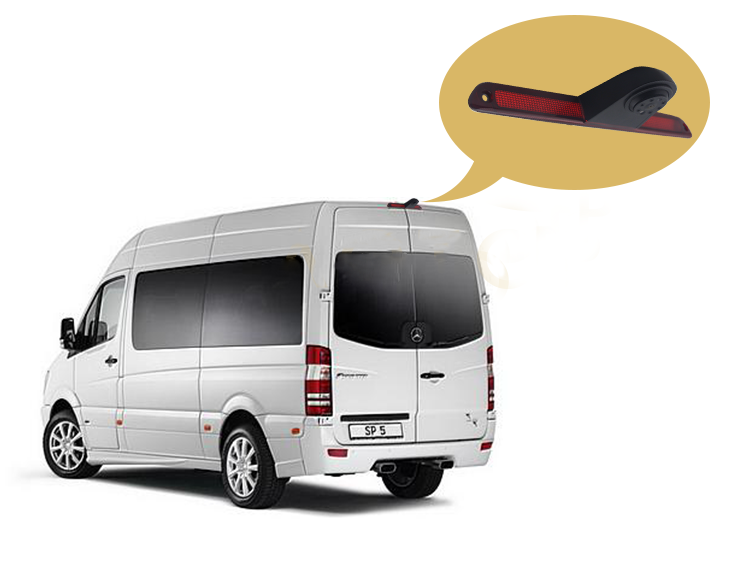 The reversing camera has a shooting angle of up to 170°, which is a sufficient range for the needs of reversing or monitoring the movement of the vehicle in an environment where is required increased security attention. In low light, the IR night vision with up to 10m can really help. Powering the camera and transmitting the signal is through a quality, unshielded connector with a 4-pin connector, which has a watertight finish for easier installation. The camera is powered directly from the reversing monitor with voltage 12V. The camera is compatible with all VGA monitors in our offer because it also includes a reduction 4pin - cinch connector.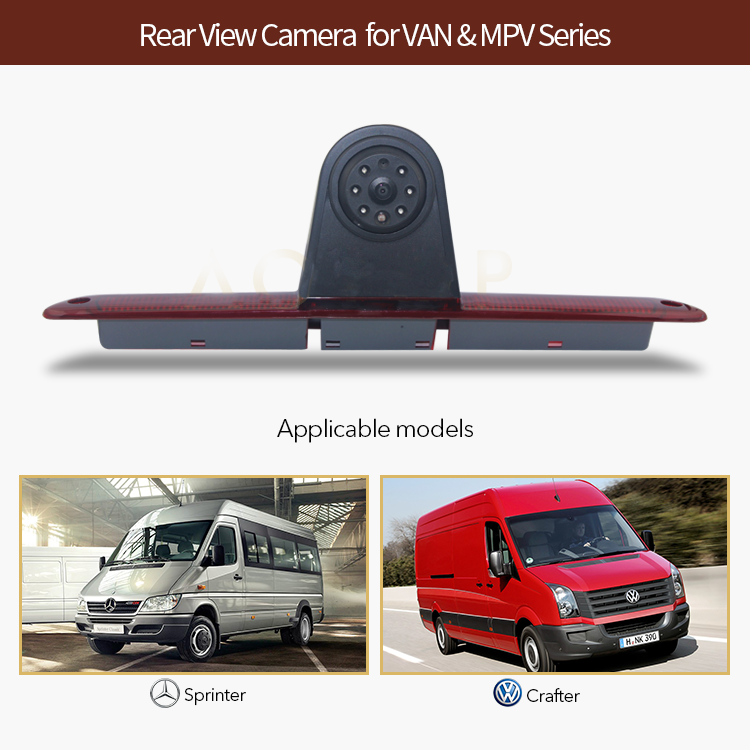 Reversing camera with built-in microphone
Installation into vehicle body
High quality and sharp image transmission
Shooting angle up to 170°
Waterproof finish
Technical specifications:
Model: Profio parking camera OL-22
CMOS 1/4" Sharp shooting chip
Night Vision: 6x IR LED
Lens diameter 1,7mm
Electronic aperture: 1/50 1/10000 sec.
Minimum lighting: 0,1Lux
TV system: PAL
Resolution: VGA
Weather protection: IP68
Viewing angle: 170°
White balance: Automatic
Working temperature from -30° C to + 70° C
Package contents:
1x Reversing camera
1x Screws
1x 4pin cable 10m
1x Connecting cable 4pin - cinch
1x Power cord
Comments
Other Products