Profi dictaphone multifunctional 360° + 1,8" LCD + 16GB memory
Accessories
Product description

Profi dictaphone multifunctional 360° + 1,8" LCD + 16GB memory

Profi dictaphone multifunctional 360° + 1,8" LCD + 16GB memory. Profesional digital audio sound recorder and dictaphone with VOR function. Professional stereo voice recorder for voice recording, the digital recorder is compact and fits into your pocket. Audio recorder with 360° surround recording even at extra long distances + 16GB memory (support for TF cards up to 64GB), 1,8" TFT screen and MP3 player, with voice recording activation function, with one-button recording, stereo recorder - rechargeable voice dictaphone with USB flash drive, which is ideal for recording the sound of your voice for conference calls, interviews, lectures or for capturing audio details. The voice dictaphone is professional portable digital recorder, is compact and fits into your pocket, allowing you to easily record high-quality audio anytime, anywhere. Unique voice recorder with 16GB memory. Digital spy audio portable recorder for you. Best dictaphone you can buy online for a good price.
360° surround recording over long distances
VOR system: Voice operated/Activated recording - Automatic recording when sound is captured, and turning OFF recording when there is no sound.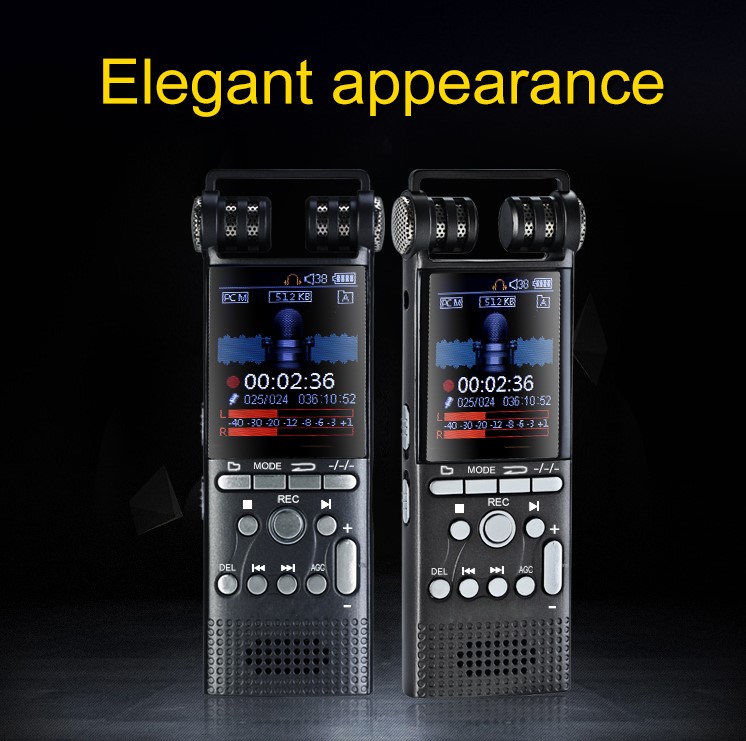 16GB storage lets you record up to 580 hours of audio.
Designed for easy and fast operation, the recorder has main functions as recording, playback, noise reduction and sound divide, also clear folder structure that makes the managing of your own recordings easy and clear. Recording can be done in stereo via MP3, WAV. The storage of 16GB lets you record up to 580 hours of audio. The recorder can be powered by a rechargeable battery or via a USB cable. The 1,8'' TFT color display lets you clearly see and manage your recordings. The dictaphone disposes with an automatic amplification function, and also 8 preset modes that adjust settings to different genres of music such as rock, funk, hip hop and jazz.
Universal portable recorder - voice dictaphone is ideal for recording audio in a variety of surrounding. Thanks to its portable compact design, you can always keep and hide your voice recorder easily, to record your own performances or show, to record documentary interviews, or even to record various audio details. It features dynamic noise reduction, so you can always have high-quality recordings. The voice recorder is the ideal mobile voice recorder to capture audio on the roads.
It also includes 2 condenser microphones, making it suitable for long distance recording.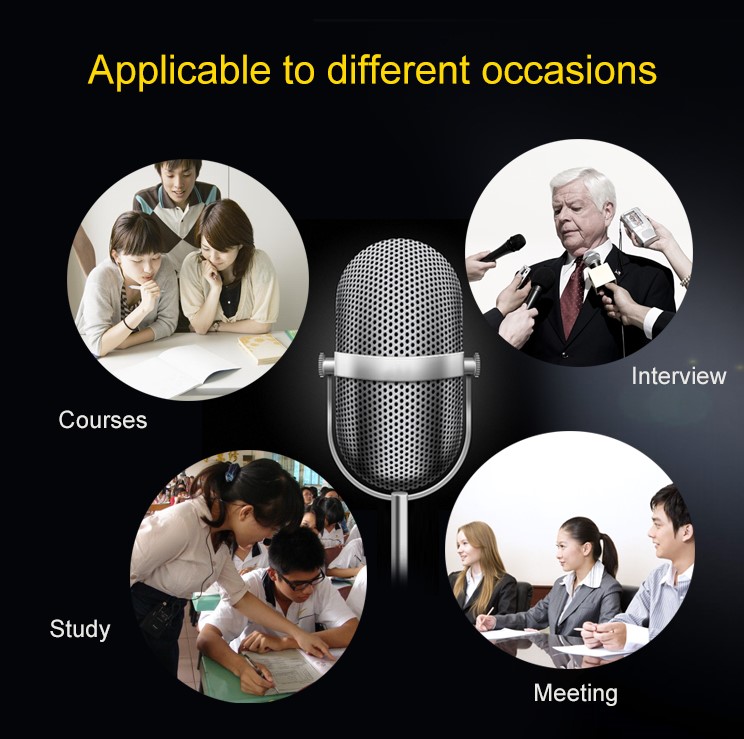 Features:
STEREO RECORDING - 360° long-range surround recording, omnidirectional sensitive stereo microphones to securely capture every sound and voice, whether from a pocket or anywhere else, just a compact size 4"x1"x1/2"
ONE BUTTON RECORDING - with REC (recording) slide switch, you can silently and quickly start recording with one touch, for example, in your pocket (turn the REC button ON before) without anyone noticing.
VOICE RECORDING - VOR function records only when some sound is captured and is in standby mode without sound. Time and date stamp. HI/LO sensitivity is adjustable. The indicator light may be turned off for incognito recording.
SUPER LONG TIME RECORDING - 16 GB internal memory, up to 500 hours of recording, impressive 22 hours of battery life, recording of notes, lectures, conferences, meetings, dictations and document storage. Support function to delete files, backlit LCD screen, built-in speaker, time and date stamp
Supports one-button recording function, press REC button to record in any interface.
One button for voice playback, press main menu under fast voice, play audio files directly.
One-touch recording function to reduce noise.
One-button segmentation, easy operation.
AGC recording function (automatic sensitivity compensation).
Switch between three modes: music/record/set
8 recording quality options: 32 kbps, 64 kbps, 128 kbps, 192 kbps, 512 kbps, 768 kbps, 1024 kbps, and 1536 kbps.
Recording settings can be selected (the default setting is 512Kbps).
Eight sound modes: OFF (nature), Rock, Funk, Hippop, Jazz, Classic, Electronic, Own, etc.
Function of setting the Power OFF
Password protection
This device is equipped with a file delete function.
Free U disk function, common USB 2.0 interface, high speed data transfer.
Support for built-in/external microphone (capacitive) recording.
The computer can be used as a power supply for devices with a USB port.
Specifications:
Display: 1,8 inch TFT color screen
Built-in memory: 16GB mode
Support TF cards through slot (maximum recording capacity can be up to 64 GB)
MP3 player: yes
MP3 compatible format (MPEG 1/2/2.5 AUDIO LAYER 3) / WMA recording format - dual core/dual track
Speaker: 1W maximum output power
Sampling frequency 48000 Hz
Frequency response range: 20 Hz - 20000 Hz
Audio source: Phone call recording, Built-in microphone recording, External microphone recording, Line-in recording
Recording format: WAV, MP3
Recommended working environment 0° - 40°
Real PCM noise reduction, real HI-FI sound effect
Noise ratio: 85 dB
AGC - Automatic Sensitivity Compensation
Power: Built-in polymer lithium battery/USB 800mA, continuous recording up to 45 hours (MP3 format)
WMA Music Media Flow: 32 ~ 192 Kbps, MP3: 8 ~ 320 KBPS
Recording distortion <10% (at maximum volume)
3 recording folders A, B, C
VOR-Voice Recording - Automatic recording after sound detection
Device menu in 24 languages
Dual channel stereo
One-button recording, long distance recording
Time setting of the record
Time and date stamp and file creation time stamp (for example, 2018-05-25-15-53.wav)
Mobile phone recording, line-in/phone recording
Support Bookmark, Calendar, Stopwatch, Alarm Clock, Time tracking feature
Automatic amplification
Works with Windows and Mac OS
Communication USB standard: high speed 2.0
Material: metal, housing made of zinc alloy
Weight: approx. 150 g
Dimensions L*W*D: 121*39*16 mm

Package contents:
1x 16 GB digital voice recorder
1x Headphones
1x USB data cable
1x User manual
Comments
Other Products