Portable battery 3000mAh + WiFi Spy Camera HD
Accessories
+

16GB Micro SDHC Class 10 Kingston U$ 18.70
+

Product description

Portable battery 3000mAh + WiFi Spy Camera HD

Portable Powerbank 3000mAh + WiFi Spy HD Camera. External battery contains a built-in HD camera with resolution 1920x1080p and frame rate of 30 fps with WiFi connectivity and works as a charger. WiFi connection will ensure discreet and quick handling. This external battery is fully functional and you can charge your phone or tablet through it, or may be used as the source of any device with USB power supply.

After inserting a micro SD card into device, a cover molding (included) will be sticked to a bottom panel, and so all the components that would remind a camera, are hidden. Camouflage is just perfect and this external battery is no different from conventional portable batteries.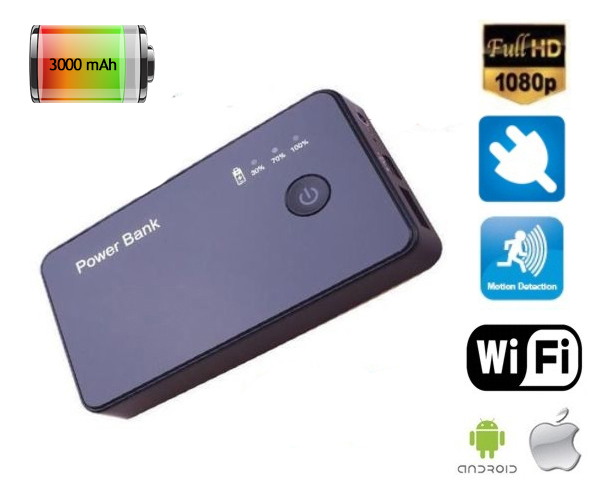 The lens has a 5 megapixel CMOS sensor. Video is recorded on a microSD card up to a maximum size of 32 GB. Via WiFi and application BVCAM you can pair your mobile phone or tablet with a camera and change the settings as needed. Camera in an external charger can be set to continuous recording, or the recording is launched only when motion is detected. Another option is to set a timetable when the camera should be launched. At capacity of battery 3000mAh, the camera can continuously record up to 8 hours. External battery can record video in charging mode, allowing continuous recording with a constant connection to the electric grid. You can also set the intervals of storing of video, from 1 minute to 60 minutes. The camera supports notification of motion detection via email or storing of the records directly to FTP server.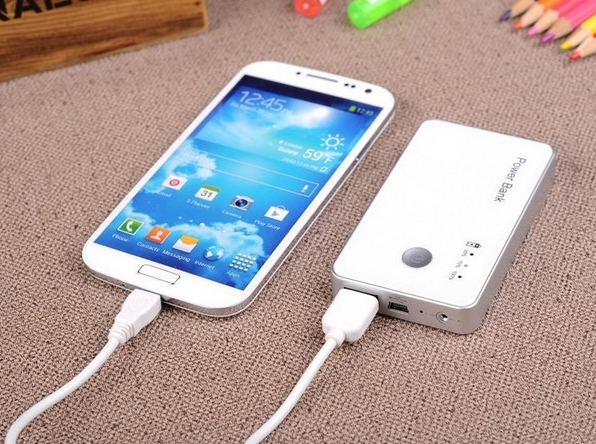 Features:
Camera hidden in an external charger
Possibility to record even when the battery is charging
Wifi connection through application
Possibility of various camera settings through application
Full HD video 1920x1080px
Simple one button operation
Specifications:
Pixel: 5 million pixels
Video resolution: 1920x1080p
Video format: AVI
Frame rate: 30 fps
Viewing angle: 90 °
Motion detection up to: 6 m
Battery capacity: 3000 mAh
Recording time: +/- 8 hours
Memory Card: Micro SD/TF card max. 32 gGB
Charging voltage: DC-5V
Minimum illumination: 1 LUX
Operating temperature: -10 to 60 ℃
Battery: Lithium battery
Contents:
1x Spy Powerbank with wifi camera
1x USB cable
1x USB adapter
2x Cover molding
1x Manual
Comments
Other Products