Pen bug detector Super sensitive + detection of cameras + GSM + WiFi devices
Product description

Pen bug detector Super sensitive + detection of cameras + GSM + WiFi devices

Pen bug detector Super sensitive + detection of cameras + GSM + WiFi listening devices from 1 MHz - 6,5 GHz, gps locators in the car, etc., for your 100% privacy. The detector uses passive, wireless and infrared technology to recognize devices. It can detect wiretapping devices, car GPS locators, wireless Wi-Fi cameras, pinhole cameras, classic cameras, electrical radiation and much more.

The highly efficient detector is designed to detect hidden cameras, GSM audio devices, GPS signals, RF trackers and other wireless products in the frequency range from 1MHz to 6,5GHz. With a dynamic detection range of over 73DB and a sensitivity of 0-0 3mv, this detector is one of the most reliable on the market.
One of the most powerful and reliable detectors on the market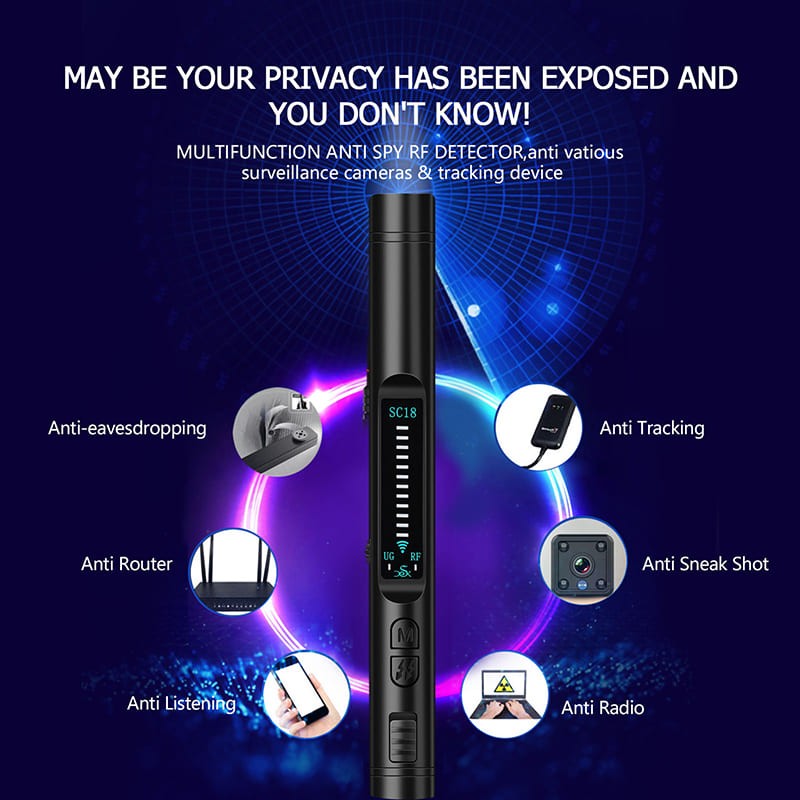 Who is this detector suitable for?
The detector will certainly be appreciated by people at work meetings, secret negotiations, exams and interviews, you can check your car and find a GPS locator, your mobile phone, or check your workplace or office and detect bugs, wifi cameras or other monitoring devices.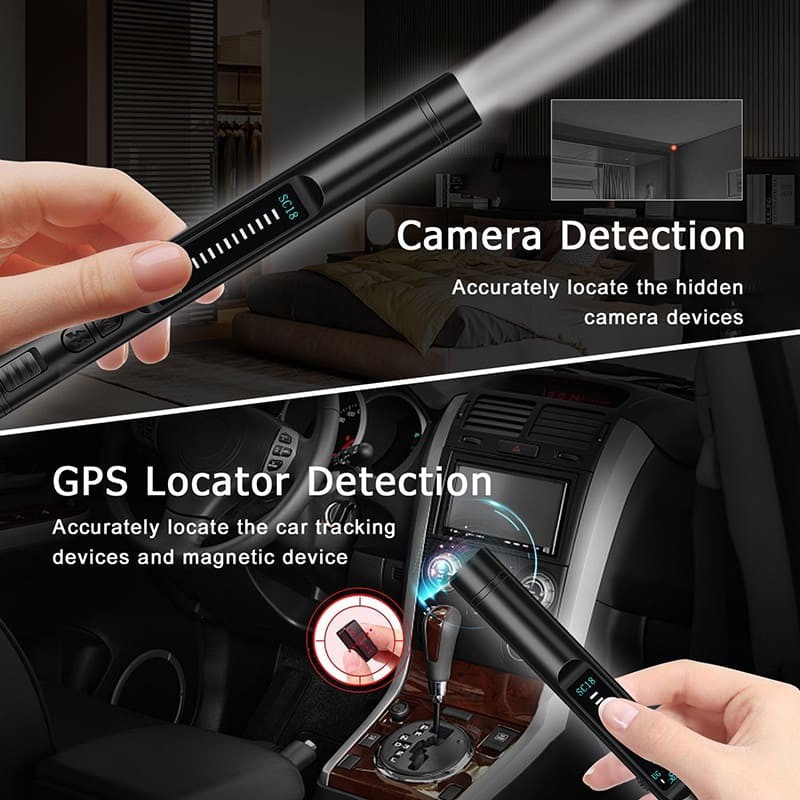 Wide range of detection and magnetic sensitivity
The detector is able to identify signals in the 2G, 3G and 4G bands at a distance of up to 15 square meters. Thanks to the highly sensitive magnetic probe, it can detect the magnetic field at a distance of up to 10 cm, which ensures maximum accuracy and reliability when searching for hidden devices.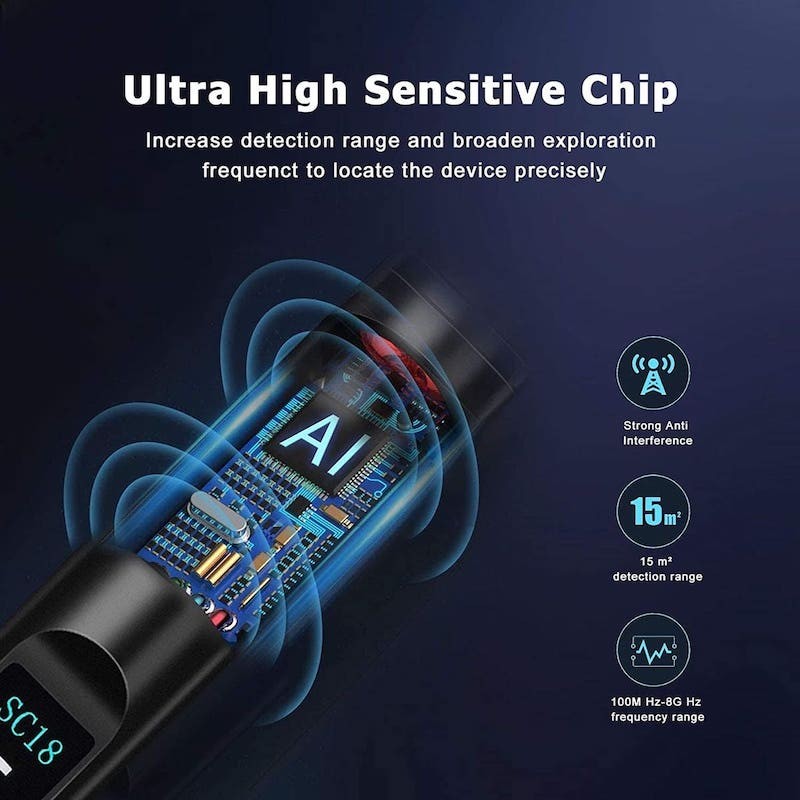 It can detect hidden cameras via red LED light + LED flashlight function
It uses infrared laser scanning to identify hidden camera lenses at a distance of 0,1 to 5 meters. In addition, it is equipped with the functionality of a led flashlight, which can be useful in darker conditions or when looking for devices in hard-to-reach places.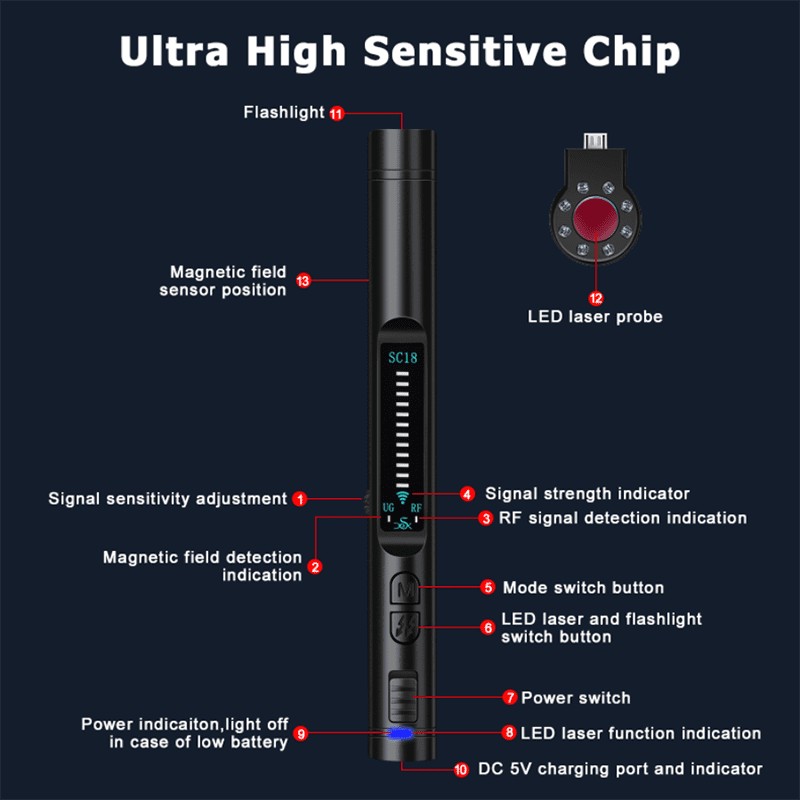 Compact design and long battery life
The detector is made of high-quality plastic (PC+ABS) and weighs only 28 g, which allows easy portability and handling. Thanks to the built-in 3,7V/300 mAh polymer lithium battery, the detector can work continuously for up to 5 hours, depending on the activated function.
Bug detector in a pen - you can find all hidden cameras and listening devices with it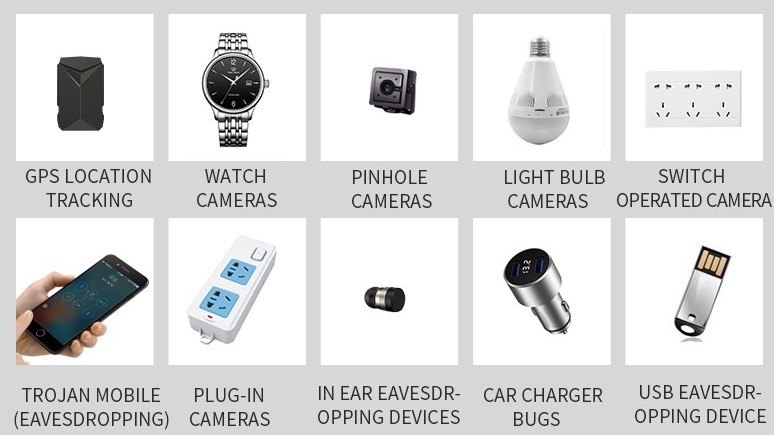 Features:

small size (like a writing pen)


adjustable sensor sensitivity level


wide frequency range


it detects GPS location, Wi-Fi cameras, pinhole cameras


finds hidden cameras, CCTV, listening bugs
Specification:
RF frequency range: 100 MHz-8 GHz
Dynamic detection range: >73DB
Detection sensitivity: ^0-03 mv
RF detection range: 2,4Gz: 10 square meters (standard lOmw) 1,2Gz: 10 square meters (standard lOmw}
2G, 3G and 4G mobile phone frequency band: 15 square meters
Power supply: Built-in 3,7V 300 mAh polymer lithium battery
Magnetic field detection: Highly sensitive magnetic sensing probe
Lens detection: Infrared laser scanning; detection distance 0,1-5 meters
Additional lighting: LED flashlight function
Detection mode: sound detection/vibration/LED intensity
Material: plastic (PC+ABS)
Charging DC 5V/1A
Operating hours: Depending on the activated function, it can work continuously for up to 5 hours

Package contents:
1x Multifunctional detector
1x Holder
1x LED laser detector
1x USB cable
1x Manual
Comments
Other Products