Miniature GPS waterresist IPX5 locator - 2800 mAh battery
Accessories
Product description

Miniature GPS waterresist IPX5 locator - 2800 mAh battery

Miniature GPS waterresist IPX5 locator - 2800 mAh battery with endurance up to 2 years. GPS + LBS + WiFi positioning - up to triple accuracy for real-time positioning. Mini GPS locator is a light and compact tracker that allows you to locate, monitor without the need for power with a battery life of up to 2 years (only for wifi localization). The locator is a useful security solution that provides tracking of the movement of people, goods and vehicles in real time or at regular intervals. Online GPS tracker r (mobile app) with 2800 mAh battery, which will ensure the operation of the GPS device in standby mode for up to 2 years (only for wifi location) when retrieving the location once a day or when using GPS continuously, it can work for up to 45 hours.

Once the online tracker has a good GPS signal, it will find it via GPS. If it does not have a GPS signal, it will find it via the LBS. Triple positioning allows for accurate and fast location marking. The GPS module is equipped with a strong magnet (as well as 3m Velcro stickers for easy locator attachment) and is very simple and flexible to install for GPS vehicle monitoring. The external protection of the waterresist degree IPX5 (protection against splashing water and dust) enables the functionality of the device even in a demanding outdoor environment. GPS tracking devices can be used for tracking and monitoring of rented vehicles, leasing cars, transported valuables, rental of heavy machinery and monitoring of specific goods. The GPS tracker also alerts you in the form of an SMS to unauthorized interference with the installation of the device or the removal of the device. You can buy the highest quality GPS locators in our e-shop. All you need is a SIM card (data / phone) and gps monitoring can be active immediately.
Miniature dimensions of GPS locator
The GPS tracker has a precisely miniature compact body, we can only hold it in two fingers.
When the locator is working, no sound is made, it is very easy to hide right anywhere.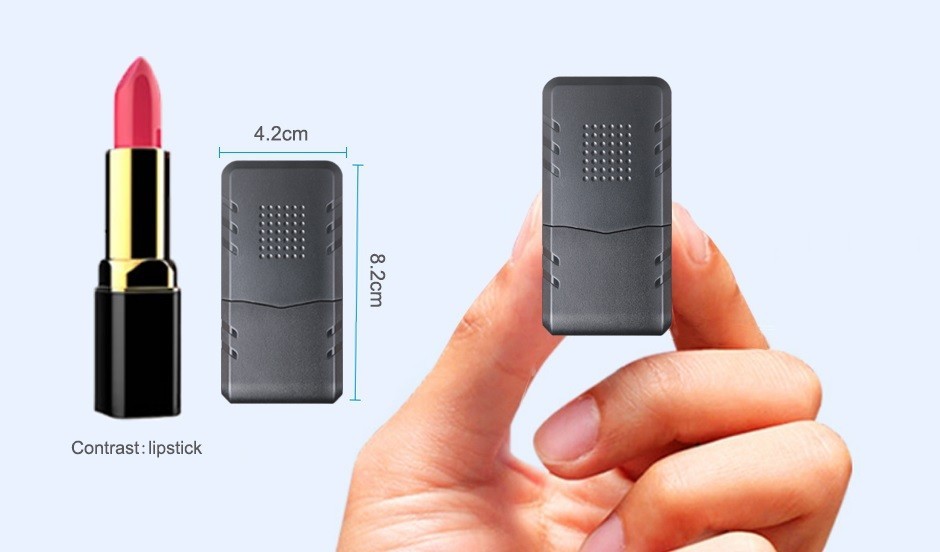 The GPS device provides tracking to the user in the form of a mobile application called " TrackSolid PRO " (iOS, Android) , with which you can find out the location of the monitored vehicle or object in real time and various necessary data.
Another form is the tracking of the GPS device via the web interface " www.tracksolid.com ", which you can use via PC, tablet, laptop for convenient monitoring.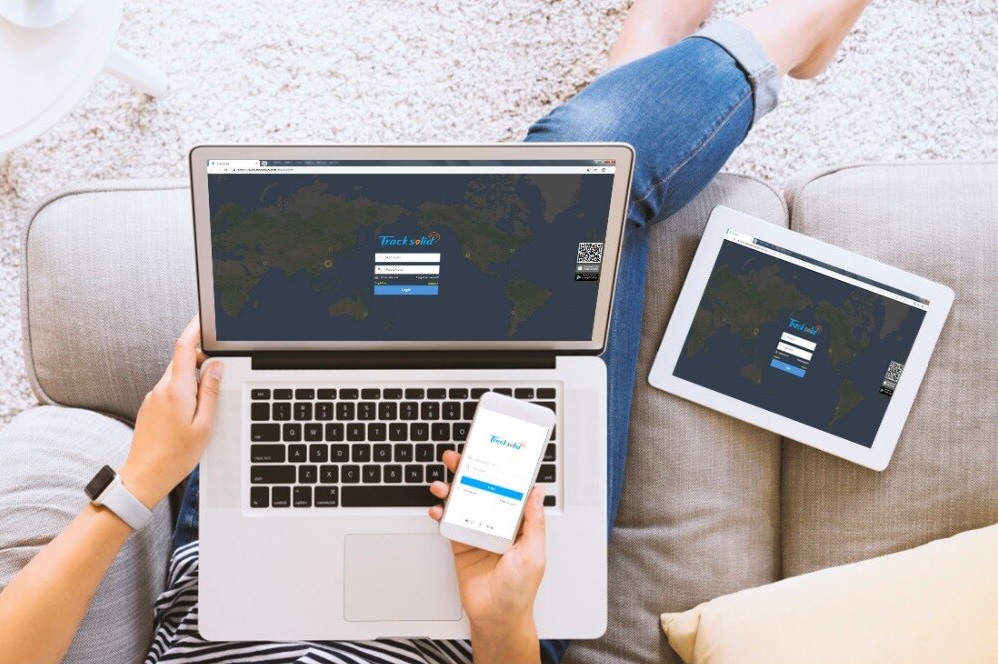 You can connect to the gps tracker via an application on a mobile phone, tablet or PC
The map shows your current position with time, speed and GPS coordinates.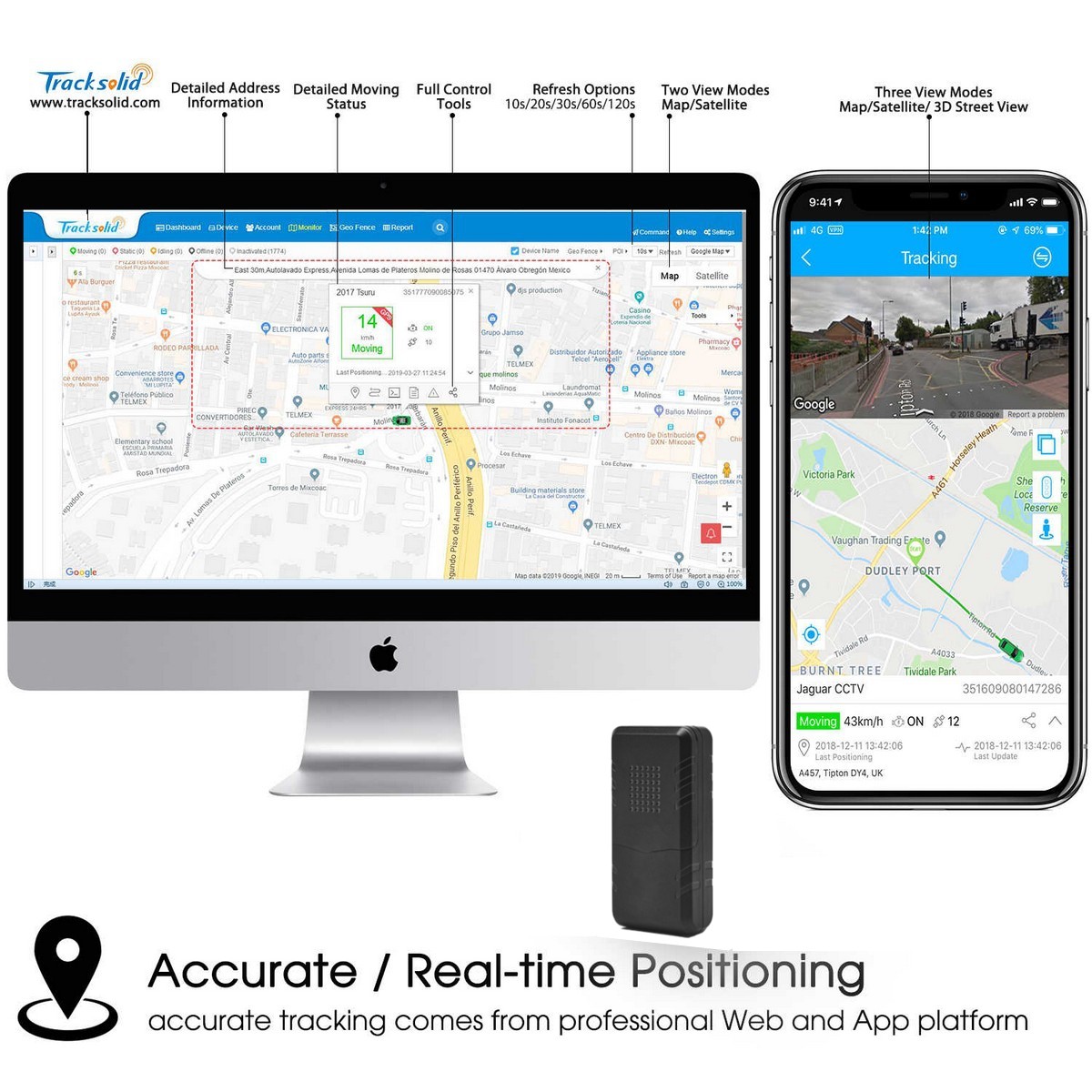 GEO FENCE function
It will allow you to send an Email notification when leaving the marked area
(If the driver of the vehicle accidentally goes outside the planned route, or your goods / package would get outside the permitted limit)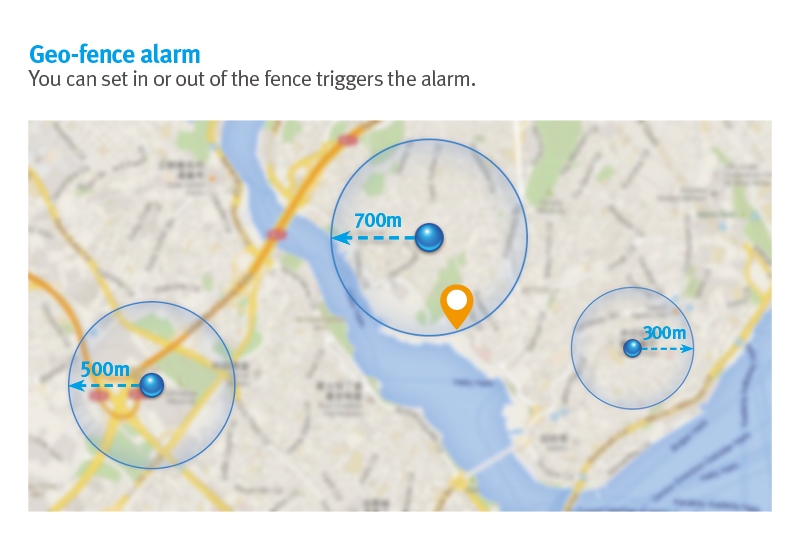 Triple GPS and LBS + WiFi localization
This tracker supports GPS and LBS location. GPS is the determination of an external position with an accuracy of less than 10 meters. LBS is position determination (in places where there is no gps signal) with an accuracy of less than 500 meters. The locator can also connect to the public WIFI network and send location data via Wifi.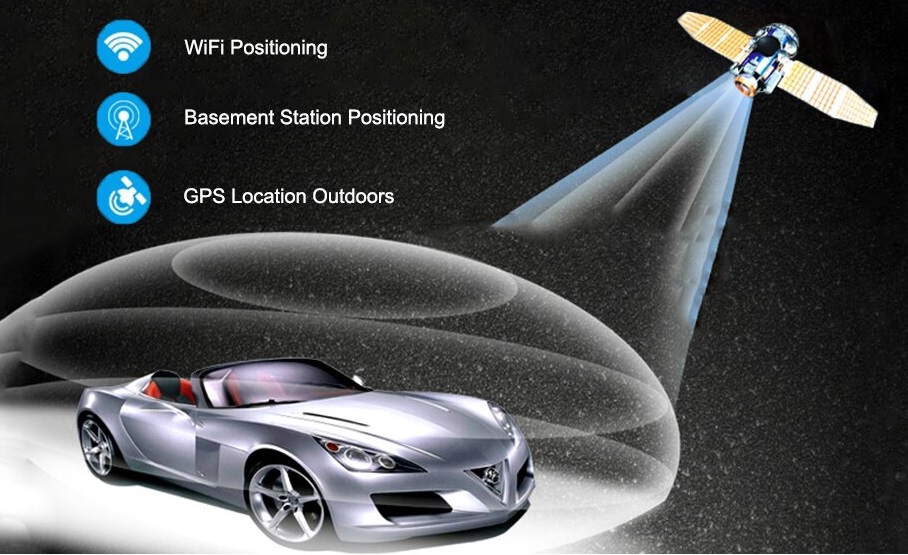 Long standby - Standby up to 3 years
The GPS tracker has a built-in replaceable 3.0V 2800mAh Li-Polymer battery with intelligent power saving function.
In standby mode up to 3 years when working with the location once a day or when using GPS continuously, it can work up to 45 hours.
GPS locator contains a replaceable non-rechargeable 2800 mAh Li-on battery so we do not recommend intensive / continuous monitoring, but rather long-term intermittent monitoring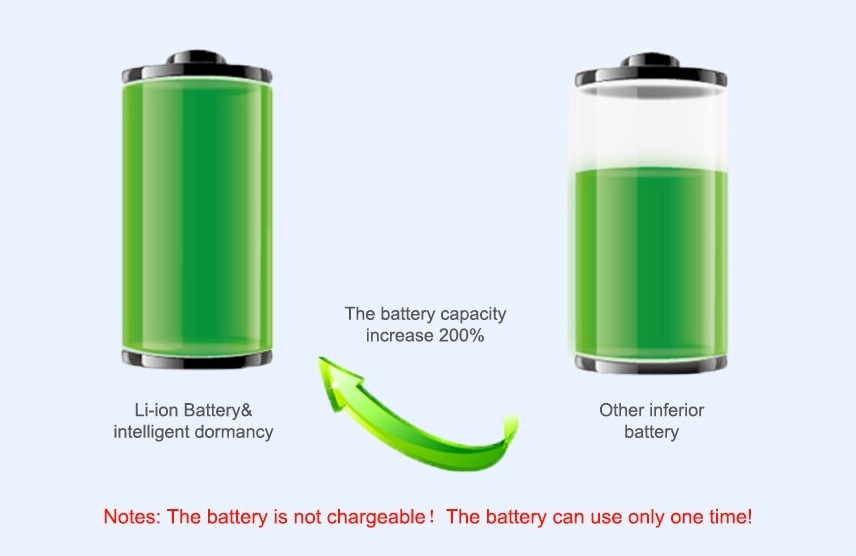 Power save mode
In this mode, you can set the exact time when the device should wake up and update its location, and then you can enter the time how often it should wake up. Since the device is not fully active in this mode and is activated only at selected times, the battery is saved, which allows the device to last a very long time. In practice, this mode works in such a way that if we enter the activation time at, for example, 1:45 pm and set the repetition interval, for example, 2 hours. So the device updates its location for the first time at 13:45 and the next location update will be at 15:45 and the next location is updated every 2 hours. In this mode, the device can operate on a single battery charge for approximately 1-2 years. Therefore, if the location is updated once every 1 day.
GPS locator unauthorized removal alarm
If the GPS locator detects an unauthorized withdrawal via the Light button, an alarm will be sent in the form of an alert message and the GPS tracking mode will be activated automatically for 20 minutes. After 20 minutes, the device switches back to standby mode.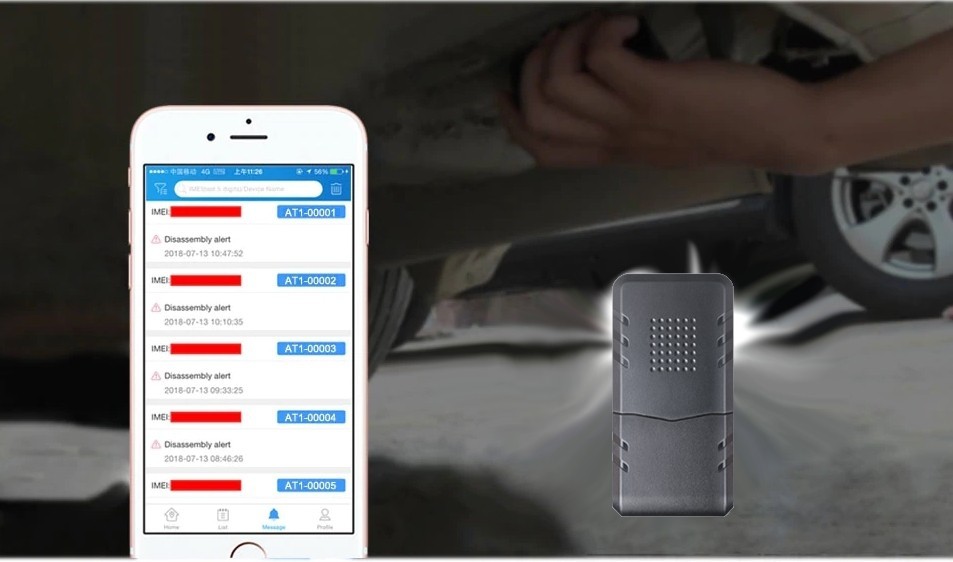 Strong fastening magnet
The GPS module is equipped with a strong magnet, which makes it a very simple and at the same time flexible installation of the GPS locator directly on vehicles for their location. Using the included 3M self-adhesive Velcro tape, you can also attach the GPS locator to non-magnetic objects.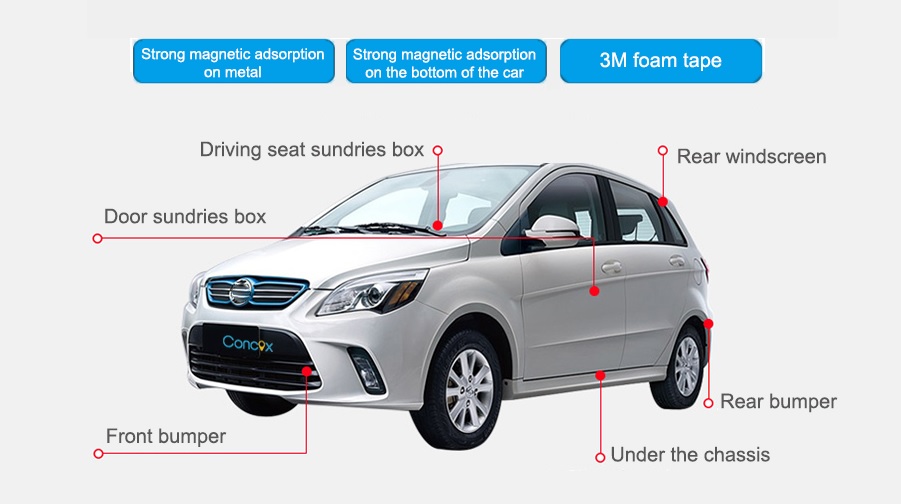 IPX5 dust and water resistant locator design
The GPS locator has a super waterresist surface, which ensures stable operation in a demanding environment.
Not only does it effectively prevent the ingress of dust, but you also don't have to worry about the locator when in contact with water.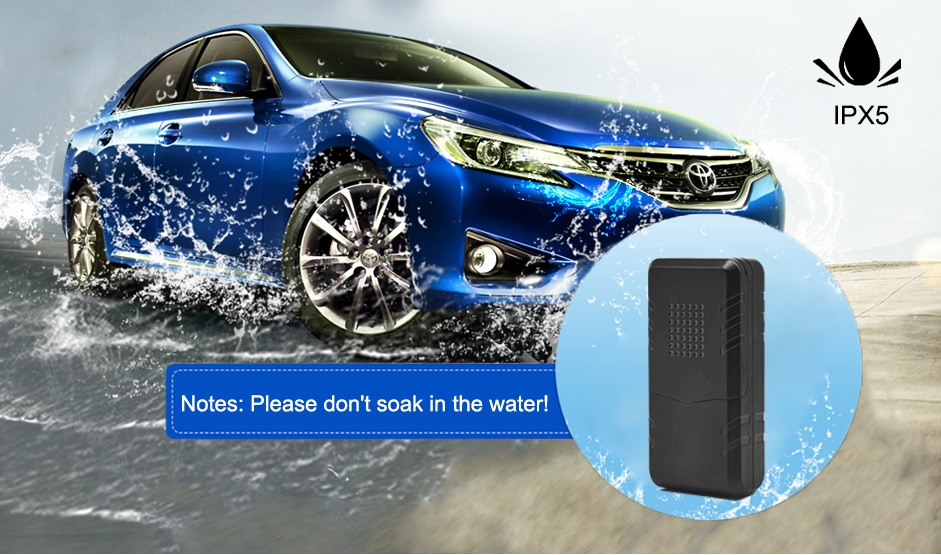 | | |
| --- | --- |
| | GPS WIFI + LBS location - allows you to determine your location in real time or at regular intervals |
| | 2800 mAh battery - replaceable non-rechargeable battery ensures a sufficiently long power supply of the GPS device (standby time max. 2 years) |
| | Strong magnet - a strong magnetic cover allows flexible installation on a vehicle or other type of property |
| | Intrusion Alert - You will be notified immediately when unauthorized access to the device is detected |
| | IPX5 waterresist - water resist GPS device ensures stable operation even in demanding outdoor environments |
| | Intelligent power management - reduce power consumption when the device is idle |
Specifications:
Communication frequency: GSM: 850/900/1800 / 1900MHz WCDMA: 850/900/1200 / 2100MHz (B1 / B2 / B5 / B8)
Sensitivity: Class II RBER2% (-102dBm)
GPRS: Class 1.2, TCP / IP
Income sensitivity: Class II RBER2% (-102dBm)
Memory: 32 + 32Mb
Phase error: RMSPE <5, PPE <20
Max. output: GSM850 / GSM900: 33 ± 3dBm, GSM1800 / GSM1900: 30 ± 3dBm
Max. frequency error: ± 0.1ppm
GPS chip: Highly sensitive GPS chip
Frequency: GPS L1, 1575.42MHz
GPS channel: 66
Location accuracy: <10 meters
Tracking sensitivity: -165dBm
Sensing sensitivity: -148dBm
Button: to turn on / off
LED indicator: red for operating mode
Standby time: 3 years (retrieval of location data once a day)
GPS antenna: GPS ceramic antenna
Operating temperature: -20 ~ ~ + 70 ℃
Battery: 2800 mAh / 3.0V lithium polymer battery
Dimensions: 42 mm (width) x 82 mm (height) x 20 mm (thickness)
Weight: 72g
Package contents:
1x Profio GPS L-22 GPS locator
1x 3M adhesive Velcro
1x Magnetic cover
1x manual
!!! For the proper working of GPS locator, it is necessary to purchase a 1-10-year license for monitoring via the TRACKSOLID PRO system !!!
Comments
Other Products