Laser + Camera SET for a forklift truck - 7″ AHD monitor + HD wifi IP69 camera + 10000 mAh battery
Product description

Laser + Camera SET for a forklift truck - 7″ AHD monitor + HD wifi IP69 camera + 10000 mAh battery

Laser camera SET for forklifts - HD wifi IP69 camera + 10000 mAh battery + 7″ AHD monitor. Safety camera system for forklift trucks with high resolution. High definition forklift camera system. This wireless camera system from PROFIO ELECTRONICS includes a 7" LCD display, a rechargeable battery and an HD wireless camera. The camera for forklift trucks is extremely easy to install and operate.

It can be used in the front, back, or anywhere around the forklift where visibility is limited. The magnetic mount battery can be quickly installed to support the wireless camera.
Safety camera set for forklift with laser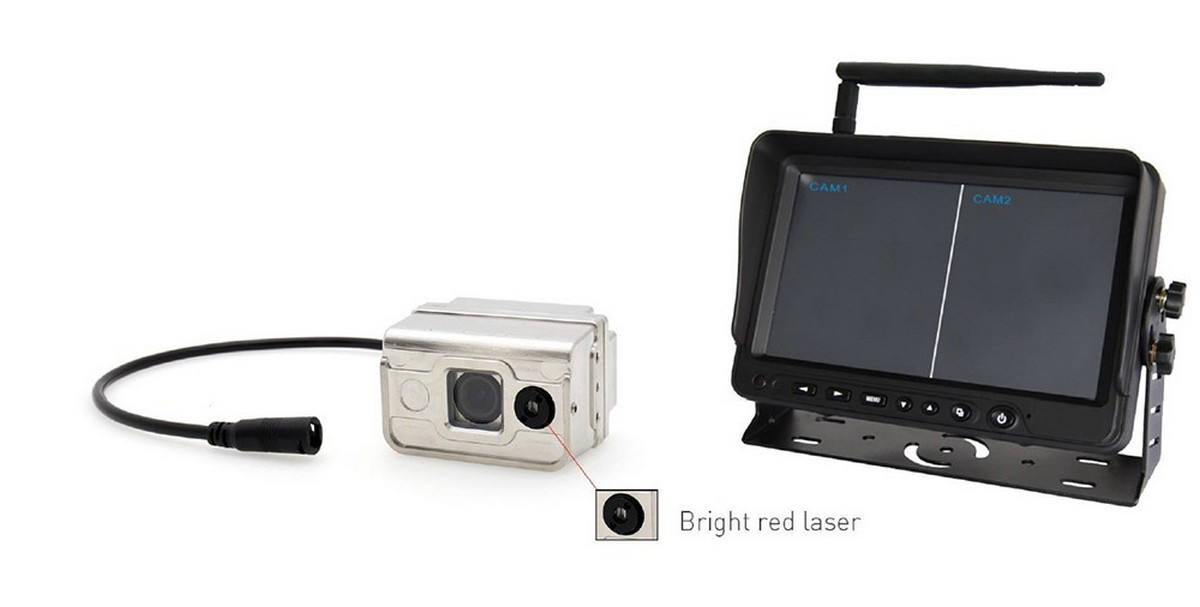 This forklift security camera is designed with premium durable stainless steel material. Mount this camera on your tractor, or forklift or other equipment. It is resistant to vibrations and shocks. The forklift camera monitoring system offers an ideal vision solution for all types of forklifts and assists forklift operators in maneuvering.
Smart laser system for forklift with integrated camera with red laser beam.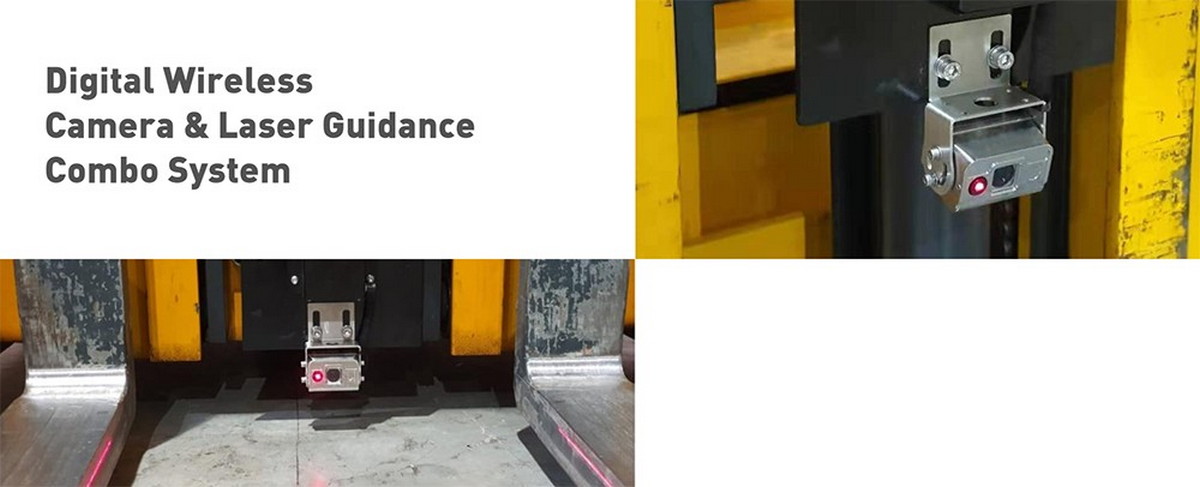 The camera is mounted on the forks carrier and has a built-in wireless transmitter. To connect to a monitor, you don't need to pull the cable all the way to the front of the forklift to watch video from the camera. Save half the installation time compared to conventional cable camera systems for forklifts. You can connect the camera to an external battery, so it is a wireless and portable solution.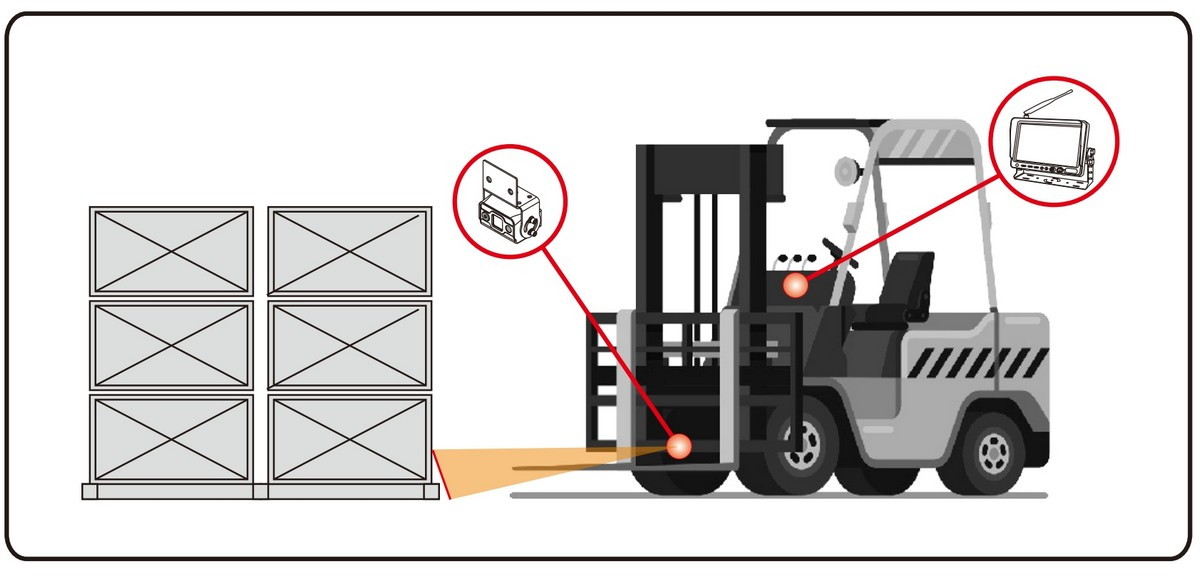 The set includes a portable magnetic rechargeable battery with a capacity of 10000 mAh and is supported by a large magnetic base that allows users to easily attach the box anywhere it fits. The battery is durable with 6G shockproof and waterproof IP66. The working time is approximately up to 13 hours. Supports Quick Charge 3.0 - fast charging in just 3,5 hours!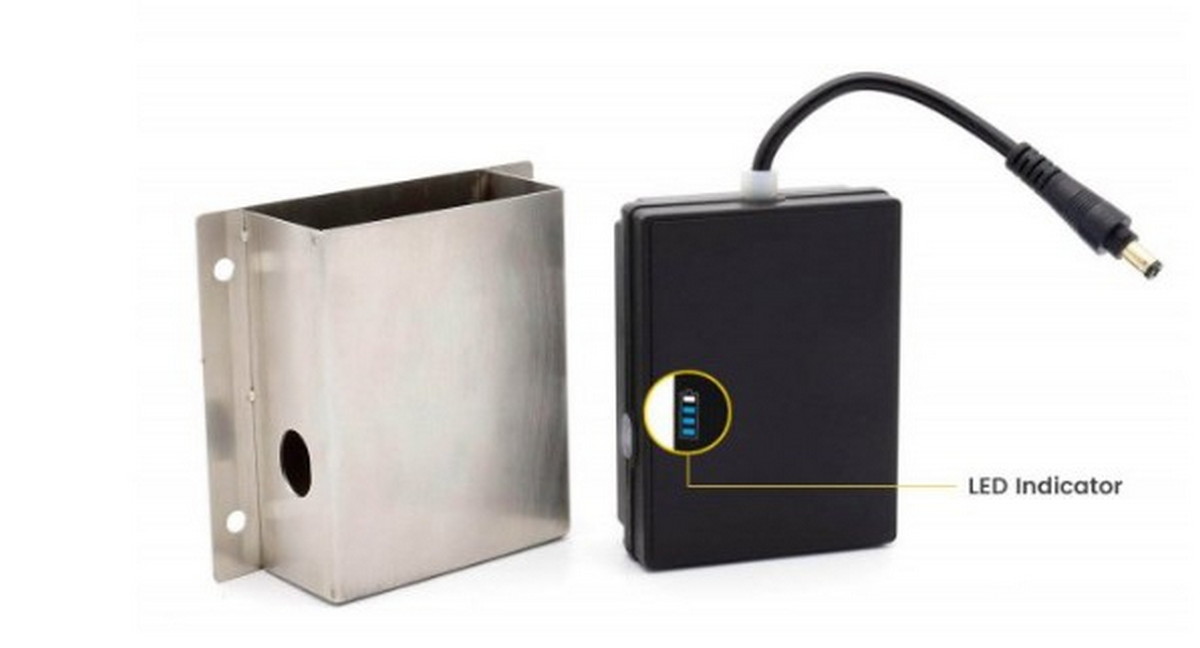 You have a robust high-resolution monitor at your disposal. It provides the cleanest view and is even durable even in the coldest conditions. This monitor has a built-in 2,4 GHz digital wireless transmitter. The security set works in combination with a laser and a wireless camera.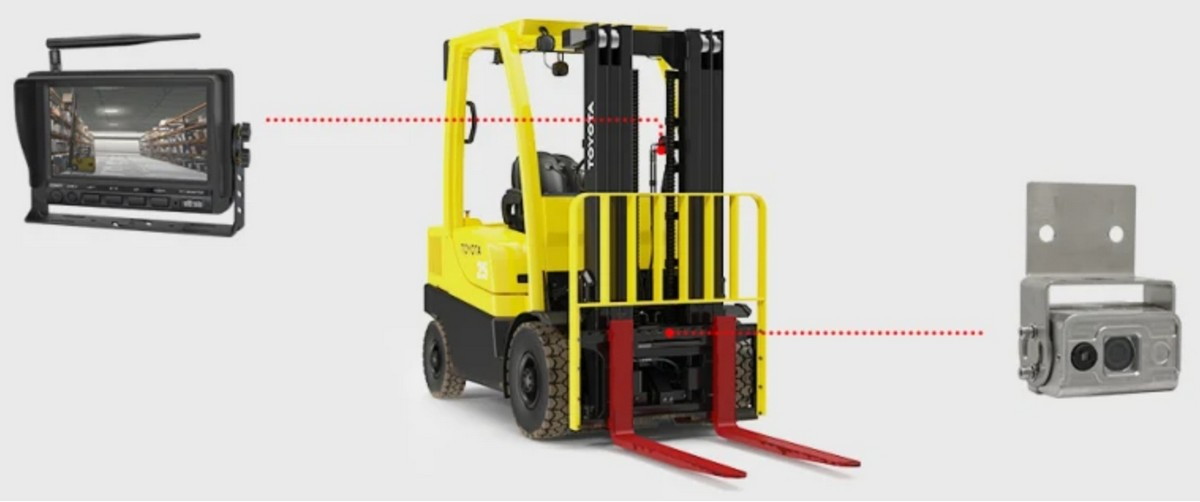 Product features:

The ABS monitor cover resists high temperature.
7" color TF-T LCD with high resolution
LED display backlight with constant voltage circuit protection
The set includes a portable magnetic rechargeable battery of 10000 mAh
Two-channel digital wireless signal transmission (display 1/2 cameras)
Wireless camera for forklift with IP69 protection
Simple installation and operation
Monitor specifications:
Model: Profio Monitor G965
PAL/NTSC/AUTO
Support display of up to 2 cameras at the same time
Built-in 2,4 GHz digital wireless receiver
TFT-LCD digital display with a diagonal of 7" and a sun visor
Operating frequency 2400 ~ 2483,5 MHz
Reception sensitivity ≤-86dBm (1MHZ QPSK MD300RE)
Resolution 800×(RGB)×480
Viewing angle L/R: 70/70, up/down: 50/70
Contrast ratio 500:1
Luminosity (cd/m) 450
Response time (ms) 25
Operating temperature -20℃~+60℃
Operating voltage range Power supply DC8V~32V(5W Max)
Dimension (L x H x W) 199X128X28(mm)

Camera specifications:
Model: Profio Forklift S965
Color CMOS camera
Image capture device 1/3" 600 TVL color SHARP CMOS
Built-in 2,4 GHz digital wireless transmitter
The monitoring circuit has battery reverse protection (+/-)
Picture elements NTSC:704(H)X576(V); PAL:704(H)X576(V)
Horizontal resolution of 600 TV lines
Transmission power 18dBm with power regulation
Viewing angle: L/R 70/70, up/down 50/70
Viewing angle: 85°
Operating voltage: DC12V
Laser wavelength: 650NM
Usable lighting: 0LUX
Waterproof: IP69
10G impact resistance
Dimension 72.5 (L) x 52,5 (H) x 24,5 (W) mm
Package contents:
1x 7" monitor with sun visor
1x monitor holder
1x antenna
1x connection cable
1x wifi camera
1x camera holder
1x mounting set of screws
1x 10000 mAh battery
1x user manual
Comments
Other Products