Keyring camera + 2GB SD
Accessories
+

16GB Micro SDHC Class 10 Kingston U$ 18.70
+

Product description

Keyring camera + 2GB SD

Keyring camera + 2GB SD - unique spy shop products for best price. ISO EN 9001:2008 certified online seller. Mini Spy camera in the shape of the keychain to remote control of car, excellent quality of image and sound. You can buy in our online shop at a great price.

Revolutionary Micro Spy Camera, in miniature size. Forget about the poor quality video, this camera is designed for professionals and is now available for everybody. It records in the incredible resolution of 720x480 pixels and 30 fps - that is completely smooth video! It can shoot photos at a resolution of 1280x1024 pixels. Auto focus and brightness balance.

Onone charge will last recording for above standard quality of video with sound 60-90 minutes! Charging is via USB port. Micro camera has a card reader and high sensitive microphone. This mini camera is perfect, just pin it on your keychain, and no one will even dream of it, that you carry a professional camera. The price of this camera is very low power in compaing with its power.
Avoid cheap imitations Keychain Spy Camera
We guaranteed quality keychain cameras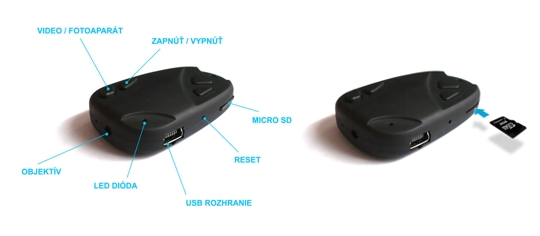 Technical parameters of device:
• Camera Resolution: 720x480
• Pinhole camera for digital recording in real time
• Highsensitive built-in microphone
• Weight: only 15 grams
• Operating buttons for easy and quick start of recording
• Discreet and elegant design in matt black colour
• Parameters: 50x32x13mm
• Simple connection with PC via USB port
• The photographic images with a resolution of 1280 x 1024

Power supply: Built-in rechargeable lithium battery 3.7V 280 mA, battery life of about 60 to 90 minutes. Charging via USB cable connected to your computer.
Included is a 2GB Micro SD card for storing of records!

Comments
Other Products