Invisible earbuds - nano mini spy earpiece + 5W bracelet
Accessories
+

Battery for spy earphones U$ 5.50
+

External microphone for spy headset U$ 20.90
Product description

Invisible earbuds - nano mini spy earpiece + 5W bracelet

Invisible earbuds - nano mini spy earpiece + 5W amplifier in bracelet for security and students purposes (exams) is ideal micro headset for you.

Spy handset + Bluetooth bracelet 5W amplifier. For convenient on-the-move use, professional design, excellent sound quality, ergonomic shape, convenient handling. Bluetooth armband with ultra power and 5W power amplifier + profi spy handset. Bracelet can be easily put on your hand through the elastic breathable fabric without restricting of movement. For quick use is equipped with Velcro along the entire length of the bracelet. So it ensures that this armband is perfect for every hand regardless of size.

If you are going to use spy earpiece somewhere out and you know that you have to overcome distances in the fast pace, or you will overcome rugged terrain, this Bluetooth elastic armband will definitely help you.

Spy Earpiece with Bluetooth armband is a revolutionary device that allows you to connect with someone remotely using your mobile phone, but without anyone knowing about it. The principle is quite simple, just insert wireless spy earpiece into your ear, which with its small sizes is almost invisible and use specially adapted Bluetooth armband through which the signal is transmitted from the mobile phone to spy earpiece.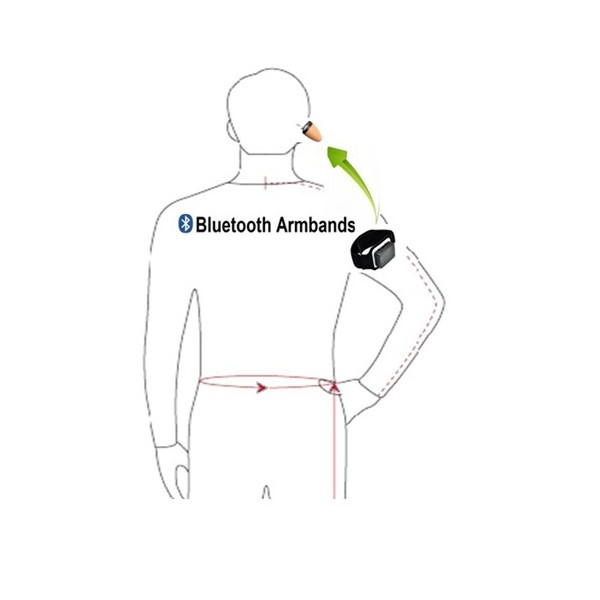 The latest improved model of the popular spy earpiece. Compared to the previous model it has improved anatomical shape to perfectly fit to the ear to avoid sound leakage to the surroundings. The handset consists of the most modern sensitive receiver (coil), stable micro speaker with very clear and pure sound with minimum noise.
Features spy earphones
Professional design, excellent sound quality
Ergonomic shape, comfortable handling
Battery: 1.55 V (337 SR 416SW) Battery life up to 7 hours
Dimensions: 13x6mm
Operating frequency: all frequencies
Bluetooth connectivity with mobile devices.
Easy to control and receive calls.
Hands-free support for two-way communication.
Possibility to start recording directly from your phone - to play MP3 files.
Talk time is up to 12 hours per standby time, up to 130 hours standby time.
The Bluetooth loop includes a built-in 700mAh lithium battery
The Bluetooth loop includes a 5W amplifier
Integrated microphone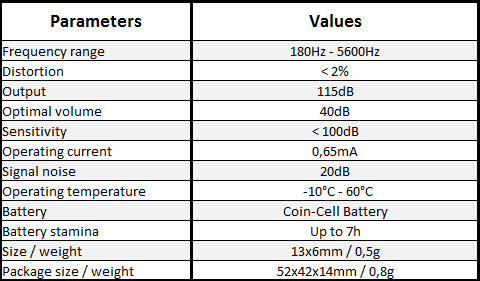 Package includes:
1. Bluetooth armband with microphone
2. Professional spy earpiece
3. USB cable
4. Battery: 1,55 V
5. Power adapter
6. Manual
Comments
Other Products