GSM detector in pen for detecting spy bugs
Product description

GSM detector in pen for detecting spy bugs

GSM detector in pen for detecting spy bugs. It is a pen, which serves as a GSM detector, whether bugs or any wireless signal are in your home, office or in other places. This specially designed pen also finds out if your mobile phone is not bugged. If the pen captures the transmitting signal, the yellow LED will start to flash (shine).

This device works on all GSM frequencies including wireless cameras. You can easily find if someone in your area is talking on the phone or if your phone is under someone´s manipulation. Flashing must be continuous at least about 1 minute or more, and it is moreless sure, that through your phone are sent data or audio signal.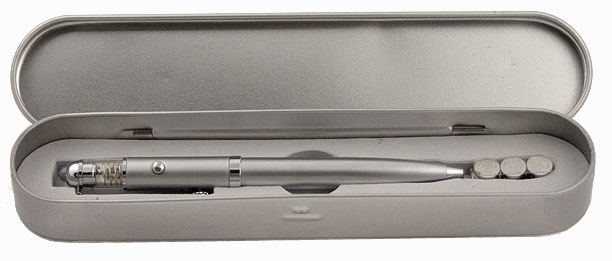 GSM Pen detector, wireless device detects the frequencies of 900/1200/1300 and 2400 / 2600/3000MHz. Detects wireless signals within a range of 10 meters. Your privacy is already protected, nothing will surprise you. The pen also has UV light for checking of banknotes. The more you approach to the VF signal, the coloured light will be stronger. GSM Pen detector of bugs for sale, you can buy online in our e-shop at acceptable price. Look at our offer and find what you look for.
Specification GSM Pen detector of bugs:

1. Battery: 4.5V, using LR-44 x 3 pcs (included)
2. Detective output: LED flashes (lamp color LED)
3. Detective induction titul: 100MHz ~ 3GHz (frequency under 900MHz is also catched by the device, but the transmitter must be at least 200 mA radiant performance)
4. Working consumption: 30uA
5. Flashing LED current: 1mA
6. Operating instructions
7. Detector dimensions: 146x 10 mm Φ. compact size
Comments
Other Products