GPS tracking device - car locator via app + voice monitor
Accessories
Product description

GPS tracking device - car locator via app + voice monitor

GPS tracking device - locator into car for tracking location via app Android and iOS + voice monitoring. GPS tracker with ultra-powerful 3M magnet and anti-dismantling light sensor. GPS tracking device for car - waterproof with magnet + extra large battery 10000 mAh + voice monitoring lasts up to 2 years in standby mode. GPS real-time tracker of people and vehicles. Online vehicle GPS tracker (app in mobile) with up to 10000 mAh battery with battery status indicator which ensures the operation of the GPS device in tracking mode for 30 days (approximately 2 hours of online tracking daily) and up to 2 years depending on online tracking interval. The possibility of ACTIVE WIRETAPPING after calling to the device to listen to what's happening around the GPS locator

GPS module is equipped with an ultra-strong magnet (as well as with 3M self-adhesive pad) and is very simple and flexible to install, for GPS monitoring of vehicles. Detector against dismount with anti-theft sensor.

Thanks to a strong magnetic body, you can attach the 3G GPS hidden locator system from brand PROFIO ELECTRONICS to different locations of the object being tracked. The IPX5 waterproof outdoor protection (splash and dust protection) allows the functionality of device even in extreme outdoor environments. The GPS tracking device finds its use for tracking and monitoring of rented vehicles, leasing cars, transporting valuable goods, renting heavy machinery and monitoring specific and special goods. GPS tracker will also alert you to unauthorized interference into the installation or the removal of the device. In our e-shop you can buy top quality GPS locators. You just need a SIM card (data/phone) and gps tracking can be active right away.
The GPS device provides for user also tracking in the form of an SMS message directly to your mobile phone, where a link to the Google maps will be displayed and after clicking on it, the current location of the tracked vehicle is displayed as well. Another form is via a mobile application called "Track Solid" (iOS, Android), through which you can find out the location of the tracked vehicle and various necessary data. The latest form is tracking the GPS device through the web interface "www.tracksolid.com".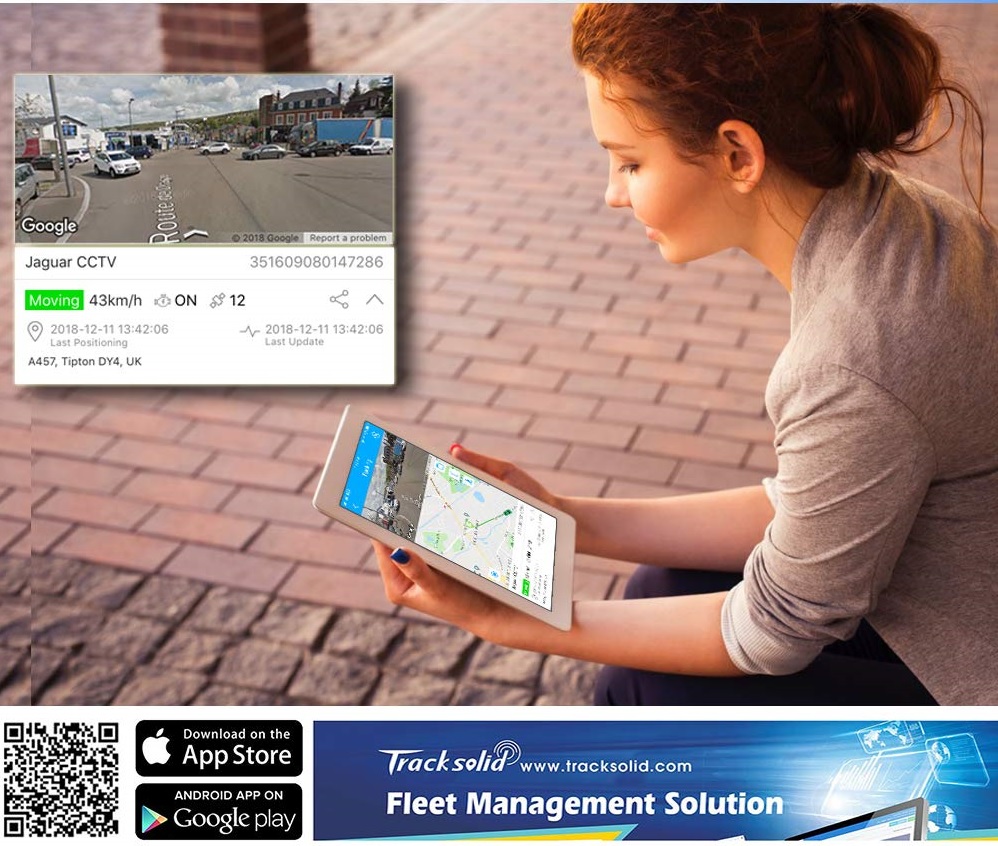 GEO FENCE function
Allows you to send Email notification when the vehicle is leaving the marked area (in case the vehicle driver would accidentally leaves the planned route)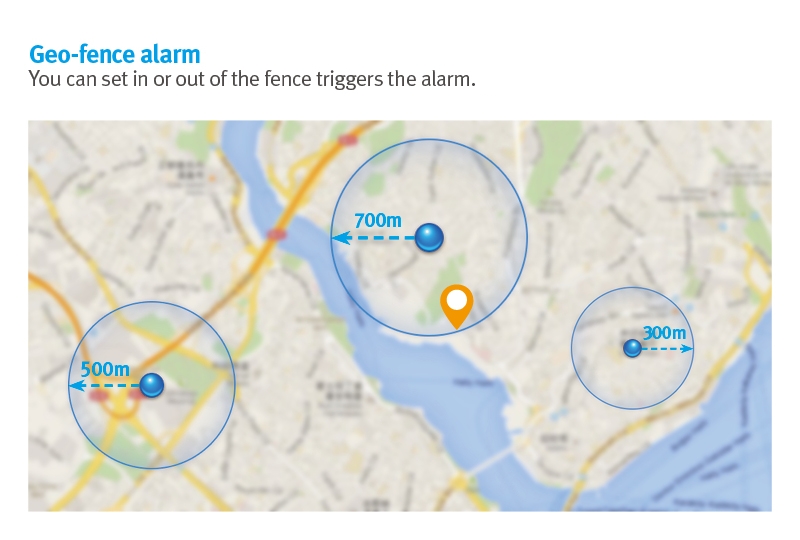 This 3G GPS tracker can be used and placed on a motorcycle, trunk, bus, bag, car, container and so on.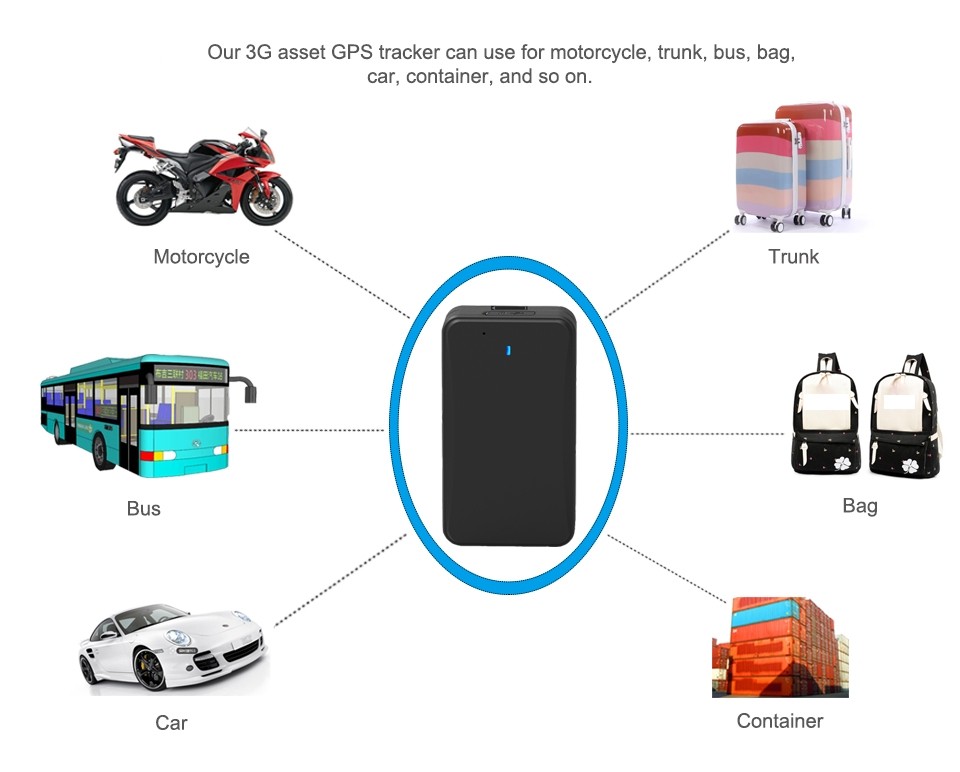 3G high speed data transfer
GPS locator supports 2G GSM and 3G WCDMA data transfer. High-speed 3G data transmission can reach up to 7,2 M/s, it is almost 43 times faster than a 2G network.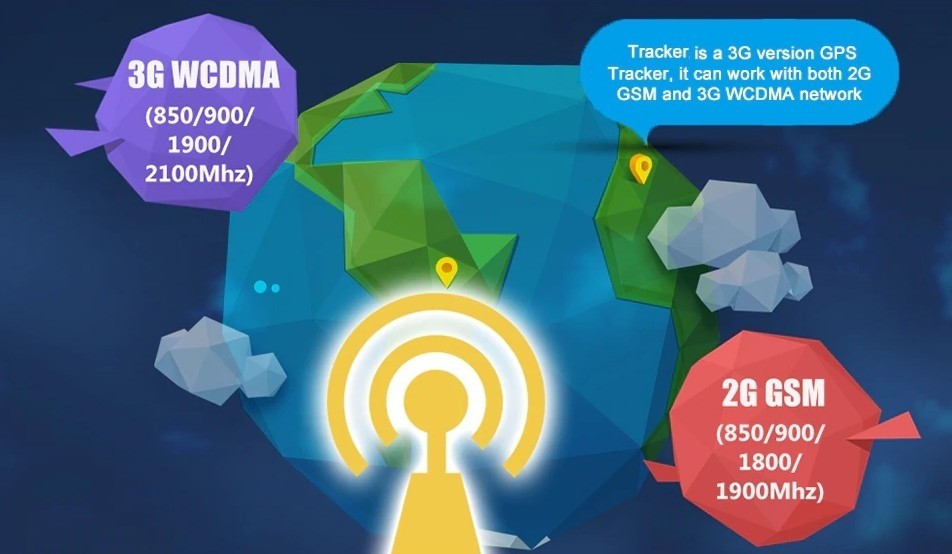 Double positioning GPS and LBS
This tracker supports GPS and LBS localization. GPS is the determination of the outside position with an accuracy of less than 10 meters. LBS is positioning (in places where there is no gps signal) with an accuracy of less than 500 meters.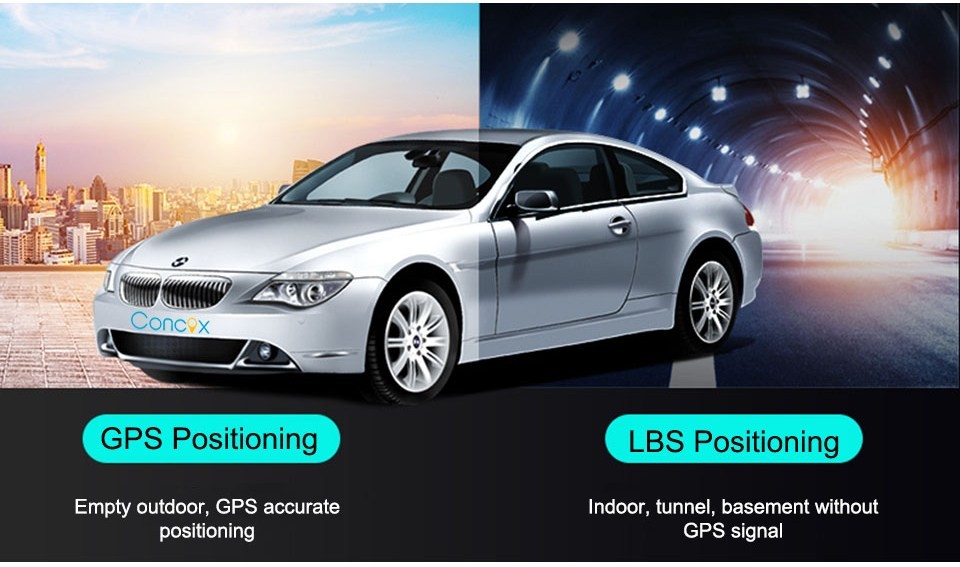 Strong magnetic mounting
GPS locator has a built-in powerful industrial magnet and therefore it is possible to mount the tracking device with a simple way on any metal surface - vehicle chassis, doors, under the seat, on a container and so on. But this tracker also includes a 3M self-adhesive holder for mounting on non-metallic parts.
Long standby mode - 60 days
It has a built-in rechargeable and removable 10000 mAh 3,7V Li-polymer battery that provides ultra-long standby mode and smart power saving feature. In tracking mode for 30 days (about 2 hours of online daily monitoring) and up to 2 years depending on the online tracking interval.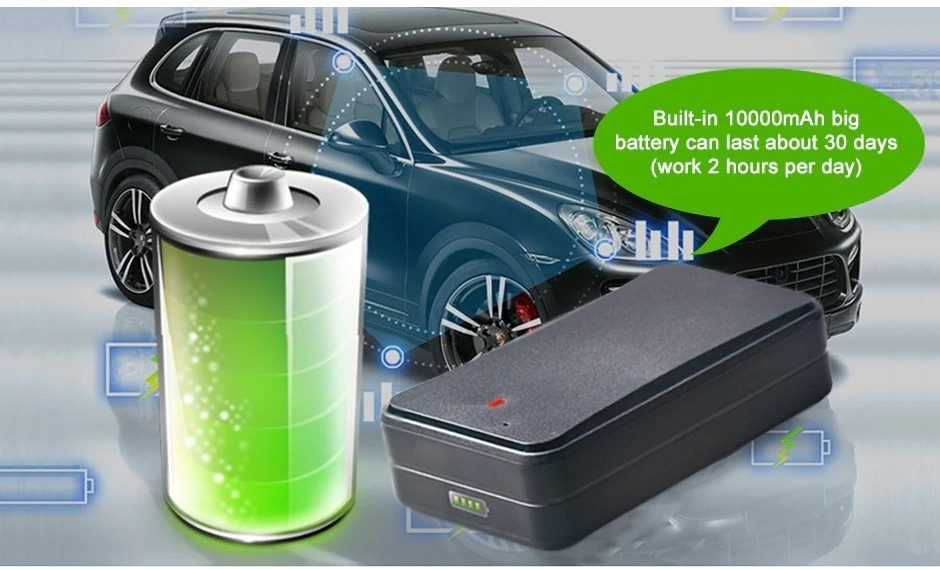 Voice monitoring
It is possible to use the preset SOS number to send an SMS command to the tracker for voice monitoring - wiretapping. The GPS tracker will call you back in seconds. Pick up the call and monitor the voice or conversation around the tracker.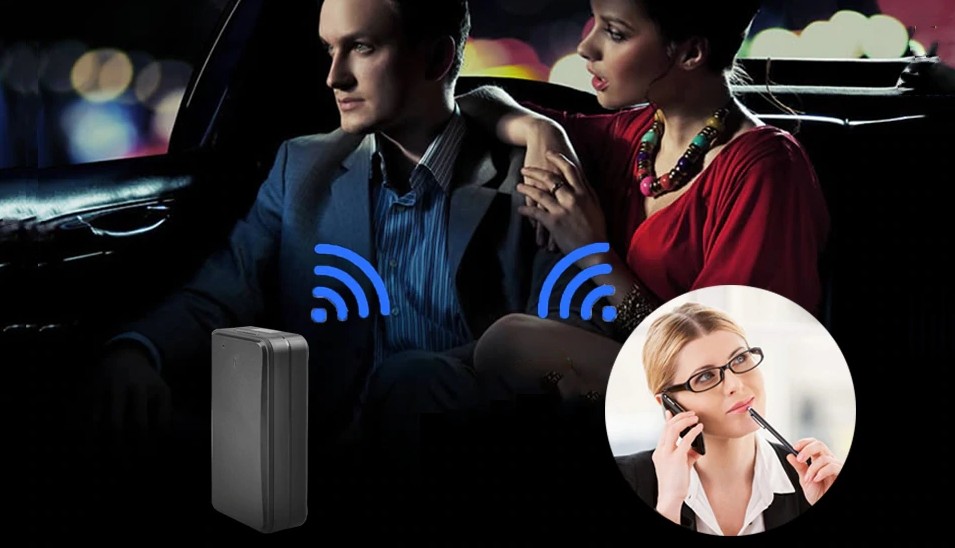 GGPS Locator - alarm of unauthorized removal
If the GPS locator detects an unauthorized removal, via the Anti-tamper button, an alarm will be sent in form of an alert message, and GPS tracking mode will automatically be activated for 20 minutes. After 20 minutes, the device switches back to standby mode.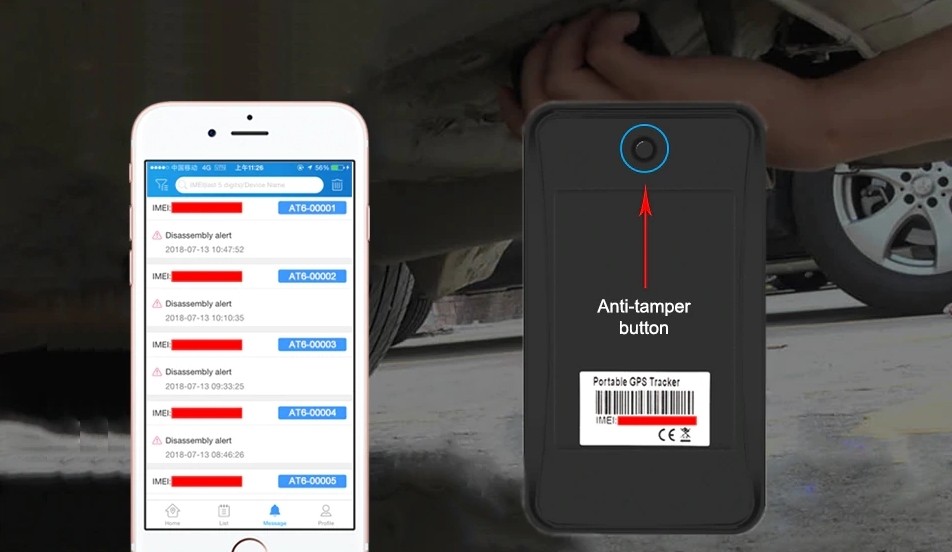 Waterproof and dustproof IPX5 protection
The GPS locator is a tracking device with protection against dust and water splashing to be functional for monitoring of object in harsh weather conditions.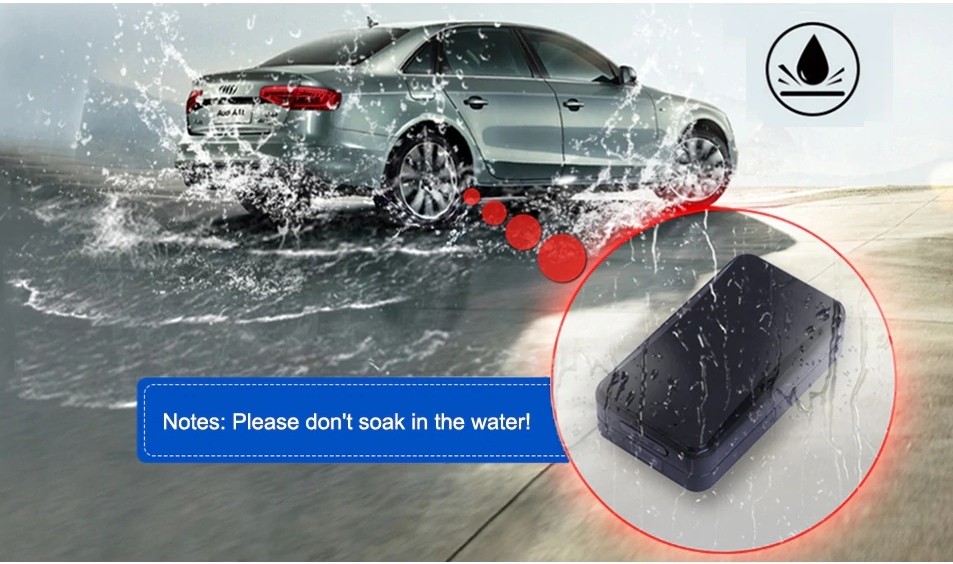 Cover remove alert
The cover detection button will pop up as a warning and will be sent when the device cover is removed. In standby mode, a warning message is recorded and the tracking mode is activated for 20 minutes if the device cover is detected as being removed.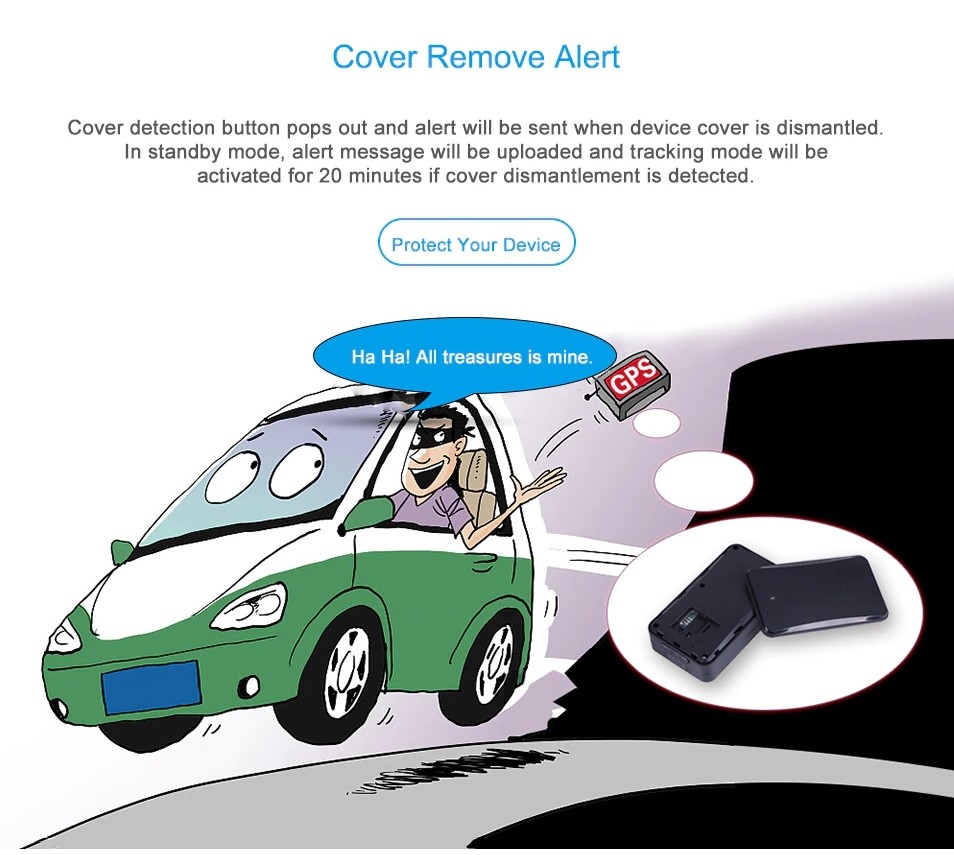 Vibration alarm
For example, if there is an abnormality in your car, for example, when someone hits your car, breaks the glass or scratches the car paint, the gps locator sends a phone alarm to find the violator in time.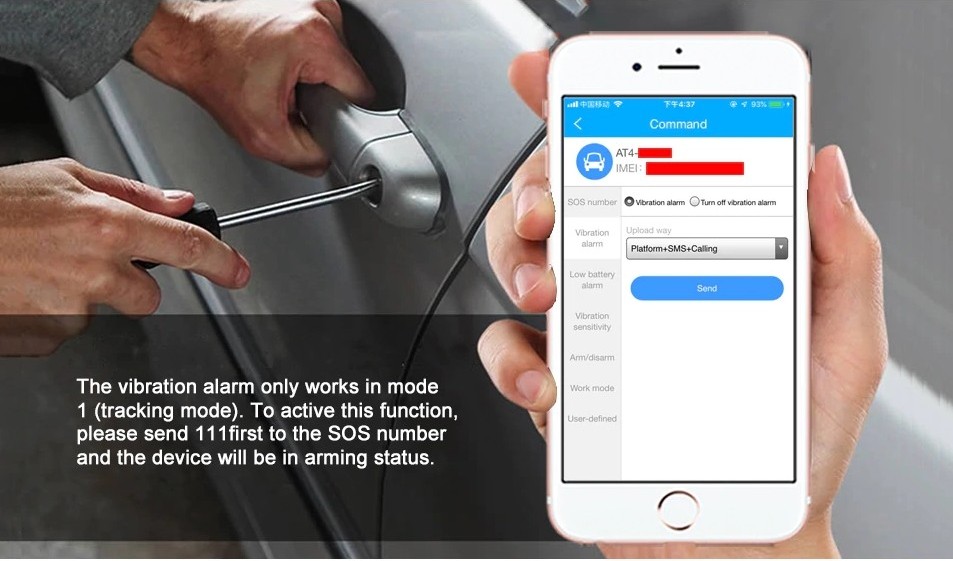 GPS blind zone alarm
When an online tracker enters the GPS blind zone, it changes "positioning" to "non-positioning" for more than 60 seconds, and sends an "Attention! GPS signal is weak, unable to search region" to your phone or other software platform.
Supplement to blind zone GPS data

If the locator enters the blind GPS zone, it can store 1000 satellite location data. When the GPS signal is ON again, all positioning data in the GPS blind zone are supplemented.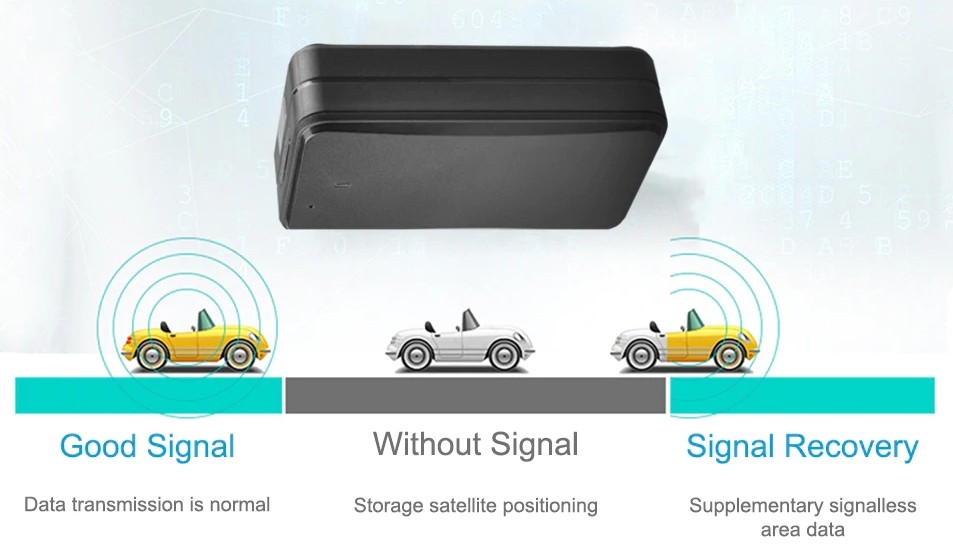 WCDMA/GSM - 3G network for excellent coverage and localization
10000 mAh battery - a high capacity lithium battery provides sufficient long power supply to the GPS device
Voice monitoring - the option to activate the voice monitoring via text message
Strong magnet - powerful magnetic cover allows the flexible installation on a vehicle or other type of property
Intrusion alert - as soon as unauthorized access to the device is detected, you will be notified immediately
Cover removal alarm - the alarm is activated when the SIM card is changed, or when the device is removed, or is switched ON/OFF
IPX5 Waterproof - waterproof GPS device ensures stable operation even in harsh outdoor environments
Intelligent power supply management - for better energy savings, the 3G communication module can be turned off
Specifications:
Communication system: WCDMA/GSM
Communication frequency: GSM: 850/900/1800 / 1900MHz WCDMA: 850/900/1200/2100MHz (B1/B2/B5/B8)
Sensitivity: Class II RBER2% (-102dBm)
GPRS: Class 1,2, TCP/IP
Reception sensitivity: Class II RBER2% (-102dBm)
Memory: 32 + 32Mb
Phase error: RMSPE <5, PPE <20
Max. output: GSM850/GSM900: 33 ± 3dBm, GSM1800/GSM1900:30dBm, WCDMA: 24dBm
Max. frequency error: ± 0.1ppm
GPS chip: highly sensitive GPS chip
Frequency: GPS L1, 1575.42MHz
GPS Channel: 66
Location accuracy: <10 meters
Tracking sensitivity: -162dBm
Sensitivity: -149dBm
Button: for ON/OFF
LED indicator: 1 red for GPS, 4 blue for battery
Standby: 2 years (GSM off), 50 days (GPRS connected, GPS off), 120 hours (GPS on)
GPS Antenna: GPS ceramic antenna
Operating temperature: -20° ~ 70℃
USB port: micro 5 pin
Battery: 10000mAh/3,7V lithium polymer battery
Dimensions: 108 mm (width) x 61 mm (height) x 30 mm (thickness)
Weight: 286g
Package contains:
1x GPS locator Profio GPS L-6
1x USB adapter
1x USB cable
1x Back cover with self-adhesive pad
1x Manual
Comments
Other Products