Glasses with Wifi HD Camera - streaming via app in mobile phone
Accessories
+

16GB Micro SDHC Class 10 Kingston U$ 18.70
+

Product description

Glasses with Wifi HD Camera - streaming via app in mobile phone

Glasses with Wifi HD Camera - streaming via app in mobile phone. Stylish HD sunglasses with high quality image - ideal device for video and audio recording wherever you are. Wifi HD camera in sunglasses with support of microSD card up to 64GB and live streaming via internet. If you need to record an interview, meeting, or just to capture the record of your holiday or a variety of sports, these HD camera glasses are just right for you.
Stylish HD sunglasses with high-quality image and LIVE streaming via internet.
Wifi glasses can be connected to the router, or you can connect it to your mobile phone and tablet after creating an access point. With live internet streaming, four users can be connected to your glasses and watch your transmission anywhere in the world. The advantage of sunglasses is that you can capture exactly what you see and even with free hands, what is useful especially for sports or holiday, while you are also protected against the sun. The glasses with camera are controlled through the P2PLiveCam application via a local wifi network after pairing with your mobile phone or tablet. The app supports both Android and iOS, and you can download it on Google Play or iTunes. Another option is to connect via a local wifi network to your laptop or PC. There is nothing easier and more practical than this camera built into glasses. The camera recording is stored directly into the microSD card in sunglasses up to 64GB (not included).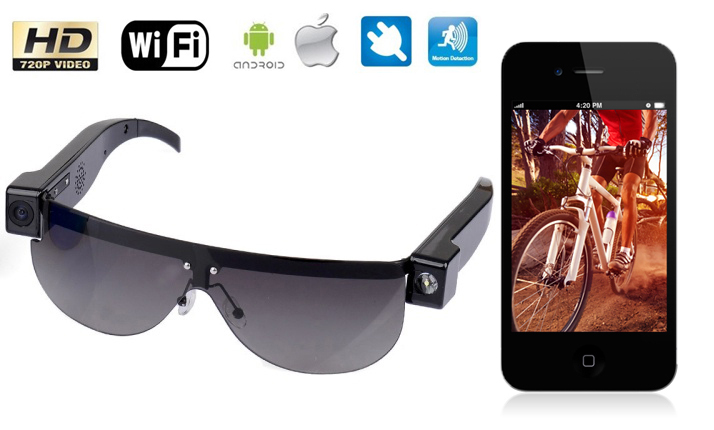 After pairing with your phone or tablet, you can change the setting of your camcorder or photo camera. You can choose video in HD 1080x720P at 25fps or 640x480P at 25fps. The recorded videos are saved to a microSD card in ASF format, and in AVI format when recording through a local wifi network or via the internet. You can play the recorded files from the card using the freely downloadable VLCPlayer or SMPlayer. You can also use the glasses as a security camera. Just place them in a way that the lens can monitor the required area and set the motion detection through the application. The alarm will let you know about motion detection by video message and the record will be stored to the microSD card and then you can download files to your mobile phone. Motion detection is effective up to 6m. Live video transmission and video recording are with sound. The microphone is capable of recording sound up to 4m. The application also has a cyclical recording feature that will allow you to automatically remove the oldest files and record new ones when the card is full.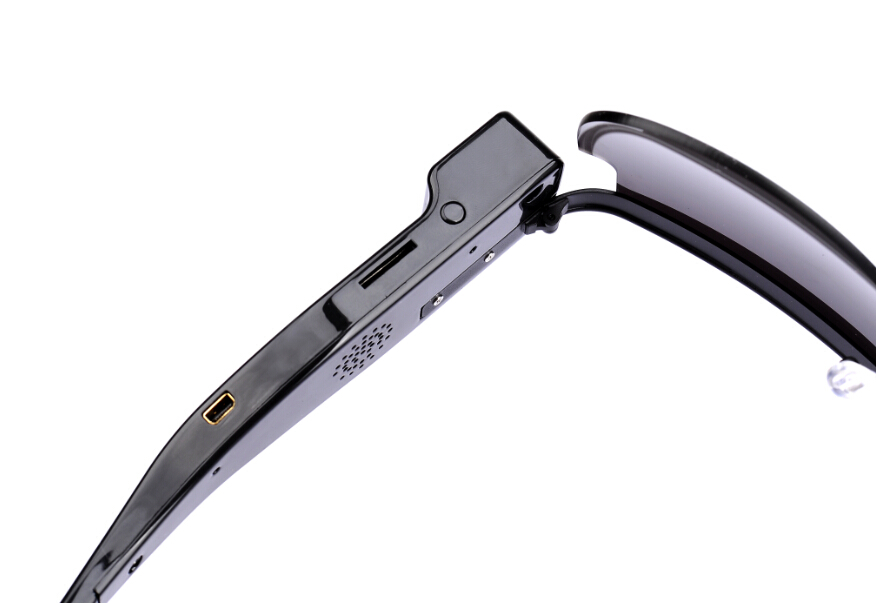 When using a 64GB microSD card, you can record up to 64 hours of HD video with 1280x720P resolution. The built-in battery has a capacity of 250mAh and allows you to record 25 minutes per a single charge. The glasses can also be connected to powerbank, allowing you to extend the video recording time according to the capacity of the connected external battery (for example, the power of 2500mAh is for recording time of up to 4 hours). The camera in sunglasses can also be connected to a permanent power supply via a USB power adapter. The lens has a viewing angle of 120º allowing you to monitor large areas.
There is also one powerful LED on your glasses that will allow you to orientate even in the dark. This practical lighting you will certainly appreciate in many situations.

Features:
Wifi camera hidden in glasses
Recording with the possibility of LIVE streaming via the Internet
Motion detection and alarm messages sending.
Uses microSD cards up to 64GB
Option of power supply via powerbank
WiFi connection via a local network or router connection
Specifications:
Video resolution: 1280x720P at 25fps, 640x480 at 25fps
Sound: sound recording up to 5m
Video recording format: AFS/AVI
Memory: microSD card up to 64GB
Lens: 2 mega pixels CMOS
Viewing angle: 120º
Connection: USB
Internet connection: yes
Number of live transmission connections: 4 users
Working temperature: -20 to +60
Package contents:
1x WiFi glasses with camera
1x USB cable
1x Installation CD
1x Manual
Comments
Other Products