G100 - Mini spy camera with motion detection
Accessories
+

16GB Micro SDHC Class 10 Kingston U$ 18.70
+

Product description

G100 - Mini spy camera with motion detection

G100 - Mini spy camera with motion detection - unique spy shop products for best price. ISO EN 9001:2008 certified online seller. So you can record when you press the recording button, but you can also set up automatic recording by any movement, or in the case of camera movement itself. Ideal for recording from the interior or exterior exactly at that time when you need to find out disruption of space or stealing of your things. Velocity - Micro camera with motion detection - resolution of 640 x 480px with built-in lithium battery.

Built-in battery keeps the camera running at a permanent record up to 2 hours and at the standby mode up to 12 hours. Charging is via a USB port to your computer or to connect to any USB charger (AC or car charger).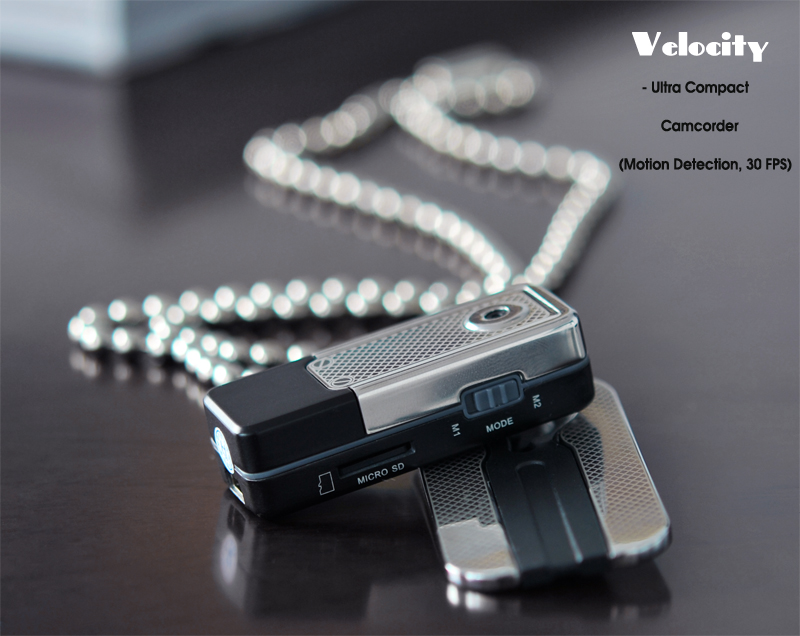 Velocity Mini camera records in the 30 frames per second in AVI format. The camera can be connect to PC with the included USB cable and used as an external drive from which you can play records in the computer. Velocity - Micro camera motion detection is for sale, you can buy online in our e-shop for accetable price. Look at our offer and find what you look for.
Specification - G100 - Mini spy camera
- Built-in motion detection
- 2 Mpx CMOS image sensor
- Angle of View: 62 degrees
- Minimum lighting: 1 Lux
- Supported Micro SD Card - (1GB - 32GB)
- Size of video record: 1GB = 40 minutes
- USB 1.1 and USB 2.0
- Video format: AVI format 640x480px / 30 frames per second
- Photo in resolution: 1280 x 960
- Stamina of built-in Li-Ion battery - at the permanent recording: 2 hours
- Mini USB port
- Slot for micro SD card
- Battery: Built-in rechargeable Li-ion battery with 260mAh capacity
- Parameters: 55mm x 20mm x 18mm
- Weight: 50g
G100 - Mini spy camera accessories
- G100 - Mini spy camera
- USB cable for PC connection
- Portable cover for camera
- Positionable joint holder for wall mounting, and into the car a.s.o., With 2 pieces of adhesive holders with Velcro
- Holder with chain for hanging as a necklace
- User manual
Comments
Other Products