Full HD wifi camera in sunglasses
Accessories
+

16GB Micro SDHC Class 10 Kingston U$ 18.70
+

Product description

Full HD wifi camera in sunglasses

Full HD wifi camera in glasses. Stylish sunglasses with extremely crisp picture in Full HD quality. Sunglasses and polarizing glasses, with which you can do video recording with audio, or photos. Do you need to record discreetly interview, meeting, or just capture video of your experiences from a vacation, or the sports? So these are polarized sunglasses just for you, which allows you to record video and take photos wherever you are
Stylish glasses with extremely clean image quality in Full HD 1920x1080 at 30fps, or 1280x720 at 60fps.
The advantage is that you can record exactly what you see and you totaly hands-free, what you can use especially during sports or on vacation, where you will be protected from the sun with polarized glasses. For spying use, you can wear glasses or placed somewhere on a shelf, and thanks to a WiFi connection you can pair them through the app and control it via your mobile phone, or tablet. Glasses are stylish and nobody can find out that they have hidden camera. There is nothing easier and more practical than built-in camera in the glasses. Recording from the camera is stored directly in glasses on a microSD card with a capacity up to 32 GB. Glasses can be paired via application iSmart DV, free downloadable on Google Play.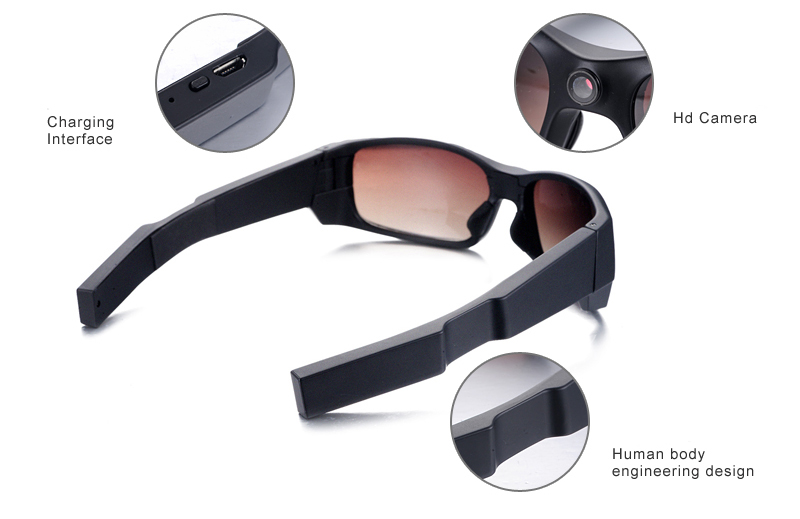 Once paired with your phone or tablet, you can change the photo camera settings or the camera. At video you can choose Full HD 1920x1080 at 30fps, or 1280x720 at 30-60fps. Videos are in MOV format. The camera has a maximum resolution of 10 megapixels with a resolution JPG 3648x2736px. The camera has automatic white balance and you can also set the timer when taking photos. Videos and photos are saved on memory card and can be downloaded via USB cable to a laptop, PC or to download directly from the glasses via WiFi connection to mobile phone or tablet.
The lens has an angle of view of 70º with a battery capacity of 400mAh. The battery can be charged by connecting to PC or power adapter. Very practical option is the charging of glasses through Powerbank what you will appreciate especially at places where you do not have access to AC power.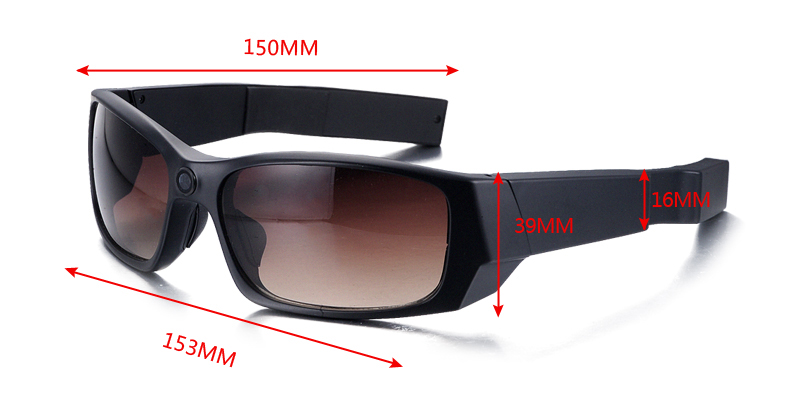 Features:
Wireless camera hidden in glasses
Extremely clear image quality
The option to change the video resolution and frame rate
The use of microSD cards up to 32GB
The option of power supply through POWERBANK
Wireless connection via mobile phone or tablet
Specifications:
Video and photo formats: MOV, JPG
Video resolution: 30 fps / 1920x1080, or 30fps / 60fps / 1280x720 HD
Sound: sensitive microphone for sound recording
Photo resolution: 3648x2736 10MP, 8MP 3264x2448, 2048x1536 3MP, 2MP 1920x1080, 640x480 VGA
Memory: micro SD card support (up to 32GB)
Lens: 10 Mega pixels CMOS
Viewing Angle: 70°
Interface: USB
Power adapter: 5V DC/440 mAh
Operating temperature: -20 to +60
Weight: 64 g
Contents:
1x Polarizing WiFi glasses with camera
1x USB cable
1x Manual
Comments
Other Products