FULL HD WiFi camera in alarm clock + 4IR LED with 128GB microSD
Accessories
+

+

32 GB micro sd class 6 U$ 35.20
Product description

FULL HD WiFi camera in alarm clock + 4IR LED with 128GB microSD

Wi-Fi camera in the FULL HD alarm clock with 4IR LED + air quality monitoring and 128GB micro sd support, along with motion detection is a great device to protect your home. At the first glance looks like the ordinary digital alarm but it hides built-in HD camera, air quality monitoring sensors and motion detection. The records are stored in high resolution of 1920x1080 with sound on a micro SD card supported up to 128GB. The alarm clock can be powered by a 3000 mAh lithium battery (supplied ) or with a permanent power supply via the USB adapter, allowing you to continually monitor your surroundings. The camera alarm clock also has a 4xIR LED for night vision (within a few dozen cm).
The device also disposes with a remote listening feature, so you can listen what is happening around the alarm clock (within a few meters)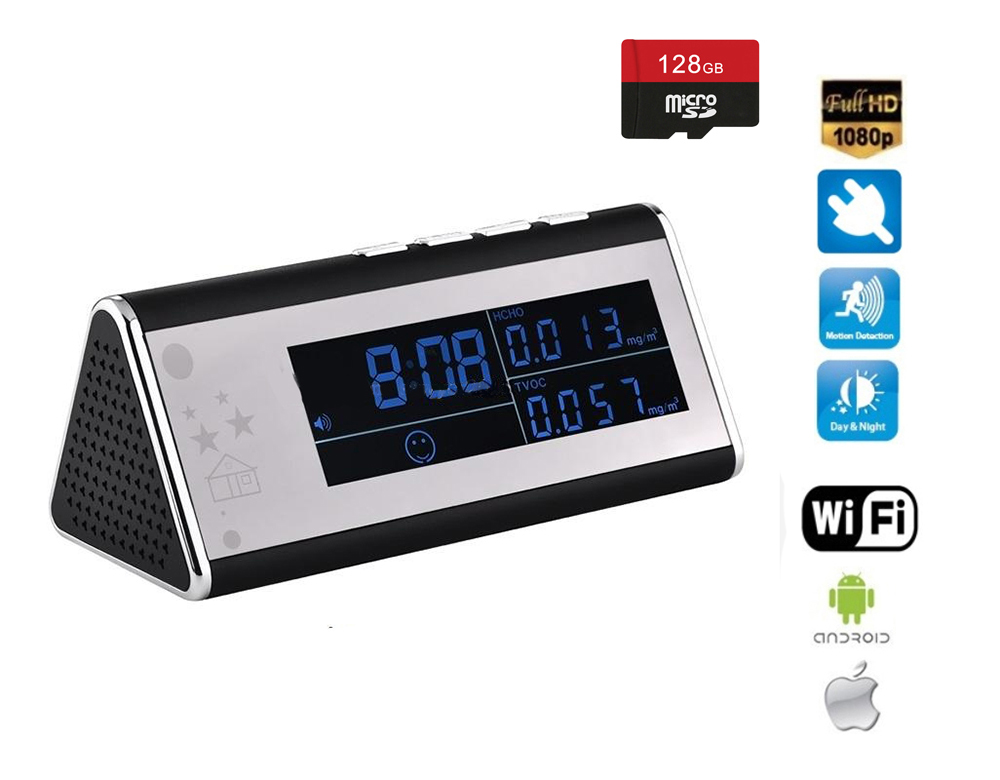 The digital display shows the time and the current values ​​of formaldehyde and other harmful compounds in the atmosphere captured by the sensors. In case of exceeded values, the alarm will alert with audio signal to serious air pollution. It can therefore be a very helpful helper in situations at the gas leakage in your house.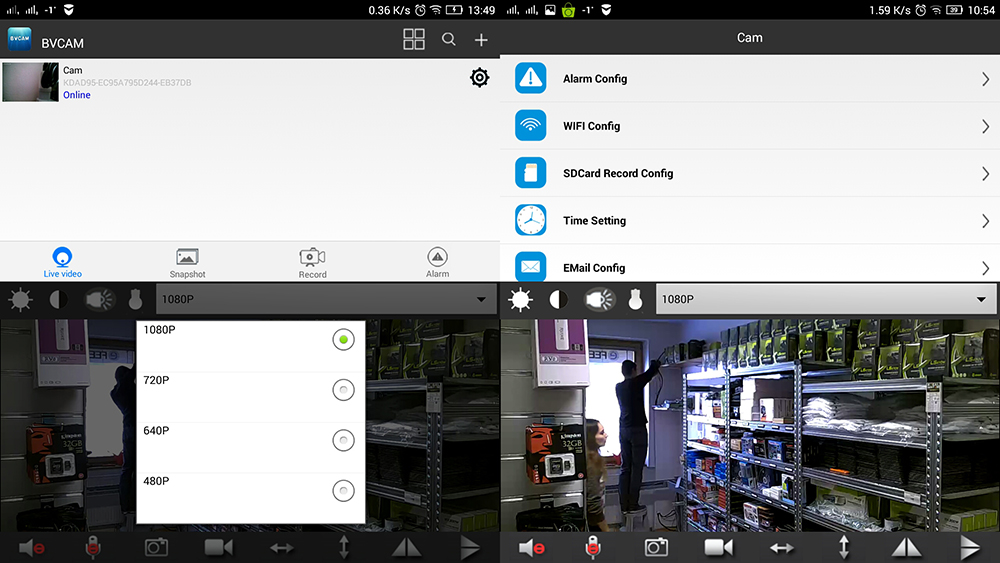 The alarm clock can be controlled remotely using a mobile phone. Simply download the relevant BVCAM mobile app (available for Android/iOS) into your smartphone and pair both devices with a WiFi connection. With application, you can watch real-time image with sound captured by the alarm clock. You also have a variety of functions such as taking pictures, uploading videos, starting recording at the selected time, and also monitoring motion. In case the alarm sensor in the alarm clock detects movement in space, you will receive a notification alert to your mobile and it creates a photo or start recording according to the settings. Thanks to this, you will have captured on the memory card only important records.
Features:
Camera hidden in alarm clock
Wifi real-time video and audio transmission
Continuous power supply
Motion detection function
Air quality monitoring
Technical specification :
* Lens: 5.0 Mega CMOS
* Video resolution: 1920*1080
* Video Format: AVI
* FPS: 25 frames per second
* Angle of shooting: 90 °
* Night vision: yes, 4x IR LED (visibility in closer circuit of the camera)
* Motion detection - scanning distance: 5m
* Minimum lighting: 1Lux
* Battery capacity: 3000 mAh
* Continuous recording time: 24 hours +
* Power consumption: 260mA 3,7V
* Storage temperature: -10° to 80°
* Operating temperature: -10° to 60°
* Operating humidity: 15-85% RH
* Memory card: micro SD/TF card
* Memory card - max capacity: 128 GB
* USB interface: USB 1.1 / 2.0
* Phone operating systems: Android / iOS
Package contents:
* 1x IR camera in alarm clock
* 1x CD software
* 1x USB cable
* 1x Power supply
* 1x User manual
Comments
Other Products