FULL HD security camera with WiFi in wall clock + motion sensor
Product description

FULL HD security camera with WiFi in wall clock + motion sensor

FULL HD security camera with WiFi in wall clock with motion sensor and real time viewing. Wall clock with FULL HD camera + WiFi and motion detection records videos and photos without anyone noticing. Modern wall clock design makes them a great addition to any home, office, waiting room to keep an eye on the monitored space. Built-in camera in clock provides high definition Full HD 1920x1080 recording with sound and also photos in 4032x3024 resolution. All camera functions in clock are controlled through the freely available Pro iCam smartphone (iOS, Android) app. The wall clock, except the spy capture function, also serve as the normal clock and display the current time. For this function, one AA battery is required to be inserted on the back of the clock, as with normal wall clock. This eliminates the possible suspicion that these are not a classic wall clock.
The stylish clock design with the use of high quality materials make them an elegant addition into any space
The security camera can be connected to a home router via WIFI, Ethernet cable or P2P, allowing you to view the image in real time anytime and anywhere using your mobile phone. Captured records always go through H.264 compression to reduce file size and then are stored on a micro SD card supported up to 128GB. The security IP camera in the clock is especially suitable for home, house, children, pets, but it can also be used in other indoor areas where you want to have overview during your absence, because thanks to the motion sensor you will always be alerted to an unexpected visit by notification directly to your mobile phone.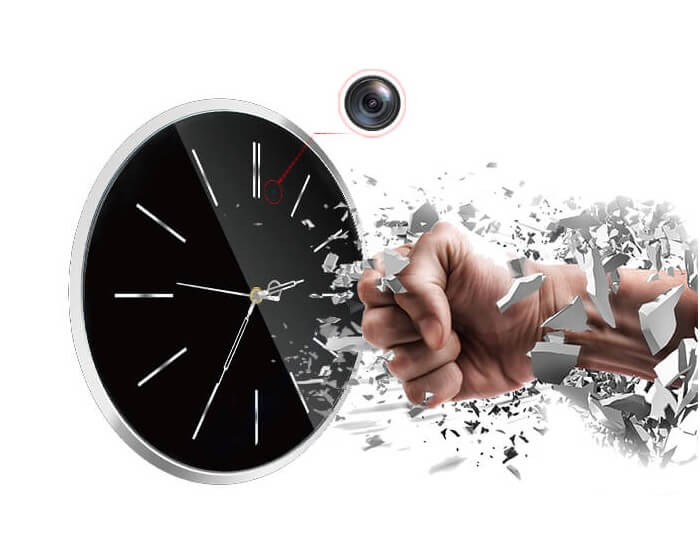 Real-time tracking via WiFi, P2P, or Ethernet cable
Control of the camera functions with the smartphone application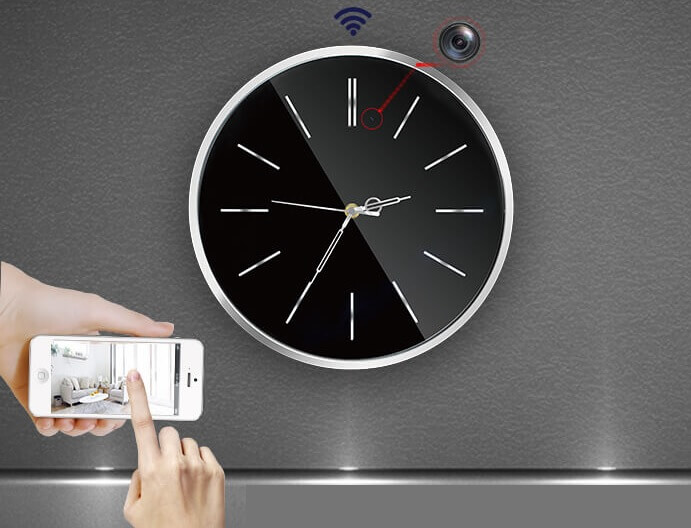 The 2.0 Mpx CMOS optics with Full HD 1920x1080 is tilted 15° down to give you an ideal view of the monitored area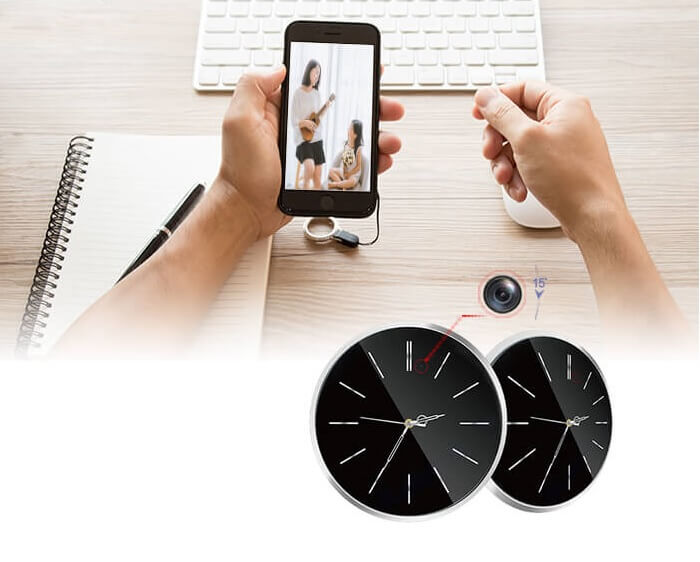 Features:
Intelligent WiFi security camera
Angle of view 90° tilted slightly down to 15°
Motion sensor with notification alert
Uses microSD cards up to 128GB
Mobile phone application control
Modern design
Specifications:
Image sensor: 2.0Mpx CMOS
Video resolution: 1920 x 1080p Full HD 25 fps
Photo resolution: 4032 x 3024
Video format: AVI
Compressed format: H.264
Angle of view: 90° inclined downwards 15°
Battery: 3000 mAh rechargeable
Working time: approx. 6 hours
Motion detection and notification alerts
Maximum capacity of the memory card: 128 GB
Power: 2A/5V power supply with USB connection
Operating system: iOS 7 and higher, Android 4.1 and higher
WiFi: Wi-Fi 802.11 b / g / n, P2P, Ethernet cable
Dimensions: (Diameter) 305 mm x (Depth) 35 mm
Weight: 744 g
Package contents:
• 1x HD Camera in modern clock
• 1x USB cable
• 1x User Guide
• 1x CD with software
• 1x AC power adapter
• 1x Hook for fastening
Comments
Other Products