FULL HD borescope 4,3" display + dual camera 8,5mm with 360° + LED light + IP67
Manufacturer
/
Products availability
in stock
Products are in stock, ready to send.
Yes! We Ship To
Price excl. VAT
U$ 275.00
Price incl. VAT
U$ 330.00
Accessories
+

Product description

FULL HD borescope 4,3" display + dual camera 8,5mm with 360° + LED light + IP67

FULL HD inspection camera - borescope 4,3" display + dual camera 8,5mm with 360° + LED light + IP67 protection + variable flexible cable 3/5/10M. The endoscopic borescope is a great tool for evaluating and diagnosing automotive, mechanical, or home problems.With the endoscopic inspection camera, you can easily check the cylinder or inner wall before disassembling the car or breaking the wall to create an economical and efficient repair plan.

This unique endoscope has up to 2 cameras with FULL HD resolution, while one camera can be rotated up to 360° remotely using the buttons and thus you will see everything you need on the built-in 4,3" LCD display. Video or photo recording from the camera can be recorded to the inserted micro sd card (with support up to 32GB).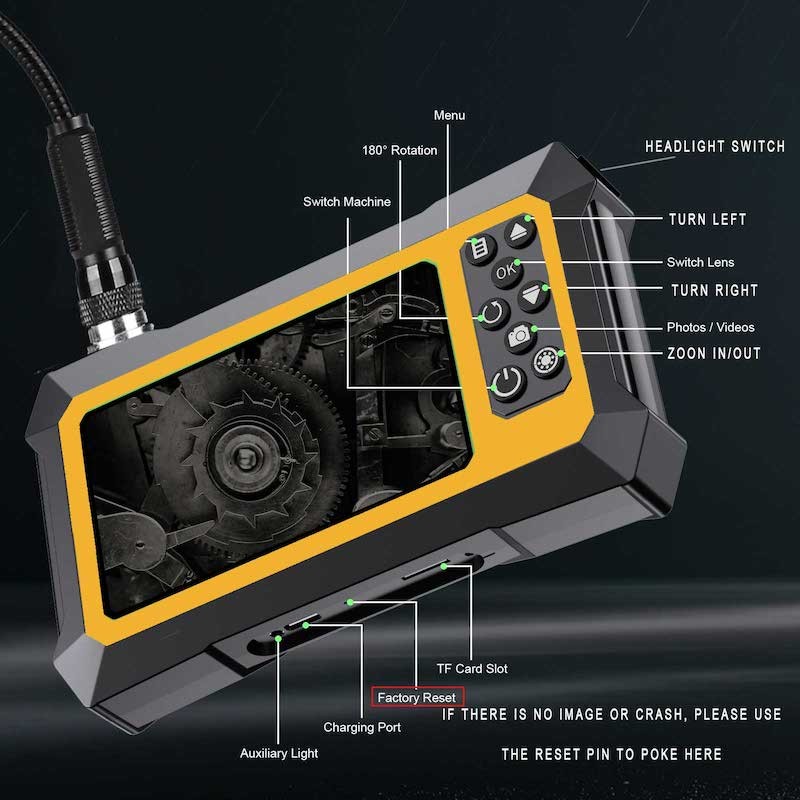 The latest endoscopic borescope
Cameras with a 70° view are added to the endoscopic probe, where you can switch between the front camera (at the end of the cable) or the side camera, while the borescope remains inside the actual inspection area. You can switch the dual-lens camera to see different viewing angles without installing a side mirror.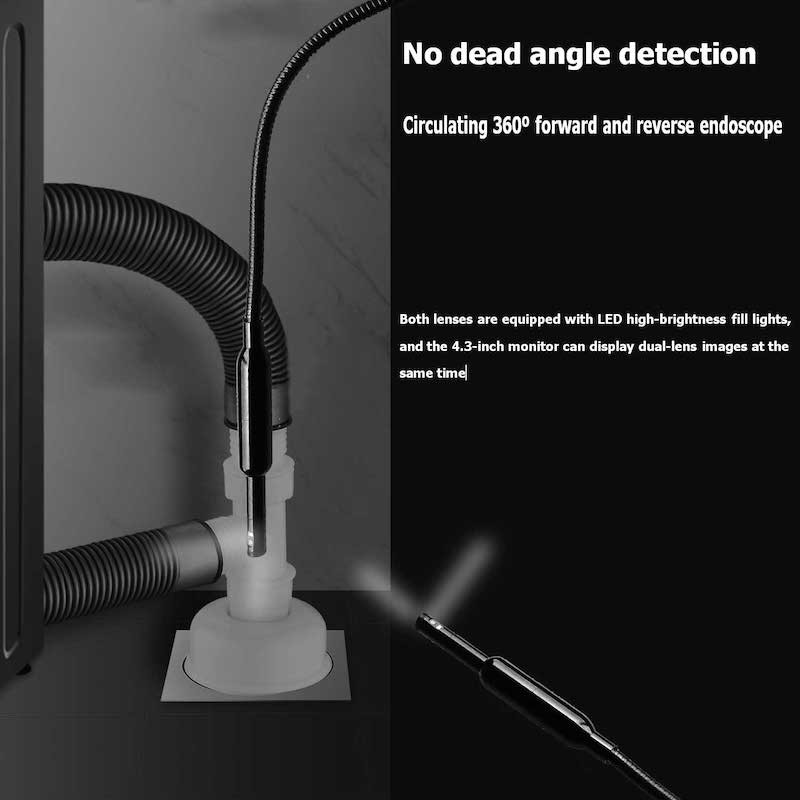 HD screen and clear picture
Endoscopic display updated to 4,3-inch monitor. The screen is made of tempered glass and also has an excellent image in strong sunlight, ideal for working outdoors.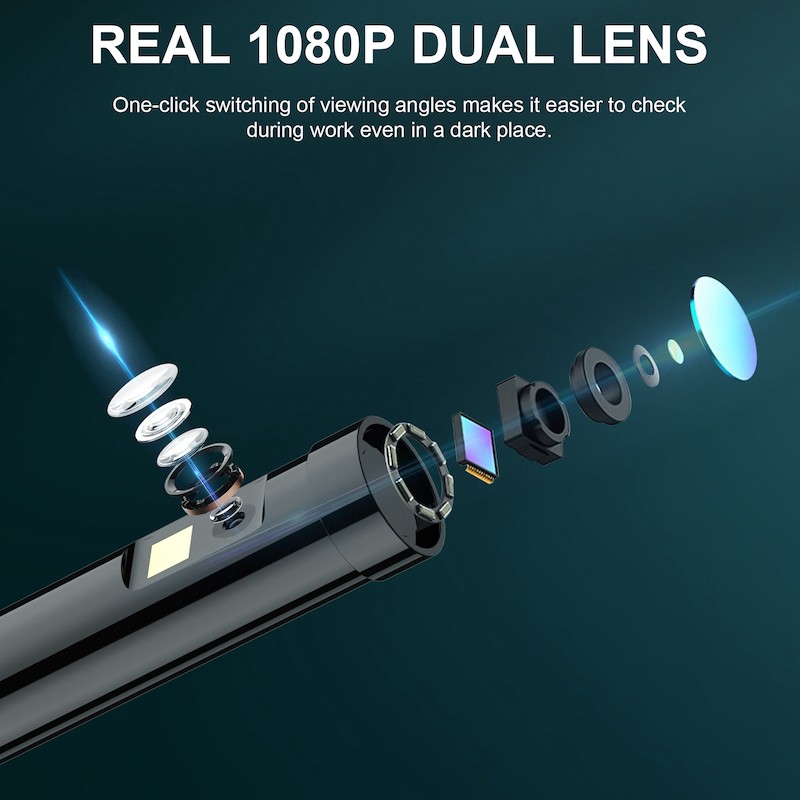 Excellent power supply and charging
The built-in rechargeable battery with a capacity of 3000 mAh supports long-term use and fast charging. The endoscopic borescope can be used immediately after the first power on, you do not need to use a smartphone to connect to WIFI, and there is no need to download any driver software.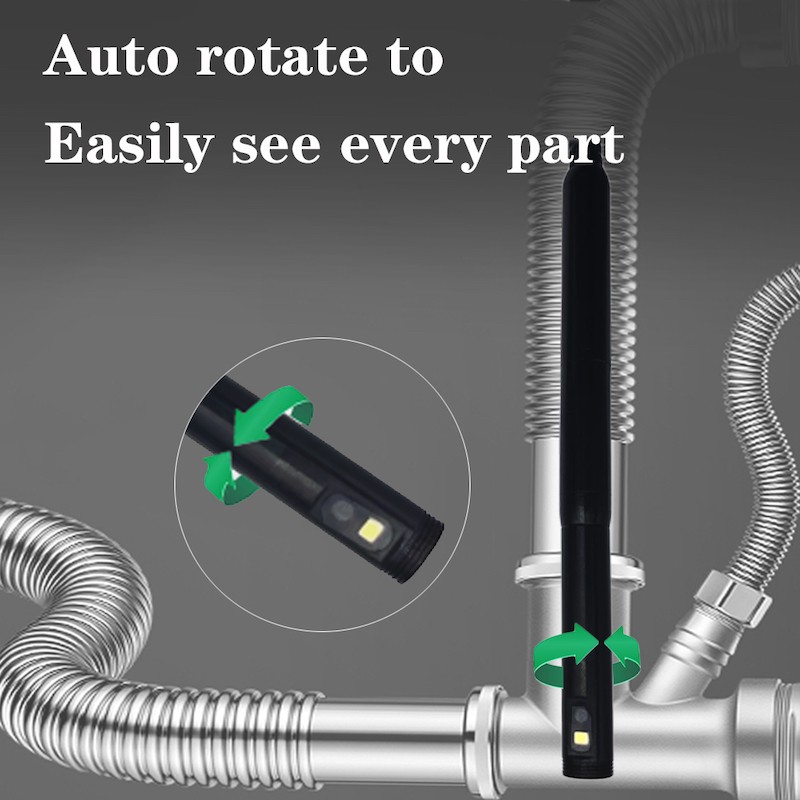 Excellent control of the borescope
The camera borescope is IP67 waterproof and can work underwater at a depth of 1 meter for up to half an hour. The monitor has a weatherproof design, you can safely use it to check drain pipes, bathtubs and other wet environments. The borescope cable can be bent to hold its shape to give you perfect access to a wide variety of narrow places and meet different application needs.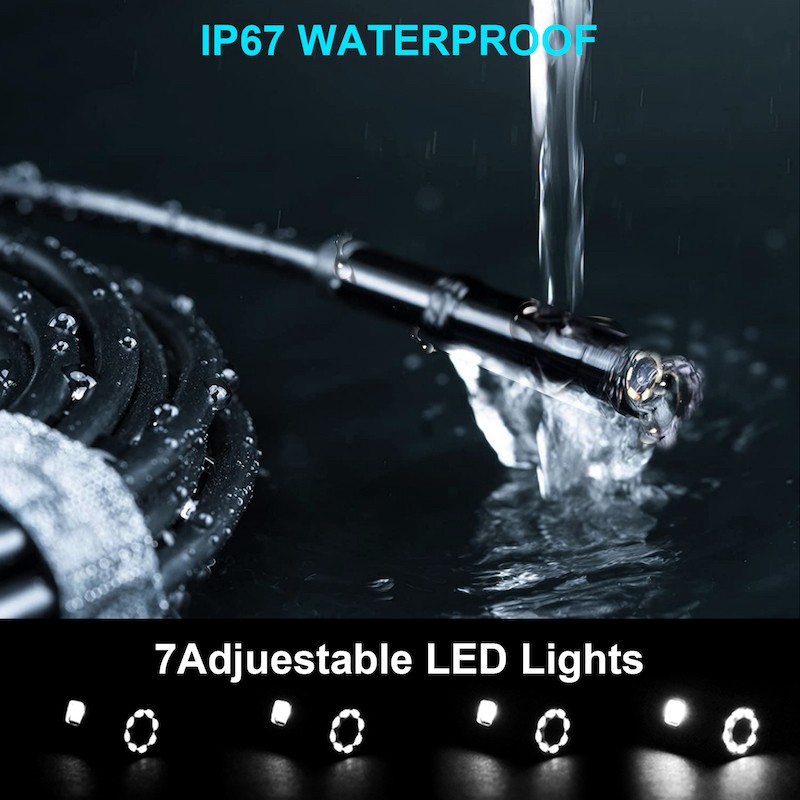 Specification:
CMOS sensor
Camera resolution 1920 * 1080
H.265 video compression format
Dual camera (front camera + side camera)
camera diameter 8,5 mm
Cable length 3M/5M/7M/10M optional
Image format JPG
Video format AVI
LED light 6 pcs (front camera) + 1 pc (side camera)
Focal distance 3-10CM
Lens angle 70°
LCD display size 4,3"
Camera rotation angle 360°
Battery capacity 3000 mAh
Micro sd support up to 32GB
Working time: up to 4 hours
Battery charging time: approx. 3 hours
Camera protection: IP67

Package contents:
1x Boroscope
1x Semi flexible cable
1x USB cable
1x attachment "hook"
1x attachment "magnet"
1x Manual
Comments
Other Products